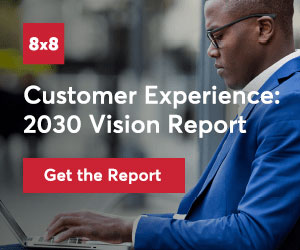 Li Xin Teo at 8×8 explains why embedding video calls is simply smarter for businesses.
Think about the last time you had to hop onto a video call, whether it's for a team meeting or a client presentation.
You likely had to download and install an app, receive a meeting link from the organizer, sign up for a mandatory account, or manually enter a meeting password, all before the meeting even starts. (We feel overwhelmed just recalling the experience…)
But just because video chat is now an integral part of our lives, doesn't mean we have to keep jumping through hoops and accepting that this is how it's going to be. There's a better and easier solution – embeddable video calls.
Embed Video Calls at Every Touchpoint
Even before the pandemic, video chat had been one of the favorite ways for customers to engage with support teams, especially when they had a complex issue that they wanted to be resolved quickly.
Then came 2020. Communities went into social distancing and lockdowns, and video chat instantly became a crucial replacement for in-person interactions, both business and social.
While it was born out of necessity, it quickly became clear that integrating video communications at every touchpoint was a powerful way to elevate customer engagement and brand experiences.
Here are 3 reasons why it's so important to put video where your engagement is, and how embeddable video conferencing can help you achieve that.
1. Top-Notch Customer Experiences
75% of consumers want more human interactions from brands, according to PwC. And yet, 59% of them felt that companies have lost touch with the human element of customer experience.
Among the top things that customers feel the most frustrated in a service experience? Having to repeat themselves to every new agent, and having to hunt for the link to connect with your support team.
That's why when it comes to competing on the new frontier of customer experience, having seamless transitions between touchpoints is non-negotiable. No customer wants to go through a laundry list of tasks before they get to talk to you.
Embedding video calls directly onto your web or mobile app means that getting in touch with your business is now as easy and frictionless as a tap of a button and zero redirects. For your customers, there will be no need to install any third-party apps, juggle links, or manually enter passwords and access codes.
2. Strong and Consistent Branding
Why send your customers out of your own platform onto a third-party app for a video chat? Why not have your customers experience high-quality video calls with crisp audio and HD visuals within your platform, with your branding? This is not a fantasy and is achievable using embeddable video solutions.
By embedding video calls directly into your website or mobile apps, you deliver strong and consistent branding.
You can even level up on your brand story by adding company logos and brand colors. The results? At every video engagement touchpoint, your customers will no longer be confused with logos and UIs that do not belong.
3. Reduced Strain on Developer Resources
Every business deserves to enjoy video capabilities from the comfort of their own platforms, but very few have the time, human, and financial resources to develop and maintain their own conferencing technology from scratch.
A ready-made, highly customizable, and secure video conferencing API like 8×8's Jitsi as a Service (JaaS) helps businesses transcend these challenges.
Not only does an embeddable video solution accelerate your time to market, they also generally come with high-quality technical support, and are extremely scalable in nature.
Whenever necessary, you can quickly expand your video capabilities in a matter of minutes, with just a few lines of code.
By freeing up developer resources with an out-of-the-box, low-code solution, your technical teams can focus on what matters most – refining your product and expanding your business.
And that's exactly what healthcare practice management platform Kalix achieved with 8×8's JaaS platform.
We no longer have to worry about maintaining servers or managing the service, this alone saves us around 30 developer hours and $1,840 in overhead costs per month." —Felix Jorkowski, Co-founder and Chief Technology Officer, Kalix
Embeddable Video Is Vital to Thriving in the New Normal
Video conferencing today plays a bigger role than ever in elevating customer engagement for many industries, including healthcare, recruitment, financial services, education, and more. Telehealth and telemedicine have accelerated in light of the pandemic, but the adoption of "care from home" is likely to persist even in the long run, whether for physical and mental health or veterinarian consultations.
It's also increasingly common for financial services firms to use video conferencing as a key part of their customer engagement and KYC efforts.
And internally, video conferencing also has a key part to play in improving collaboration, especially in the new reality of remote and hybrid work.
According to Forbes Insights, 92% of executives report that video conferencing has a positive impact on performance, and is fast overtaking audio conferencing as the preferred way to communicate with internal and external stakeholders.
This blog post has been re-published by kind permission of 8x8 – View the
Original Article
For more information about 8x8 - visit the
8x8 Website