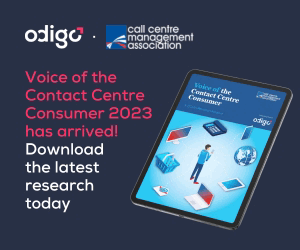 Elisabeth De Longeaux at Odigo explains how WhatsApp Business has emerged as a method of communication that not only has a high open rate compared to email, but it also works more rapidly, and can target multiple points of the customer journey.
It delivers interactive options for customers that add value and targets them on a familiar channel, which is why WhatsApp messages are an indispensable addition to contact centre strategies.
Over the past decade, Meta's WhatsApp application has exploded in popularity. Originally released in 2009 for social use, it was an easy way for people to send texts using WiFi and data, helping friends and family stay connected across borders without incurring mobile usage fees.
The app's user base has since grown steadily and currently stands at over 2 billion users. WhatsApp Business, a commerce-centric variant that allows businesses and brands to communicate with customers through the main WhatsApp interface, followed in 2018 with two different solutions: WhatsApp Business for small and medium-sized businesses, and the WhatsApp Business API for larger enterprises.
It makes sense to harness such easy connectivity for business purposes when the UK open rate for SMS messages is an astounding 95-97%, compared to around 17.5% for email.
Furthermore, the WhatsApp platform provides content centres with rich content capabilities like MMS and voice messages, similar to rich communication services (RCS), and is widely available to anyone with a smartphone.
It follows that WhatsApp Business was created to exploit a unique opportunity for 24/7 brand communication and allow enterprises to fine-tune specific parts of the customer journey. It can be used flexibly to provide satisfying customer experiences (CX) through automated or agent led interactions.
WhatsApp Is Instrumental in Finding Ways to Respond to the Needs of the Moment
The WhatsApp Business service is particularly suited to sending rich content such as brochures or store promotions to engage a customer with personalised offers. That personalised offer can also help guide them to what they need more quickly or access help.
Well-trained chatbots deployed via WhatsApp Business can provide natural sounding answers to the most common questions, giving customers a substantial resource for instant answers at any time of day. There is the added benefit of being able to connect with a live agent for more complex or niche queries.
WhatsApp Business contains APIs that connect to apps like those that run on natural language processing (NLP) and natural language understanding (NLU) technology to power chatbots, thereby cutting down on call queues by addressing more routine issues via automation.
In doing so, contact centre agents gain greater satisfaction by focusing on more complex issues and using their skills to solve customer problems.
WhatsApp Helps Your Contact Centre Cultivate Customer Relationships
WhatsApp started out as a communications channel for friends and family but now helps businesses maintain connection too.
Take, for instance, a contact centre serving travellers, WhatsApp messages can be received via WiFi in locations all over the world, helping keep costs down and visibility on coming travel plans high.
Travellers with KLM for example can choose to receive flight updates as WhatsApp messages, this provides instant information they can trust on a channel they find easy to use. These updates can notify passengers of gate changes, flight delays and cancellations in ten different languages.
Even better, the Family Updates service keeps everyone in a group, whether they are travelling themselves or just worried about loved ones, updated with the same information. Excited friends and family can even request updates during a flight to make sure they are at the airport at the right time to stage a proper welcome.
WhatsApp Helps Your Contact Centre Address Multiple Parts of the Customer Journey
The companies leveraging WhatsApp Business to advance their customer service goals have found that this channel helps them at different stages of the customer journey. For Carrefour, the French retail and wholesale giant, it's all about the pre-purchase phase of the journey.
They've deployed WhatsApp messages as part of their promotional strategy, aiming to use communication with potential customers to turn them into repeat ones.
They are so confident of the benefits that in January 2022 they stopped circulating their paper catalogues to their Paris and Lyon stores, instead using email, SMS or WhatsApp messages.
Meanwhile, KLM, the world's oldest operating airline, has found that a WhatsApp Business contact centre tool is perfect for post-purchase communication.
As described above, it can be used to keep travellers and their families up to date with important information.
WhatsApp messages can also be used for gathering feedback. Not only can you keep track of channel performance through KPIs like read rate, but also industry standards such as net promoter score (NPS), customer effort score (CES), and customer satisfaction score (CSAT).
While high feedback scores should not be the end goal of customer service, in today's age of quick communication, WhatsApp Business is a valuable channel to add for your contact centre solution whether you're communicating with customers before, during or after a sale.
That includes customer surveys, these can be simple NPS surveys or a link to more in-depth surveys which can be sent to multiple customers at once.
Additionally, thanks to the instantaneous nature of the channel, faster responses mean quicker metric calculations to help identify when a rapid adjustment to CX may be needed.
WhatsApp — an Asset to Your Contact Centre's Omnichannel Solution
If you haven't previously considered WhatsApp Business as a viable channel in your contact centre's omnichannel strategy, maybe it's time for a rethink. And if your contact centre's CCaaS solution isn't capable of supporting instant messaging channels it could be time to upgrade and invest in the future.
This blog post has been re-published by kind permission of Odigo – View the
Original Article
For more information about Odigo - visit the
Odigo Website