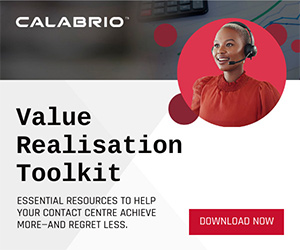 Calabrio has announced its new workforce management (WFM) integration with Zoom's omnichannel contact centre platform.
The cloud-to-cloud integration gives Zoom contact centre customers access to the only true-cloud, enterprise-grade WFM solution on the market.
With predictions of an uncertain economic environment, contact centres are more budget conscious. Leaders are expected to achieve more with less as they combat the ongoing struggle to retain high-performing team members.
Meanwhile, as technology evolves, consumer expectations continue to skyrocket. According to a Calabrio report, 97% of consumers say contact centre interactions directly impact brand loyalty, and 3 in 5 consumers have switched brands due to a negative experience.
Consumers demand access to multiple channels, personalised interactions, more empathetic experiences, and even faster resolutions.
"Zoom has seen tremendous growth in recent years as technology's ability to drive human connection has been more important than ever before. Now, with Zoom Contact Center, we are enabling brands to connect meaningfully with their customers," said Scott Brown, Head of Zoom Contact Center Sales.
"Part of fostering these connections is integrating with advanced workforce engagement management (WEM) solutions to elevate the experience and performance of the agents interacting with customers.
The agent-centric nature of Calabrio Workforce Management, alongside its ease of use and flexibility, fits perfectly with the Zoom mantra."
Calabrio's true-cloud, enterprise-grade WFM solution helps offer the access customers desire and unlocks the potential of the contact centres' greatest asset—the agent.
Zoom Contact Center customers can enjoy the functionality of a highly scalable WFM solution that meets the complex needs of contact centres across all industries, globally.
AI-powered forecasting and automated, multi-skill scheduling connects the right agents with customers at the right time. Intuitive self-scheduling available via mobile app and powered with virtual-assistance technology gives agents greater freedom and flexibility.
By building digital channel efficiency and efficacy ahead of time, contact centres can optimise agent performance and elevate their operations to the next level.
"Calabrio and Zoom are trusted allies for delivering unrivaled customer support. As more and more companies evolve to the cloud from on-prem solutions, we embraced the demand of Zoom Contact Center customers for an integrated, true-cloud workforce management solution that meets the needs of customers, agents, and the entire customer service operation," said Vickie McGovern, Vice President of Strategic Partnerships at Calabrio.
"As a customer-first organisation we rose to the occasion. This WFM integration is just the start of Calabrio and Zoom's ability to fully equip joint customers with the tools and insights to develop the full potential of their agents and deliver the experience desired by today's customers."
For more information about Calabrio - visit the
Calabrio Website