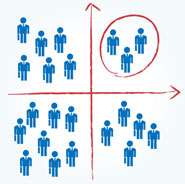 Richard Beard explains how you can optimise team leader/advisor ratios and introduce the deputy manager.
Budgets usually determine how many advisors to a team manager there are in a contact centre. However, the right team leader/advisor ratio has a significant impact on performance and needs more attention than it normally gets. We also see the need for a new type of manager.
What is the "sweet spot" ratio?
We constantly interrogate our extensive Bright Index benchmarking data to identify what differentiates top performing contact centres. In agent/team leader ratios, we found that the centres with 8-15 agents per team leader had a significantly better result on all their key metrics. Above 15, the results dropped dramatically, and under 8, the results stayed the same.
The evidence shows that contact centres with 8-15 agents enjoy 5% higher availability, 5% higher FCR, lower absence, more satisfied agents and higher competency.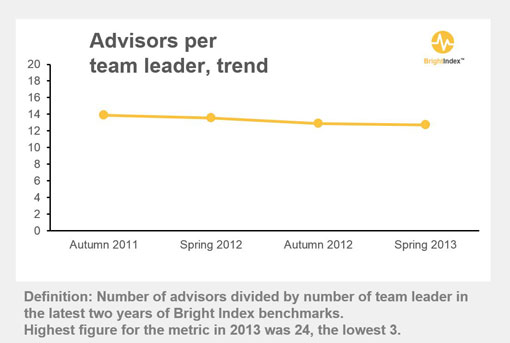 Not as simple as it sounds
In truth, though, in order to get the most effective ratio for your centre, it is not as simple as looking at industry averages or fitting your structure within set budgets. You have to consider other factors, such as the type of queries that are dealt with. For example, transaction-based queries vs. complex problem solving.
Also, the level of support that is given to team managers needs to be taken into account. Many large contact centres have dedicated quality, recruitment and planning teams, giving managers more time to spend with their team.
Time and motion studies can be used to help define a team manager's responsibilities and truly understand where their time is being utilised. It is key to understand a manager's workload before looking at altering the ratios at which your centre operates.
There is a danger that if you do not get your ratios and support correct for your contact centres you can turn a team manager's role into a mainly administrative one. They should be amongst their teams, coaching and developing their staff, rather than sitting behind their desks completing paperwork or following processes.
When conducting benchmarking research, we regularly see that front-line manager behaviour, capability and competence is one of the first things to be highlighted when KPIs or objectives are not achieved. We initially challenge this and make sure that team ratios, and the support provided, is appropriate.
Introducing the Deputy Manager
A growing trend is to utilise experienced and capable agents in a deputy manager capacity. The potential benefits that are linked to having a deputy manager role include:
Development opportunity to help retain your best staff
Succession planning; ready-made replacements for any team manager attrition
Flexible workforce; when possible, a deputy can help coach and develop other agents without affecting SLAs.
Cost savings; although it is normal for deputy managers to attract an increased salary, this would be significantly lower than a manager's salary
Seamless support when existing team managers take holiday or are absent from work
Identifying the right deputy managers requires a robust process with as much focus on behaviour and skills as performance in their current role. Often deputy managers are recruited based on the fact they are high-performing agents who show an interest in progression. Choosing the wrong person for the role could result in you losing a top performing agent if they fail in the deputy manager role.
Another issue concerns confidentiality and the effectiveness of an agent who one minute will be sitting next to a colleague taking calls as an agent, and the next will be a deputy manager performance-managing the same colleague. How effective will this coaching be if the deputy manager is not performing 100% in their agent role?
To add to the challenge, contact centres are very social environments, with agents spending break times together as well as time outside of work. Switching between an agent and deputy manager role can result in conflicts of interest and relationship issues between staff if not managed correctly.
There is no doubt that front-line management teams are integral to the success of a contact centre. How these management teams are structured and supported is key to making them work effectively and delivering competent and engaged agents. We hope the above reflections will help stimulate an increased focus on these matters in your organisation.
With thanks to Richard Beard, Client Manager at Bright UK
---