Frequently you need to send out a customer satisfaction survey to your customers to find out how well you are doing.
Rather than having to reinvent the wheel Dave Appleby has created this ready-made list of questions that you can use to survey your customer base. 
It could be printed out, or it could be sent by email.
If you find this survey useful please let us know and we may be able to make up a ready populated Excel version.
———————————————————–
Dear xxxxxx
Recently you contacted xxxxxx.
We are currently running a review of our business practices and systems and are hoping you can help us improve our performance by answering a few quick questions.
Please answer the following questions on a scale of 1-5:
1
Very Un-
satisfied
2
Un-
satisfied
3
Neutral
4
Satisfied
5
Very
Satisfied
Q1) Were you happy with the way your call was answered?
Q2) Were you happy with the speed your call was answered?
Q3) Was the agent able to answer your query?
Q4) Was the information accurate?
Q5) How would you rate the overall call?
Please answer the following questions with a Yes/ No
Yes
No
Q6) Was this the first time you have contacted us? Y/N
Q7) If you have contacted us before, on how many occasions?
Q8) Which other communications channels would you use?
i) email
ii) Interactive voice
iii) Web chat
iv) SMS
Q9) If you requested literature did it arrive as promised? Y/N
Q10) Would you recommend us to others? Y/N
Do you have any comments that you would like to add?
Comments
Comments go here
Please return the survey to …
If you would like to discuss our service further please fill in
your name and number and a convenient time of day below and we will
be happy to contact you…
Name (optional)
Contact number (optional)
Thank you for your time.
---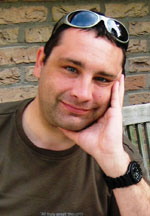 Dave Appleby has been working as a planner, forecaster and analyst in the contact centre industry for the  last 11 years, having been a chef in a previous life. Starting off working on the phones for the launch of a Grocery Home Shopping service, he has worked for a variety of in-house and outsource operations including Disneyland Paris, Seeboard, GIftaid, GM Finance and the Daily Telegraph. A keen diver (both instructor and cave diver), Dave is currently a senior analyst for a large UK insurance company.