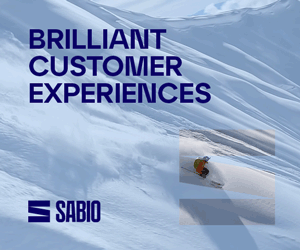 Stuart Dorman of Sabio discusses how to get the balance right between humans and Artificial Intelligence (AI) when digitally transforming the customer experience.  
In its Top 10 Strategic Technology Trends for 2019, analyst firm Gartner highlights how conversational platforms are reshaping the way that customers interact with brands. However, from a CX perspective, it's essential that brands are also smart about how they integrate this core technology into their customer engagement infrastructure.
With today's increased focus on digital transformation and the contact centre industry hitting "peak voice", many organisations are looking to steer customers away from their contact centres towards digital interactions in order to reduce cost. However, just because you can now deflect more and more demand towards digital and conversational AI platforms, it doesn't mean that they should be the vehicle for all your customer interactions.
Sabio are firm believers in self-service and are building a future for their clients where the majority of interactions will be handled by conversational AI. But voice- and chat-based conversational user interfaces should be considered not just for self-service and call deflection but also for the ability to enable efficient and high-value human interactions. It is important to be realistic about where this technology delivers and where human interactions deliver better business outcomes. Don't under-estimate the significant potential of your contact centre and its role in your digital transformation programme.
Companies like Sabio are working closely with their clients to enable the seamless blending of self-service and assisted service approaches. For 2019, this will see a focus on innovative technologies such as AI and augmented interactions combined with smarter analytics and insight in order to track and inform the customer journeys.
As part of this – using predictive analytics derived from insights such as Voice of the Customer data, online behaviour tracking and speech analytics – Sabio are enabling CX-focused organisations to benchmark against industry best practice and apply continuous learning to enable better decision-making, and place a much greater emphasis on successful outcomes for both customers and themselves.
During 2019, Sabio will continue to build out their Digital and Insight capabilities, bringing together customer insights from across the customer journey to inform CX re-engineering and digital transformation projects for their clients. This will be supported by Sabio's recent addition of flexAnswer's powerful virtual assistant, NLP and machine learning technologies to ensure that their clients stay ahead of the game when it comes to effective conversational AI deployments.
Sabio agree with Gartner that this technology will become pervasive, with almost every customer interaction over the next few years being fronted by conversational AI. This will be instrumental in transforming the customer engagement landscape, not just for voice but also across web channels and messaging. However, the ultimate success of this kind of solution will pivot around good design and the seamless blending with human-assisted service.
This blog post has been re-published by kind permission of Sabio – View the
Original Article
For more information about Sabio - visit the
Sabio Website