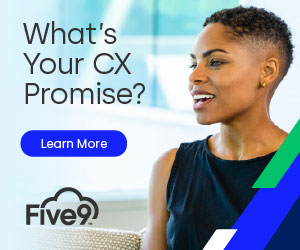 Five9 has announced a new version of the Five9 Adapter for Microsoft Dynamics 365, which includes support for the Dynamics 365 Channel Integration Framework (CIF) 2.0.
The new integration enables agents to handle and seamlessly switch between voice and digital interactions within the Dynamics 365 interface, to help create more fluid and personalized customer experiences.
The Five9 Adapter for Microsoft Dynamics 365 extends the existing partnership between Five9 and Microsoft and combines contact centre controls natively in a single, intuitive user interface to capture, view, manage, and share every customer interaction throughout the customer journey.
With support for CIF 2.0, agents can now work in multiple channels simultaneously in Dynamics 365, including voice, email, or chat interactions, to efficiently manage and address incoming customer inquiries in real-time.
Customers can choose the most convenient and effective access points, and service interactions flow effortlessly across channels with data and context intact.
"With support for CIF 2.0, Five9 is empowering agents to provide more connected customer journeys, while continuing to build on the success of our relationship with Microsoft and the increased demand to support organizations using Microsoft Dynamics 365, Teams, and Azure solutions," said Scott Black, RVP, Business Development, Five9.
"The integration between Five9 and Microsoft enables customers to benefit from the alignment across the organizations, and we are pleased to continue to improve the customer service experience with our unified solution."
Toby Bowers, General Manager, Industry, Apps and Data Product Marketing, said, "The continued growth of our long-term relationship with Five9 enables our mutual customers access to robust solutions in contact centre and CRM to deliver an integrated, robust CX platform.
Five9 continues to enhance their contact centre integrations for Microsoft Dynamics 365 and Microsoft Teams, specifically with this latest Channel Integration Framework (CIF) 2.0 for multisession applications support."
The Dynamics 365 CIF 2.0 integration is an extension to the Five9 and Microsoft Adapter, which is already trusted by Five9 customers. The Five9 Adapter for Dynamics 365 CIF 2.0 is available on AppSource in addition to the existing Dynamics 365 integration.
This blog post has been re-published by kind permission of Five9 – View the
Original Article
For more information about Five9 - visit the
Five9 Website