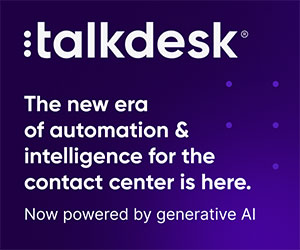 Génesis Longo at Talkdesk shares insights on three ways AI can improve retail customer service and the agent experience.
Happier, more productive agents lead to happier, more loyal customers. But often, this is easier said than done.
While brands are committed to improving agent experiences and understand how important it is to do so, their focus can be clouded by the more immediate, reactive, and seemingly pressing tasks associated with managing a retail contact centre. AI can help with that.
1. With AI, Your Agents can Deliver Speedy and Accurate Service to Shoppers.
Expectations for retail customer service continue to increase as customers grow accustomed to new ways of shopping. Eighty-four percent of retail customers now expect their inquiries to be resolved quickly and accurately.
When brands don't live up to this expectation, 68% of customers agree that a single poor customer experience will negatively impact brand loyalty. There's a lot at stake and retail customer service departments are under a ton of pressure to get this right.
The Key to Happy Shoppers is to Give Them the Option of Self-Service or Speaking to an Agent.
Do your customers want self-service options? Great! But make sure that self-service experience is phenomenal. No one likes bots that give the wrong answers.
Do they want to speak to an agent? Great! Don't make them wait!
Without the Right Tools, Your Self-Service Won't Drive Customer Satisfaction (CSAT).
Self-service tools like customer knowledge bases, automated responses, phone menus, and virtual agents with next-gen AI capabilities allow contact centres to:
Equip customers to solve routine and basic service issues on their own any time of day.
Give customers the information they need upfront, so that they don't need to call an agent.
Solve common issues like "Where is my order?"
Additionally, human-in-the-loop training models allow your agents and supervisors to identify when bots make mistakes, and intervene to teach them to correct their behavior.
2. AI can Improve Your Agents' Experience Which Boosts CSAT.
The pandemic brought unpredictability and increased pressure on agents to perform under shifting circumstances.
76% of call centre agents across industries said that customer expectations of them were higher than a year ago.
As all of the attention has been focused on improving customer experiences, many brands are now looking at how agent experience is tied to CSAT.
In fact, 64% of retail CX leaders say that retraining and upskilling existing agents is a top priority.
As brands settle into "new normal" standards, they consider ways to sustain exceptional customer service in a world where it's near impossible to predict when, where, and at what scale customers will need help.
Using AI-powered contact centre tools makes the agent's job much less stressful. These systems empower agents to be far more successful. Improving the "everyday" for the agent results in:
Less turnover.
Greater job satisfaction.
The ability for agents to better serve the customer.
3. AI can be Your Agents' Personal Assistant—Serving as a Trusted Advisor and Helping Hand.
Fortunately, this evolution of customer service comes right at the time when artificial intelligence (AI) is poised to provide support in practical ways that benefit both the agent and customer experience. AI has matured in its capabilities and customer service departments are turning to it for help.
AI as Your Agents' Helping Hand.
AI can alleviate much of the repetitive, manual work for agents.
AI can automatically complete processes such as data-entry and call summary transcripts.
In essence, AI can serve as a personal assistant to agents.
AI as a Customer Intelligence and Insights Tool.
One of the most challenging aspects for agents during customer interactions is not having a comprehensive view of the customer's history with the brand, past interactions with customer service, and even recent purchases.
Is this customer a loyalty member?
What is their purchase history?
Have they recently made a return?
The appetite of CX professionals for contact centre intelligence is strong:
72% report an increase in demand for customer data analytics.
71% report an increase in demand for interaction analytics.
66% report an increase in demand for customer feedback and insights.
An AI assistant can deliver necessary intelligence so agents have a more complete view of their customer to deliver more contextualized service.
AI as a Trusted Advisor.
AI can also deliver guidance on best next steps or recommendations within the appropriate context of the customer interaction, helping the agent to provide thoughtful suggestions in real time.
If a customer asks about product details (size, fit, color, comparisons, etc.), AI will surface customer reviews, product specifications, or other available information.
If the customer mentions returns, return policies, and next steps, knowledge base instructions can automatically pop on screen for easy access.
If a customer asks about the brand's values and social impact, AI can pull corporate-approved language so that agents can be prepared to be great brand ambassadors.
AI as a Business Driver.
Not all customer interactions are transactional, but driving revenue from the contact centre is becoming a top priority for many retailers.
76% of retail CX professionals report that the need to upskill agents with sales skills to increase upselling/cross-selling is important to the future success of the contact centre and the business.
72% of CX professionals say positioning the contact centre as a profit centre is important to their business.
76% of retail CX professionals report that the need to upskill agents with sales skills to increase upselling/cross-selling is important to the future success of the contact centre and the business.
In cases when revenue generation is important to the contact centre, AI delivers sales intelligence to help agents upsell and cross-sell—tasks that more contact centres are retraining agents to perform.
Product recommendations and commonly purchased items can help agents drive incremental revenue within the natural flow of the interaction.
Great agent-customer relationships often lead to more business, and AI makes sure agents know what the best recommendations are.
Smarter Self-Service for Smarter Human Service.
AI can lift the burden of rote, manual work off agents and deliver the kind of personalized support that agents need during interactions with customers.
If agents are equipped to respond to all types of situations, they'll feel more empowered to develop stronger connections with your customers.
The more effortless the job is for agents, the more focused they will be on delivering pleasant service engagements.
This translates to happier customers and better customer experiences— a win-win for all.
This blog post has been re-published by kind permission of Talkdesk – View the
Original Article
For more information about Talkdesk - visit the
Talkdesk Website