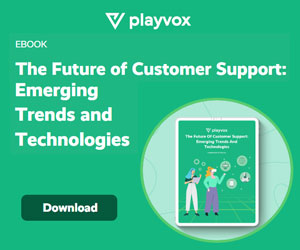 Jennifer Waite at Playvox explores three ways AI improves your contact centre.
Artificial intelligence (AI) is a phrase that has been thrown about quite a lot the past few years. So many industries and solution providers have used it so frequently that it seems to have a multitude of meanings.
In the context of the contact centre, artificial intelligence is a set of technologies that automate elements of workforce management so that those aspects become eminently predictable, don't require human intervention, and thus become stress-free. When implemented properly, contact centre AI becomes a powerful tool that improves productivity and performance.
Despite the technology sounding futuristic, AI is being used in contact centres today. And the trend to adopt AI is strengthening. A recent study by Deloitte revealed that 79% of contact centre leaders plan to invest in AI in the next two years.
In addition to the study predicting that contact centres will experience more agile service delivery, a more distributed workforce, and a consolidated focus on high-value channels, it predicts AI everywhere. The main drivers of the trend are the need to drive operational improvement and growth.
Automate as Much as Possible
One of the ways AI improves contact centres for managers, agents, and customers is by automating what has traditionally required significant manual analysis and judgement.
By removing the need to dig through volumes of data to identify patterns and opportunities for efficiency, contact centre managers can instead focus their energy on optimising performance and cost reduction exercises such as onboarding and training more effectively.
AI can even help automate tasks that are defined by rigid, repeated patterns, such as conversations with customers and service delivery.
AI-enabled conversational agents are expected to handle 20% of all customer service requests by 2022. This reality unburdens human agents so they can learn new skills and advance in ways that could lead them into managerial roles.
It's important to recognise that AI is not always replacing human labour; it often complements it. AI tools are used in contact centres to bring agents up to speed before they get on the phone or chat with a customer.
When AI works to augment human intelligence, the customer benefits from the agent having a head start on who they are, what they need, and how to solve their problem. In short, AI is feeding agents analysed data so they can deliver better, faster outcomes, most of the time without customers even being aware.
Reduce Repetitive and Predictable Tasks
The COVID-19 pandemic has changed the way contact centres apply AI to operations.
"In response to record-high ticket volumes across nearly every industry, many companies accelerated their adoption and usage of AI-powered chatbots to help customers quickly get answers to common questions," said Shawna Wolverton, EVP of product at Zendesk.
"By using automation to handle a high volume of repetitive tasks, they are able to focus on helping people get answers to more difficult and complex questions."
Indeed, AI applied to workforce management has an outsized impact on the day-to-day lives of agents. It is the first place they go to view their schedule, make shift swaps, and request time off. In addition to helping determine their schedule, AI in contact centre staffing helps automate training, reduce backlog, and gives agents the right combination of tasks to make the best use of their time at work.
Enhance Customer Satisfaction
AI and the customer experience are intertwined. In terms of forecasting, scheduling and staffing, accuracy here means customers have to spend less time in queues, on hold or being transferred.
AI also helps optimise call resolution, measuring how efficiently a customer's issue is resolved in as few steps as possible. This translates to a better customer experience and higher CSAT.
For example, if a ticket is created that needs further attention beyond the agent who takes the call, AI helps analyse the downstream impact of that situation and how to fully resolve the issue for the customer. AI can provide the agent with resources and directions that help them resolve the call more efficiently.
Whether 2021 turns out to be the year that AI dominates the contact centre remains to be seen. One thing at this point is certain: Today's contact centre needs to run on reliable, easy-to-understand data that drives value instead of unnecessarily consuming time and energy. AI delivers precisely that type of value and creates more time for work that matters.
For more information about Playvox - visit the
Playvox Website