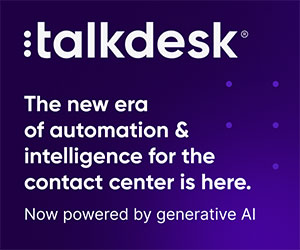 Gonçalo Ladeira Dias at Talkdesk explains how a simple no-code tool enables customer service agents to fine-tune the accuracy of AI models without the help of data scientists.
Customer service agents are the lifeblood of contact centres. Their soft skills, practical knowledge, creativity, and experience position them as the frontline experts. As organizations adopt digital-first strategies, they are opening up their customer base and introducing more ways for agents to assist customers.
The digital shift will lead to increased customer contact volumes, but agent resource issues will inevitably arise. Contact centres using traditional tools will struggle to manage agent workload and scale high-quality customer service across all channels.
Recognizing the Power of AI in Contact Centres.
AI-infused customer service tools present new opportunities to deliver high-quality service within a digital-first operating model. Contrary to popular fears, AI will redefine—not replace—the role of the agents, moving them from being task-oriented to outcomes-oriented and doing much more than answering customer calls.
AI will automate mundane, costly, and low-value tasks associated with contact centre work so that agents can focus on higher-value tasks that offer more value to organizations.
79% of CX professionals believe AI will provide more tools to human agents, versus replacing them.
Embracing AI Means Riding on Its Accuracy.
Organizations must trust that AI models will keep automation from running off the rails. So, it's crucial they accept that AI model accuracy can decrease over time. It's the biggest reason why many technology giants like Facebook, Uber, and Amazon have teams of in-house data scientists—to maintain the predictive power of AI models.
However, data scientists are scarce, expensive resources and out of reach for most organizations. Alternative options—like professional services—are just as costly. So, what is the solution to this problem? The answer lies in human-in-the-loop technology.
What Is Human-in-the-Loop Technology?
Human-in-the-loop is a branch of Artificial Intelligence that leverages human judgement and expertise to train and validate adjustments to AI models. Humans can train, fine-tune, and test a specific algorithm to power AI tools in a human-in-the-loop environment.
It means that contact centres can deploy a straightforward and cost-effective solution that makes the training of AI models part of everyday operations. It significantly reduces the dependency on data scientists or professional services to solve simple accuracy problems.
How Does Talkdesk Use Human-in-the-Loop Technology?
Talkdesk AI Trainer uses human-in-the-loop technology to enable non-technical staff to solve automation performance degradation issues and maintain high levels of accuracy in AI-powered automation.
With AI Trainer, contact centre agents and supervisors can continuously correct the AI models with no code, just clicks.  AI Trainer provides contact centres with the tools to:
Maintain high levels of AI accuracy.
Operationalize AI training into the agents' everyday workflow.
Enable continuous AI training without data scientists.
How Does Human-in-the-Loop Technology Work in a Contact Centre Environment?
Customer interface. With digital channels being more prevalent, customers have the choice to use a self-service path. They can interact with a virtual agent or with a live agent who is supported with AI-powered assistance, working in tandem with an intelligent knowledge base.
AI-powered tools. The customer interface is linked to an AI system that enables the automation of interaction tasks to resolve the customer's query quickly and correctly.
AI system. The AI system uses speech-to-text and intent detection models to listen, transcribe, and analyse the customer's query for fast and accurate automation.
AI Trainer. Occasionally, an AI model is not confident about the output that resolves the customer query correctly. When this happens, agents and supervisors can use Talkdesk AI Trainer to review and edit intents and transcriptions and provide a correct output for similar queries in the future. They train the AI model, thereby fine-tuning the automation accuracy.
Making AI a Success in the Contact Centre: The Road From Investment to ROI.
Human-in-the-loop technology enables contact centre agents to identify repeating customer issues, and easily correct those issues by training the underlying AI model before more customers experience the same problems.
The main benefits of human-in-the-loop technology for contact centres include:
Resolving cases faster by improving the level of accuracy and confidence in the output of automation.
Optimizing the cost per case by allocating tasks more efficiently between automated tools and manual agent effort.
Increasing CSAT and NPS scores with faster resolution times.
In addition, a tool like AI Trainer enables organizations to avoid unworthy investments that require extra time and money to train a data scientist in customer service issues. Upskilled agents can easily do the basic data scientist tasks—like data annotation—with a no-code tool and get the job done faster.
Human-in-the-loop technology makes customer journeys more delightful. It enables contact centres to move away from a journey that feels like a series of robotic steps to a journey with end-to-end intelligence, up-to-date knowledge, and human wisdom weaved in.
Conclusion.
True conversational AI is around the corner, and a delightful customer journey with AI is now at the reach of any business. AI-enabled customer journeys are no longer in the hands of tech giants. Companies no longer need to worry about a lack of in-house technical skills or budget constraints to deploy and operationalize AI.
With human-in-the-loop technology, the democratization of AI in the contact centre will translate into endless possibilities and—most importantly—create a better customer experience.
Before you go:
Human-in-the-loop technology
Turns contact centre agents into custodians of AI by allowing them to influence change to AI models, for better accuracy.
Reduces the dependency on professional services or data scientists.
Significantly reduces the risks of AI project failure.
Paves the way for AI to emerge as a valuable everyday helper.
Unlocks the potential of AI to scale exceptional customer service within a digital-first era.
This blog post has been re-published by kind permission of Talkdesk – View the
Original Article
For more information about Talkdesk - visit the
Talkdesk Website