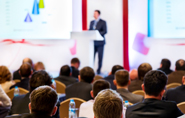 Bookings are now open for the Call Centre & Customer Services Summit 2015.
The two-day event will take place on 20th & 21st April 2015 at the Radisson Blu Hotel, London Stansted.
Attendees will have access to complimentary seminars hosted by industry-leading experts.
Speakers include:
The Art of Motivation – William Montgomery, AskTen
Who to Call & What to Say – Anthony Stears, The Telephone Assassin
Why Customer Service Matters – Ben Griffiths, The Institute of Customer Service
Omnichannel: Embracing the New Paradigm to Achieve Better Customer Experience, and Positive Business Results – Martin Snookes, InMoment
Customer Service in a Mobile-First World – Chris Cole, Open Market
Hashtag Scandals & Facebook Hate Groups – Carolyn Blunt, Real Results Ltd
Delegates and suppliers are matched together
One of the unique things about this event, which can benefit senior call centre and customer service professionals, is the matchmaking process that happens beforehand.
Delegates and suppliers are matched together based on choices made in the run-up to the event to ensure meetings only take place where there is a genuine business interest between the two parties.
Suppliers can also look forward to a day of meetings booked into their diaries, as there's no standing around waiting for prospects to find your stand, and direct competition is restricted.
The event has gained positive reviews and has been labelled 'must attend' by previous visitors.
Visit The Call Centre & Customer Services Summit website for more information.
---