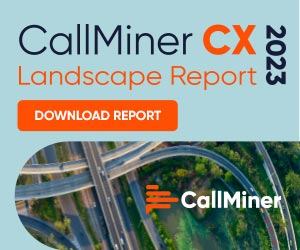 Frank Sherlock of CallMiner gives advice on what your call centre needs to prioritise in order to improve the customer experience and satisfaction.
I was prompted by a BBC.com articled entitled 'Which banks do customers love or hate?' to think about the impact of a call centre on the emotional divide the article highlights.
The research by the UK's Competition and Markets Authority (CMA) into the customer service rankings of 16 UK banks shows a whopping 36% difference between the highest- and lowest-scoring banks.
Also, the CEO of the CMA said that consumers should vote with their feet or at least their bank balance: "If people are unhappy with the customer service they are currently getting, I would encourage them to look at the results and think about switching to a better performing bank."
This encouragement to switch reminded me of our own research into the drivers of churn – The CallMiner Churn Index. It revealed that the switching epidemic is getting worse and that banks have the 6th highest switching rates out of all sectors. It estimated that avoidable churn is costing UK companies £25.05 billion per annum. That cost alone is a compelling reason for ensuring high levels of customer satisfaction are delivered by your call centre.
According to the Office of National Statistics there are 52,078,525 adults in the UK. A conservative estimate of the cost of acquiring a new customer across all the main sectors in the survey is £300 per person.
This is based on the level of incentives applied to attract new customers and a conservative estimate of associated sales and marketing costs. The CallMiner Index identified that in the last 12 months 84% of adults have switched 1.91 times. This represents 43.745 million people. The total cost of churn is therefore at least £25.05 billion.
The same CallMiner survey uncovered that consumers want to stay loyal but are 'forced' to switch because of suppliers' bad practices. So, how do you understand and fix what is really driving customer dissatisfaction?
In most companies, insights are coming from three small sample sources: complaints, customer surveys and analysis of call centre interactions.
But in a report by Bain & Company, 96% of consumers said they do not tell a brand after they've had a bad experience. This means that statistics coming through complaints and customer surveys are not a true reflection of customer satisfaction.
That leaves random call centre samples. Most organisations only analyse a small proportion of customer calls – typically less than 5%. But without analysing every interaction, it is impossible to identify the complete customer journey or truly understand customer satisfaction. It is also not possible to pick up trends or identify possible problems and opportunities.
This means that there is a huge disconnect between the real customer experience and what is being reported in most companies. In fact, the same Bain & Company report revealed that while 80% of CEOs thought their brand delivered superior customer experience, only 8% of consumers agreed!
Our research shows that call centres can definitely decide whether consumers love or hate a brand. In fact, the report reveals that 68% of customers are very or extremely likely to switch suppliers if they have a bad experience with a call centre.
When asked how likely they are to stay loyal to a supplier if they have a good experience with a call centre, more people (74%) scored between 7 and 10 – with 20% scoring 10.
If random sampling and random surveys are not insightful enough, and complaints are too far down the process, how can you understand and prioritise what the business needs to do to improve the customer experience? I believe there are three things you should do:
1. Don't guess what the customer journey looks like. Make sure you can capture the complete view of your customer interactions
First of all, you need to be making sure you have a clear picture of the customer experience. Capturing and analysing 100% of your customer interactions will provide the ability to identify the whole journey and identify areas of both high and low customer satisfaction.
For organisations to accurately understand, map and optimise their customer engagement, a comprehensive, automated omnichannel customer journey analytics platform is required. This technology provides the ability to optimise every type of interaction and create best practices for increased customer satisfaction.
For example, you can analyse how 100 agents tried 25 different ways of selling a product. It enables you to identify the five best paths to a 'close' with the highest level of customer satisfaction and then share that best practice with all agents.
2. Don't assume happiness at one point on the journey makes for a happy customer. Make sure you measure the satisfaction at key touchpoints AND for the entire experience
It's important to assess satisfaction based on multiple interactions that can provide a comprehensive view of the customer experience.
If you only measure customer satisfaction based on individual interactions, how do you know how happy a customer is with the entire experience you deliver?  Was the customer happy before a bad experience?  Has the satisfaction level changed after you made up for a bad experience?
It is important to understand the true "voice of the customer" based on the entire experience received.
3. Don't forget to build your customer profiles along the way
It goes without saying that companies need to know their customers, their channel preferences, pain points, history with the company, etc.  Staying on top of customer surveys, social media interactions, and more, are all ways to develop actionable insight that can be used to proactively measure the customer journey – and, in doing so, improve the overall customer experience.
As noted by eConsultancy, it's also important to build out comprehensive customer profiles to understand customer behaviour across channels.  "Armed with accurate, real-time information about how customers interact with them across their various channels, brands can target digital marketing campaigns at the relevant devices and platforms, as well as allocating budget more effectively."
Being able to build customer profiles and track their preferences can enhance their experience and drive customer engagement, which will save you time and cost. This is because it will allow you to identify possible trends or necessary process improvement.
It will also allow you to create a much better view of the optimal path that should be taken to achieve a desired customer outcome. It will enable your agents to improve the quality of engagement along the way, regardless of the channel used.
So, that's three things I think your call centre could do to drive higher levels of customer satisfaction. What other things are you doing to deliver the same vital outcome?
This blog post has been re-published by kind permission of CallMiner – View the
Original Article
For more information about CallMiner - visit the
CallMiner Website