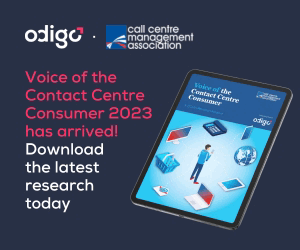 Looking ahead into 2023, it's important to talk about the latest Contact Centre as a Service (CCaaS) trends that will impact brand ability to provide top-tier CX.
In this blog, we will not only talk about automation and artificial intelligence, but also CCaaS integration with customer relationship management (CRM) and unified communications as a service (UCaaS) solutions. These innovations will contribute to business improvement, employee wellbeing and customer satisfaction.
AI-Driven Automation and Data Enhancement: A Major Trend in Customer Experience 2023
AI for contact centres is entering the phase of large-scale, industry-wide adoption. The customer relationships of tomorrow will integrate AI throughout their journeys, particularly in the area of data collection and analysis.
Callbots are one of the Best Applications of AI in CX. They can answer the immediate needs of customers who want to check opening hours, change delivery options, or use other services at any time of the day or night.
Self-service like this, using callbots relies on natural language processing (NLP) to analyse conversations with inbound callers for more accurate processing of requests.
This enables interaction with information systems (IS) to check the status of an order, a delivery, or other issue.
Although this is not a new topic, 2023 should see an increase in the number of callbots implemented to keep up with the evolution of consumer preferences for convenience and autonomous problem solving.
Other AI applications on the rise in contact centres involve sentiment analysis and detection of intention or context from messages or even in attached files.
From there, it is possible to automate responses, verify information with the IS, or enrich the context of the query so agents can offer more personalised services.
In the latter case, the agent will have access to the intentions detected in messages as well as previous conversation history. In the case of know-your-customer identity verification, AI will analyse data such as account and personal details to authenticate the customer.
Investing in AI technologies will continue to free agents from monotonous and repetitive tasks, shifting focus onto high-value tasks such as placing special orders or tackling account-specific issues. As a result, agents will benefit from expanded skill sets and greater job satisfaction.
For data to be used appropriately, however, it must also be used intelligently. It is especially crucial to increase the use of underutilised unstructured data (i.e. data that has not been classified or labelled).
This typically makes up between 80% and 90% of data available to a company, and is generally stored in data lakes. A common example is the data contained in emails or recorded and transcribed phone conversations, which are an untapped resource for companies.
Today, thanks to AI, it is possible to use this data to enhance customer knowledge and, by extension, personalisation and loyalty.
If this data-enhanced service sits at the heart of customer experience trends in 2023, it will be because it cements any customer-centric approach with advanced customer understanding.
To make this data actionable, in order to build brand loyalty, it needs to be accessible via dashboards that enable fine-tuned management of customer journeys.
Accelerating the Migration to the Cloud
A recent study by Data Bridge Market Research predicts that the cloud-based contact centre market will grow at a compound growth rate (CAGR) of 25.60% between 2022 and 2029. Europe, and France in particular, are catching up with the levels of "as a service" adoption seen in the United States.
Cloud-based contact centre solutions offer many advantages to companies looking to improve their customer experience: they are cost-effective, simple, fast and easier to deploy than on-premises solutions.
The flexibility of cloud-based solutions allows contact centre agents to work onsite or remotely, meeting the needs of employees who require more flexibility in their work location. Some contact centres now offer work using the homeshoring model.
This confers additional flexibility so occasional employees such as former contact centre agents, students, retirees looking for additional income or anyone wishing to work from home can be integrated into the contact centre.
Cloud technology instils adaptability and scalability into contact centres allowing companies to easily mobilise additional agents in case of short-term contact peaks or long-term growth. It ideally complements remote working practices and agile business ones.
Opening the Contact Centre to UCaaS and CRM
With the growth and massive adoption of collaborative solutions, especially during times of lockdown, an emerging customer experience trend to watch for in 2023 is the integration of CCaaS and UCaaS as well as CRM Solutions.
Companies are increasingly looking for a seamless approach between internal communications systems and customer relationship management. This extends involvement beyond contact centre agents to experts with specific skills in other departments, who can be engaged on an as-needed basis.
Thanks to integration between CCaaS and UCaaS as well as CRM systems, any employee can have a full overview of the customer's journey, and their activities can also be tracked and monitored on various dashboards.
Contact centres can offer a connector to a UCaaS solution such as Microsoft Teams directly on their platform dashboard, making inter-departmental conversations much easier.
However, there is also an approach where there is a specific profile for the occasional agent which is preconfigured and part of the original CCaaS platform.
The user of this specific profile is an employee whose main activity is not that of an agent (e.g. an employee in a branch office), but who can be called upon in case of overflow or for specific requests. The same contextual information agents receive is then also available to help them answer the query.
The openness of customer relationship solutions to an ecosystem of applications is essential for this, which is why it is so important for solution providers to be able to offer a rich marketplace. This is also the case for coupling with CRM.
A CCaaS solution integrated with a CRM solution finetunes the relationship with the customer: from the time the call gets connected, to routing based on CRM data, real-time transcription and, finally, distribution.
A deep integration with a CRM such as Pega or Salesforce automatically supplements customer records, as well as automates the verification of information.
Although the two solutions are independent, the free flow of information between them makes them complementary.
The CRM will combine the data collected by the contact centre and allow its users, often sales representatives, to access a 360° view of their customers.
This will facilitate the personalisation of interactions among other things, and ensure the consistency of communication across all channels used by the client.
Beyond that, proper CRM integration with CCaaS contributes to better CX management. The agent receives calls directly in their CRM interface and can also make outgoing calls from the same interface.
AI-generated next-best-action suggestions will ensure accurate, personalised and swift responses to the customer's request.
New Virtual CX Challenges for 2023
In 2023, one of the latest customer experience trends will see investment in the metaverse. This means offering a new virtual reality that integrates shared and interconnected online spaces.
This technology, which at first was mainly used in video games and social networks, is starting to enter the world of customer relations. Users of the metaverse can work, play, interact socially and even conduct transactions. It is truly a parallel virtual world accessible through 3D interactions.
According to Gartner, 25% of people will spend at least one hour a day in the metaverse for work, shopping, education, social life and/or entertainment by 2026. In the context of customer relations, an agent will be able to meet a customer in the metaverse via avatars to handle requests.
It will take time for customer services departments to fully adapt the metaverse to their needs; however, there are already virtual and augmented reality applications associated with contact centres.
Their use offers many possibilities for enhancing CX. According to the Retail Perceptions report, 71% of consumers admit that they would buy more often from brands if they offered augmented reality (AR).
Here too, there are numerous use cases, such as going on a virtual tour of an apartment, supporting a customer in assembling a piece of furniture, repairing an engine or training agents by simulating routine situations.
This blog post has been re-published by kind permission of Odigo – View the
Original Article
For more information about Odigo - visit the
Odigo Website