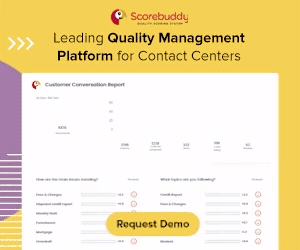 Dick Bourke defines the operational call centre Quality Assurance framework, while highlighting its importance and much more. 
Call centre QA is, by its very nature difficult to understand, measure, and improve upon.
While quality assurance is centered on positive growth, the remaining challenge is that call centre success (or failure) can often be subjective.
This is not to the detriment of the Quality Assurance Managers, clients, customers, or employees. But, when measuring human-to-human interaction, there is bound to be a misinterpretation, a misleading trend, or data points that are potentially answering the wrong questions. 
Why Call Centre Quality Assurance Frameworks Matter
There are about 41,500 call centres in the US with call centre employees making up about 4% of the working US population.
Call centre operations are forecasted to continue growing fast, creating 365,000 new jobs in the US alone in the next four years.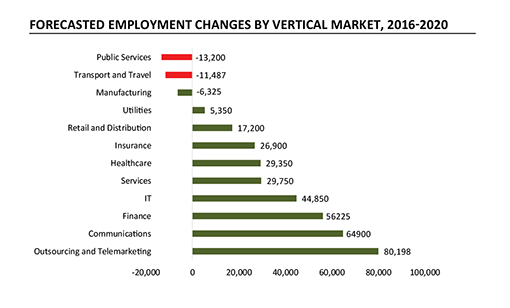 The call centre industry will continue to grow and, as it does, it will need accurate quality assurance metrics to ensure it is scaling and improving along with that growth.
Call centre QA frameworks can be categorised (operational, tactical or strategic) according to the impact they have on the customer experience and thusly on actual business results.  
This is especially true when we look to measure performance and how those metrics are gathered and interpreted.  
These frameworks can help QA managers to more strategically and objectively look at the big picture, when examining the inherent challenges and growth opportunities. 
Every call centre will, at one point or another, finds itself working within an evolutionary framework that may be categorised as either (or a blend of)  operational, tactical, or strategic.
When viewed through the lens of these evolutionary frameworks, goals are more easily identifiable as are key performance indicators (KPIs).
These frameworks will change call centre quality assurance measurement from the subjective to the objective.
They work to simplify, often complex data analysis, and bring clarity to what we know as a delicate science. 
Understanding Operational Quality Assurance
An essential starting point upon which to build exists within the core of every call centre.
Process and workflows are the operational framework of the call centre. So, when we reference the operational aspects of a given call centre, we are speaking to the day-to-day, nuts and bolts of getting the job done in the most immediate-term.
These are the decisions and actions that inform getting from point A to point B in the most efficient and customer-centric way possible.
Call centres that are working within the operational QA framework typically employ the following processes:
Measure QA as part of the daily operation

Develop a QA framework with a primary function of identifying poor performers

Complete a quota of scores by staff per month

Perform evaluations by team leaders that are reviewed monthly
Operational Quality Assurance Goals
There are four pillars of operational quality assurance that work to measure and ultimately improve call centre process and workflow practices.
Of course there are challenges within each, but understanding these issues is exactly what helps to evolve the framework and to build more tactical and strategic QA frameworks down the line.
1. Maintain Consistent Service Delivery
Consistency is key in most industries and functions, but especially important when managing the personalised level of service call centres demand their employees deliver on a regular basis.
And yet, CSat (customer satisfaction) tops the list as an area where most call centres feel they need the most improvement.
In fact, the focus on CSat improvement is a staggering 32% higher than sales and conversion rates.
High customer feedback scores are what matter most to call centres and they are also one of the most difficult areas in which to achieve consistency.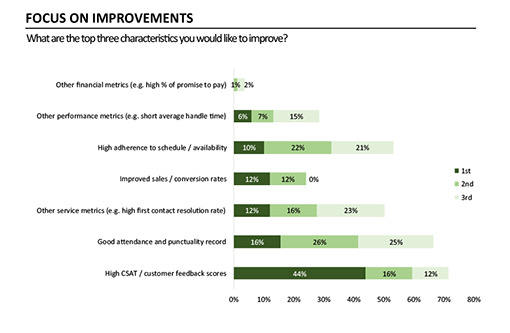 Consistency can easily become one of the more subjective data points to measure, particularly within an operational framework, where importance is placed on fulfilling a quota of monthly scores and on identifying poor performers.
We must first define what is meant by "consistent service delivery" and then benchmark attainable consistent data points that are not only measurable, but easily translatable to Quality Assurance Leaders, and shareable with their teams.
2. Identify Poor Performers
Identifying poor performers seems like a noble effort, but in truth, within an operational framework, little time is available to effectively manage performance and quality.
While these metrics and their follow-through actions remain an important goal, most call centre managers agree that "there is not enough time to analyse data", nor is there "time or resources available to coach and train."
Call centre quality assurance data exists, but it is not easily translatable or streamlined in a way that results in resource-driven measurements for appropriate identification or coaching.
25% of Quality Assurance Leaders agree that when it comes to performance management, call centre technology is a problem.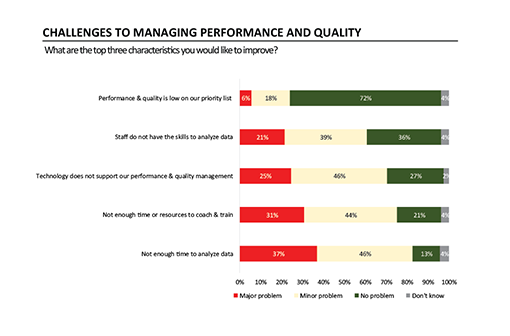 Once a poor performer is identified, the remaining challenge is to understand the 'root cause' of why they are poorly performing and how to coach for greater success.
3. Measure Adherence to Process and Procedure
Measuring the overall impact of a call centre's process and procedures is meaningful at all stages of the call centre's development, but particularly as it shifts to higher growth phases.
Unfortunately, 55% of call centres polled admit that they do not know if their quality assurance scores align with their customer feedback and CSat scores.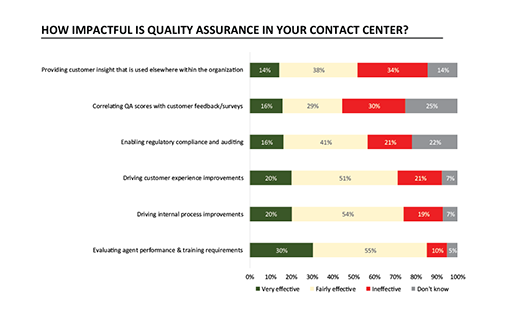 Meanwhile 48% do not know if any collected customer insights are shared elsewhere within their respective organisation.
This means that the call centre, where employees are closest to understanding what customers think and feel, is not sharing any of these key learnings with other departmental organisations.
While process and procedure adherence may be measurable, it is not especially useful if little or no action is taken based on the learned results.
This makes the metrics less meaningful, potentially resulting in a cycle of poor or inconsistent data collection.
4. Track Agent Development and Progress
Monthly quota-based tracking checks the box when it comes to tracking agent development and progress, but it is not a clear and effective way to coach or motivate employees.
These data points are often convoluted and there is rarely time to analyse results with any in-depth look into what may really be going on.
With most call centres unable to identify poor call centre performers it may come as no surprise that tracking agent progress also presents a challenge.
Time is scarce for analysis and dedicated coaching is often under-resourced.
Quality Assurance Team Leaders are often performing evaluations that are reviewed on a monthly basis. With much of this time spent on poor performer identification, it remains a challenge to focus on rewarding agent progress or analysing how agent development affects the greater good.
Looking Forward to Tactical and Strategic Frameworks
While quality assurance measurement exists through operational frameworks, there are seemingly countless missed growth opportunities.
An operationally-focused call centre needs to be concerned with daily tasks, workflows, and processes.
But, as innovations in live web chat and social media customer care continue to trend upward, call centres working within a strictly operation framework will not be able to keep up.
It is best practice to consider call centre quality assurance as an evolution from operational to tactical to strategic.
The processes and workflows in an operational framework are absolutely essential to call centre success.
This day-to-day, short term decision-making is what begins to support the grander scheme tactical and strategic approaches we discuss later in this blog series.