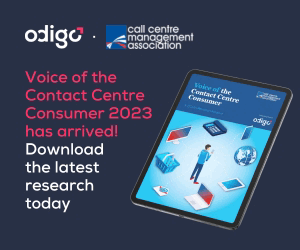 Melissa Cowdry at Odigo asks if dazzling moments of truth rely solely on agent skills?
In 2006 McKinsey introduced the concept of the moment of truth. A spontaneous event occurring when customers invest a high amount of emotional energy in the outcome of an interaction. The service they receive at such a time has a powerful and potentially irreversible effect on their opinion.
Get it right and nurture a possible brand ambassador. Get it wrong and they may well leave. After such a period of rapid change and digitalisation do the old rules still apply? Are agents still the linchpin when delivering dazzling moments of truth?
McKinsey talked about a spark between an agent and customer that happens during a moment of truth. Combined together, the level of customer investment in the outcome and that spark have a powerful effect on loyalty and trust.
A contact centre primed to achieve the right outcome is like the striking strip on a matchbox, when customers make contact sparks can fly.
It's no small task though, to maximise the chance of a satisfying customer experience (CX) careful planning of each interaction in every conceivable customer journey is required. Experiences also need to live up to customers' preformed expectations.
Even then 'simply' designing and executing a set of great experiences isn't enough, moments of truth aren't just a positive experience they need that spark. What really is the spark though, and where does it come from?
Identifying Moments of Truth and the Spark
Every query matters to a customer but the ones which leave a more indelible impression tend to occur when there is more at stake:
Emotional investment
Urgency
Complexity
Financial queries
For these types of interactions CCMA data shows customers are less likely to turn to self-service. Agents are seen to be the best, most trusted channel.
Why? As Stephen Yap from the CCMA said, customers want their questions and queries resolved quickly and painlessly.
Agents are often seen as the most reliable route to resolution, because, when there's a lot at stake that's what matters. Quite simply when it comes to moments of truth the spark is rapid resolution and the resulting emotional release.
It follows that being able to identify these high-stakes situations when moments of truth are likely to occur makes it possible to invest agent time and resources to maximise on the opportunity and promote resolution.
Natural language understanding can identify key words or phrases in speech or text that can signal this type of interaction.
Escalation options and advanced routing can then be employed to fast-track queries to specialised teams. Add to that sentiment analysis, and identifying moments of truth in the making becomes a lot easier.
Are Agents the Bright Sparks in Moments of Truth?
Originally the spark in moments of truth was attributed to the interaction between a customer and an agent, both parties were necessary.
It's true that skilled agents can use emotional intelligence and empathy to acknowledge emotion and validate customer concerns; "I can see why this is important to you".
This goes a long way towards making a customer feel valued, a key component of loyalty; 30% of digital UK consumers left a trusted brand because they didn't feel valued as a customer.
Clearly agent involvement is often beneficial, but it's not always necessary or desirable. For example when customers can rapidly solve their own query without waiting for the helpline to open and minus the call queue.
As the spark is rapid resolution and emotional release, its foundation lies in the customer experience; which they can provide for themselves, no Agent Required.
Prepare to Dazzle Using Technology
Quick, painless resolution should be the aim of self-service. This means that not only can technology help set the stage for moments of truth to play out in the best possible way, self-service can also spark positive moments of truth without agent involvement.
With this in mind knowing what to bot and what not to bot is very important as negative experiences with self-service could have the opposite effect, driving customers away.
The reality is each interaction is important, not just moments of truth. A string of underwhelming experiences can create bias towards a brand long before any pivotal moment.
Critically it's not just how the customer perceives each of these experiences, it's also how they can go on to inform future interactions.
This point is highlighted by the Harvard Business Review and some of the top challenges organisations face when trying to resolve customer queries:
65% – silos preventing effective internal communication
64% – lack of visibility on previous interactions
63% – access to customer data is limited or restricted
Poor access to data – or access to poor data – is a significant barrier to resolution. In these conditions loyalty let alone transformative moments of truth are unlikely to be prolific.
Contact Centre as a Service (CCaaS) solutions provide and integrate both self-service and agent-led omnichannel experiences for end-to-end functionality and visibility. 360-degree customer views and widgets which display specific targeted details, inform agent decision making.
The Harvard Business Review also noted that for 75% of organisations highly manual, complex, time consuming workflows were also a problem.
Intuitive unified consoles and NLU analysis of customer speech make completing tasks simple and can provide suggestions as to the next best action.
Contact centre technology creates the conditions for effortless resolution so that when interactions matter, dazzling moments of truth are possible.
This blog post has been re-published by kind permission of Odigo – View the
Original Article
For more information about Odigo - visit the
Odigo Website