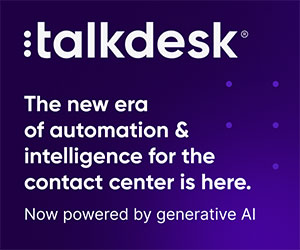 Celia Cerdeira at Talkdesk explains how many of today's businesses are shifting toward a remote model, and companies need to adapt to find quality talent.
Taking calls for a call centre might not traditionally be seen as a work from home job. But, times have changed and many contact centre agents have started working from remote locations, as opposed to an in-person office.
The Benefits of a Work From Home Customer Service Department
A work from home call centre can provide several benefits to your business. For instance, it can allow your company's customer service teams to increase their availability, providing better overall service for customers. A few other benefits include:
The possibility for flexibility, such as adding and removing temporary hires for peak seasons.
The ability to bring on a globally-dispersed team, which can then provide 24/7 support for customers from a variety of time zones.
Lower overhead costs, since there will no longer be a call centre office to upkeep.
Call Centre Management Tips
With all of this said, it can still be a challenge to manage each remote customer service representative as they shift to a work from home call centre.
Managers need to take conscious steps to ensure that they are properly evaluating customer service representative performance, fostering a passion for the company and its customers, and equipping agents with the tech support that they need.
The goal is to give each centre agent, regardless of location, the tools they need to provide the best customer service.
Here are seven ways for a manager to ensure that they provide the best support for their remote-based call centre employees:
1. Provide Continuous and Individual Feedback
When managing remote centre jobs, remember to check in with each individual, especially because they are no longer gathered in a single location. Set up a cadence of feedback, whether that means checking in weekly, monthly, quarterly, and so on.
Continuous and individual feedback leads to growth, plus it shows each employee that you care about them.
2. Create Opportunities for Relationship Building
Your employees still need to be connected with each other, and this takes intentional effort when moving to a remote work model.
Community fosters collaboration, passion, and better job satisfaction. Find ways to get your employees in on virtual hangouts, video call water cooler meetings, and other similar activities.
3. Leverage Technology
So far, some of these items may seem like a challenge to execute. But you can manage your remote workplace much more easily by supporting your efforts with technology.
Cloud contact centre software is a great place to start. It has features such as monitoring agents with call recording, providing central virtual locations for your agents to visit, and integrating with other helpful management software.
4. Give Remote Agents Structure and Agency
You will need to give your remote agents a balance of both structure and agency. The best way to do this is by incorporating techniques for monitoring performance, such as call monitoring, and by implementing consistent training.
A cloud contact centre can help by providing methods for keeping track of each centre representative and their performance.
Cloud contact centres also facilitate excellent training, which can make agents more confident and trustworthy in their daily operations and allow managers to be more hands-off.
5. Maintain Team Culture
To draw excellent talent to your organization, build a strong team culture of respect and helpfulness, even in a remote workplace.
Provide your agents with great human resources, support in each of their respective time zones, and other employee benefits. Think outside the box to create remote-based programs that will encourage employee participation and collaboration.
6. Provide Autonomy
Create autonomy within each of your centre jobs by encouraging each of your agents to set their own goals and use tools to succeed.
Often, disorganization can lead to micro-managing, so it's important to make sure that your daily call centre operations run smoothly and practically.
Call centre software enables managers to establish workflows, monitor agent performance from a central dashboard, and execute other tasks to stay organized.
7. Focus on Day-to-Day Customer Support KPIs
Define what success means for each agent, and then encourage them to follow through with this definition. Customer support metrics can be a great place to start, such as tracking first call resolution, service level, and abandon rate.
Cloud contact centre software makes it simple to track metrics, then use them to build out achievable KPIs for your customer service representatives.
Work From Home Call Centre and Cloud Migration
Because of this growing need for work from home call centre agents and because of the general cloud migration happening across all industries, a cloud-based contact centre can be a great option for today's call centres.
A cloud call centre uses specialized technology to manage a distributed workforce of call centre agents.
Benefits of Using a Cloud Contact Centre
While many businesses only consider using a cloud contact centre because of a general shift towards remote work, it has other helpful features, such as:
Call Monitoring
When shifting to a cloud-based call centre, you can easily do call monitoring, which records your agents' performance and leads to better feedback and long-term employee growth.
It means that even though your workforce is dispersed, they can still be monitored and guided to grow in their customer service skills.
Better-Quality Calls
Switching to a cloud-based call centre also means that you can use its modernized built-in call features. This often means fewer dropped calls, better connectivity, and a higher-quality sound. Calls made from a cloud-based call centre tend to be more reliable and more consistent across the board.
Scalability
Virtual call centres often work off of a license model, meaning that it's simple to add on new employees. It only takes a few minutes to onboard agents and the process is relatively low-cost, enabling you to expand your team whenever needed.
FAQs
What is a Call Centre?
A call centre is the main point of contact between customers and the companies they do business with. The call centre has large teams of agents that provide assistance on various issues, such as general questions, orders and returns, support service, and many others.
There are three types of call centres: inbound, outbound, and blended.
Inbound call centre. An inbound call centre manages incoming calls from customers, most commonly calling about technical support, product queries, scheduling for services, and others.
Outbound call centre. An outbound call centre focuses on outgoing calls to prospective and existing customers, often fulfilling a sales, marketing or customer success department's needs.
Blended call centre. A blended call centre takes care of both inbound and outbound calls, depending on the situation.
How to Handle an Angry Customer in a Call Centre?
To handle an angry customer on the phone, you can follow these five steps:
Listen. The customer may simply need to rant, and then will calm down after having a chance to express their frustration.
Remain calm. Losing your temper at the customer will only worsen the situation.
Repeat information. Repeat the information you learned during the customer's rants back to them, to show that you understand and empathize with their issues.
Avoid the hold button. Putting a customer on hold when they have lost their temper will cause them to become even more frustrated, so it's important not to try this technique for responding to them.
Make the caller happy. See how you can surprise and delight the customer during their time of frustration, whether that involves giving them solid options of ways to move forward, offering a discount or refund, or making an appropriate lighthearted comment and thanking them for being patient.
This blog post has been re-published by kind permission of Talkdesk – View the
Original Article
For more information about Talkdesk - visit the
Talkdesk Website