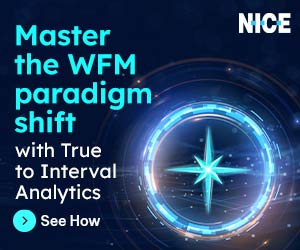 Paul Chance of NICE discusses how to avoid disengagement in the contact centre.
There's a common misconception that employee engagement is tantamount to employee happiness or satisfaction.
Although great benefits, pay and other perks like a game room or free snacks can make employees happy and excited to come to work, these incentives don't necessarily translate to more productive workers who are committed to customer delight.
Consider, for example, employees at a coffee shop: When customers put in their morning coffee order, employees don't have to make small talk or suggest the day's special.
Engagement, or an employee's emotional commitment to an organization and its goals, is what drives them to go the extra mile, making the customer feel welcome and appreciated.
Satisfied employees may show up on time every day, but they might not make the extra effort required to meet organizational goals.
When employees are fully engaged, however, they use discretionary effort, and being able to harness that effort can make all the difference for contact centres.
Research by Gallup found that organizations in the top quartile for employee engagement had 21% higher profitability.
Another recent study of contact centres by ICMI found correlations between high employee job satisfaction and high customer satisfaction, low employee job satisfaction and high staff turnover, and low job satisfaction and high absenteeism.
With the average cost of recruiting, screening and training a new contact centre employee totalling more than $12,000, a boost to engagement can significantly reduce costs.
Just how employee disengagement turns up in contact centres varies widely, including:
Having the wrong candidate for the job: Not every candidate is suited for contact centre work. Those with the right personality, job fit, soft skills, motivation and work ethic tend to be more engaged and higher performing.
Incomplete or minimal training: Without proper training, employees find it difficult to meet customer service goals, which translates to greater stress from handling a higher volume of unsatisfied customers. As a result, companies can suffer from reduced service levels and are likely see higher turnover.
Low chances of career advancement: New supervisors may not receive formal training, and without personal management skills or coaching abilities, they often struggle to help agents improve and better meet customer service levels. This communicates frustration and apathy to call centre staff.
Non-competitive compensation: A "satisfied" employee can easily be lured away with a small bump in pay or better benefits if their compensation package isn't competitive.
Overwork of experienced employees: Workforces with elevated turnover often burden experienced employees with higher expectations and more work, which increases stress, reduces motivation to increase skills and depresses morale.
Unpleasant physical or interpersonal working conditions: If turnover is high, employees may be asked to take double shifts or work erratic schedules, which causes health problems, higher stress and creates a high-pressure environment.
Exhaustion from monotony: Many contact centres use strict scripts or pitches in an effort to simplify work, but performing the same task day after day can be emotionally and mentally exhausting. It often means that agents feel little autonomy and lack creativity or challenge in their work.
Poor leadership and supervision: Supervisors are on the front lines of engagement, and poor leadership results in bad management, a lack of teamwork and ineffective communication, all of which contribute to employee apathy and dissatisfaction.
Working with outdated technology: Cumbersome and non-intuitive software forces employees to spend longer on frustrating and time-consuming activities like looking for the right information and reviewing past customer interactions.
Poor analysis of call centre statistics: Contact centre employees are sometimes rigorously measured against call statistics and punished when goals aren't met, even if goals are unrealistic. The focus should be on providing quality customer service, not on improving metrics at a cost of employee satisfaction.
When these problems exist in a contact centre, they're typically associated with diminished revenue recovery, flat or declining sales, high abandonment rates, elevated compliance risks and low retention.
Simply retaining employees isn't enough to drive engagement and discretionary effort – contact centres must provide agents with the right tools and training to attain higher engagement.
Creating an environment where agents buy into and feel positive about their organization and the work they're doing leads to high-quality service as well as increased customer satisfaction, sales and profits.
Workforce management (WFM) solutions can help. Learn more about how the NICE WFM Suite helps contact centres unlock the most effective ways to drive employee engagement with intelligent recruiting, training, scheduling and forecasting tools.
This blog post has been re-published by kind permission of NICE – View the
Original Article
For more information about NICE - visit the
NICE Website