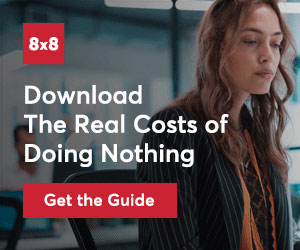 Great customer service is at the heart of successful businesses and begins the moment a customer reaches out to engage with a company.
Pop-up windows that provide enhanced caller information can help you deliver a superior experience from the moment you pick up the telephone, giving your business an opportunity to stand out from its competitors.
Let's take a look at how businesses can use incoming voice call pop-up windows to retain customers and build loyalty through exceptional customer service.
What Customers Expect From Your Business
Customer service has an enormous impact on how a business is perceived. In fact, 96% of people say that customer experience impacts whether they support a company.
Here's some insight into what consumers expect, according to a HubSpot survey:
90% want an "immediate" response to a customer service question
33% are frustrated when put on hold
33% dislike repeating themselves
Simply put, businesses must provide fast, efficient service and make interactions as easy as possible for customers.
How Enhanced Caller Information Improves Customer Service
Knowing the details of who's calling can facilitate engagement, whether customers are complaining to a support line or making enquiries to a sales department.
Pop-up windows can be programmed to provide basic caller ID info on your computer screen when the call is ringing or when it's answered.
If you have an application or database to manage customer information, a desktop app, such as 8×8 Work Apps, can pull relevant information from back-end systems so staff can personalize the call.
Depending on your CRM, you can prepare staff by putting valuable information right at their fingertips before they even answer the phone. This includes:
Customer details
Call history
Purchase history
Support tickets
Invoice and payment information
Appointment scheduling
Agent notes regarding potential sales opportunities
Benefits of Caller ID Info
According to a study by PwC, superior customer service is characterized by speed, convenience, consistency and friendliness – all of which can be supported by enhanced caller information.
Here's how an incoming voice pop-up window can enrich customer experience.
1. Speed
You can serve customers faster. Customer details are already on-screen, so callers don't need to recite account numbers or repeat redundant information. A restaurant, for example, can have a customer's favourite pizza order pop up. It can include their usual substitutions and delivery address to make ordering faster.
2. Consistency
Customer information is the same no matter who answers. If a caller is following up on an issue, the agents have detailed notes from past calls in front of them, saving the caller from re-explaining the problem.
3. Efficiency
Staff spend less time searching for data and retrieving records, as information pops up instantly within one window. The CRM integration makes a customer's full account appear, enabling them to follow up on any recorded issues in one call.
4. Friendliness
Caller ID info lets you personalize a conversation. Staff can greet clients by name and have pertinent details on hand. A veterinary office that's scheduling an appointment for a dog, for example, can refer to the pet by its first name for a more personal touch.
Businesses must deliver great customer service along every step of the purchasing journey, starting the moment employees answer a call. Find out how 8×8's Work Apps can deliver enhanced caller information to your staff to make your customer service stand out.