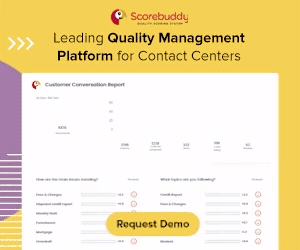 When it comes to carrying out quality assurance for your business, two main tools have become industry standards—spreadsheets and scorecards.
If you work in a quality assurance position in a contact centre, there's a 99% chance you are using one or the other on a daily basis.
If you're in the 1% not using either, please get in touch and tell us your secrets!
An effective QA process is key to the call centre's success, so using one of these tools can be a game changer. The question is: which one is better?
Or, more importantly, which one is right for your business?
In this post, we've decided to pit spreadsheets and scorecards against one another in a QA showdown for the ages to answer these questions once and for all. With both having upsides and downsides, which tool will come out on top?
Why Is Quality Assurance Management Essential for Call Centre Success?
A recent report from Gladly found that 42% of consumers would stop buying from a business entirely after just two negative service experiences.
With stakes this high, you need to do everything you can to keep service standards high in your call centre. A robust QA program will help you enhance CX and engage agents to deliver exceptional service to customers.
You can identify trends and establish best practices for your contact centre processes through ongoing evaluations and effective reporting.
A dedicated quality management platform will support a data-driven approach to performance reviews, ensuring accurate assessment based on factual, concrete information. Perhaps most importantly, QA turns all agent-customer interactions, even negative ones, into opportunities for learning and growth.
How to Accurately Measure Quality Assurance
To make sure you are getting the most value out of your quality assurance program, you need to measure its impact by keeping an eye on key metrics. Given the amount of data involved in a typical QA process, there are countless stats you could track.
The trick is to identify which ones are most relevant to your organization and ensure that you are tracking them accurately and consistently to chart your progress over time.
Some of the most useful metrics include:
CSAT: A measure of customer satisfaction based on a one-question survey, which typically asks customers how happy they are on a scale of 1 (very unsatisfied) to 5 (very satisfied).
NPS: Net Promoter Score is another one-question survey measuring how likely a customer is to recommend your business to a friend or a family member.
AHT: Average Handle Time refers to the time it takes to resolve a call successfully. The key here is to satisfy the customer with your solution, not just get them off the phone as quickly as possible.
FCR: First Call Resolution tracks the frequency with which agents are able to resolve customer issues in one interaction.
CES: Customer Effort Score measures how easy it is to do business with an organization. The less effort the customer has to put in, the better, so try to avoid excessive transfers, channel switching, and repetition.
These are some of the most important metrics in a call centre environment, and a strong QA process will go a long way to improving them.
The two main tools underpinning the typical QA process are spreadsheets and scorecards. Without one of these tools, you are flying blind.
With this in mind, let's take a look at the pros and cons of spreadsheets and scorecards.
Using Spreadsheets for QA: Pros and Cons
Many regard spreadsheets as a tried and tested tool for quality assurance, and though they are ubiquitous across many industries, spreadsheets are by no means perfect. Let's take a look at the pros and cons of using spreadsheets for call centre QA.
Pros
Familiar: Most people are familiar with spreadsheets and have at least a basic grasp of how to use them.
Cheap: Free spreadsheet software with basic functionality is readily available to any business.
Low Commitment: Spreadsheet software doesn't typically require any contract or commitment to use.
Static: If you aren't interested in scaling up operations or growing a business, spreadsheets may be enough to handle a basic QA process for a small team.
Established: For many organizations, spreadsheets are part of an established QA process. In this case, it might be better to stick with spreadsheets and optimize your existing process rather than bring in new software.
Accessible: Spreadsheets are probably the most accessible QA tool on the market. The software is available everywhere and typically requires little-to-no training, as most people have used spreadsheets before.
Functional: Spreadsheets offer excellent functionality if used correctly, allowing you to carry out complex filtering and data processing with detailed formulas.
Cons
Not Purpose-Built: While spreadsheets are useful for certain tasks, they're not designed for the intricacies of contact centre QA. Compared to purpose-built QA tools, they are limited in sharing information, analyzing data, and streamlining processes.
Static Data: Owing to the static nature of spreadsheets, the information stored can quickly become outdated, limiting its usefulness as a QA tool. Without access to real-time data, trend identification and decision-making become more difficult.
Poor Scalability: When scaling a business, using spreadsheets can be challenging. The more complex the spreadsheets become, the greater the likelihood of an error occurring somewhere within the process, threatening the integrity of the whole endeavor. As a business scales up, more information is processed, requiring extra hours of manual spreadsheet input for information that can quickly become outdated. This makes the QA process cumbersome and error-prone along the way.
Difficult Collaboration: Using spreadsheets complicates the collaborative process. To update and share your work, you may have to repeatedly download and upload spreadsheets, creating multiple versions of the same document and losing track of which one is the latest.
Lost Time: Tweaking spreadsheets manually, downloading and uploading the latest version, and collating feedback from other team members all eats up time, taking away valuable hours that could be put towards important QA tasks. The extra manual labor required here could negatively impact other business areas.
Human Error: Spreadsheets require manual input, which leaves the QA process vulnerable to human error. A simple typo can affect the entire QA process outcome and result in inaccurately informed business decisions.
Weak Security: Disparate spreadsheets lack the security and data integrity of a centralized QA hub. With a spreadsheet, there is nothing to stop someone from making a copy and sharing sensitive company data. In terms of regulatory compliance, spreadsheets require more manual effort, as they lack the in-built compliance features of purpose-built QA software.
Limited Evaluations: Monitoring agent performance via spreadsheets is trickier due to the static nature of the format. Keeping on top of performance requires constant manual input, making it virtually impossible to provide real-time feedback and targeted coaching.
Disengaged Agents: If you can't share performance data with agents in real time, they will begin to doubt the entire QA process, limiting opportunities for coaching and negatively impacting team morale.
What Are QA Scorecards?
QA scorecards are used to evaluate and grade agents based on their performance and behaviors in interactions with customers. They are highly adaptable and can be used for different purposes across a range of channels.
For example, you could have a different scorecard to monitor each communication channel within your contact centre, like a phone or live chat; and a scorecard for every aspect of agent performance, like empathy or compliance.
If you can think of an aspect of your call centre operations that you would like to evaluate, you can design a scorecard for that purpose.
Not only does this allow call centre leaders to identify trends and make changes based on scorecard insights, it also provides a valuable coaching tool. Scorecards can serve as a guide for agents, directing performance, increasing engagement, and alleviating stress by clarifying their role and purpose within the organization.
All of this leads to a more efficient call centre, with a better customer experience and higher CSAT and NPS scores.
Using Scorecards for QA: Pros and Cons
Scorecard tools are designed by experts to streamline the QA process, making it easier for contact centre leaders to carry out data analysis, identify actionable insights, and provide targeted training to agents. Typically, they are customizable and can be tweaked to serve various different purposes.
Let's examine the pros and cons of scorecards.
Pros
Purpose-Built: Unlike spreadsheets, scorecards are designed for the specific purpose of carrying out evaluations. They are easy to configure according to your specific needs and can be designed to serve different purposes within the QA process, offering a detailed overview of the entire organization. Furthermore, by working with the provider of your scorecard software, you can leverage their years of experience within the QA industry to better understand how scorecards can be implemented for your business.
Real-Time Data: To derive effective insights from evaluation data, that data has to be timely and accurate. With scorecards, you're getting a steady stream of up-to-date, relevant information about every aspect of your call centre. This allows contact centre leaders to take swift action based on real-time data and makes it easier to provide agents with appropriate feedback.
Fully Scalable: As a business grows, so must its QA process. Scorecards are designed for scalability, with automated processes allowing for seamless growth in parallel with increasing business demands. No matter the extent of scaling, scorecard tools are capable of processing huge amounts of complex data without the need for additional labor or extra resources. What's more, automation reduces the likelihood of errors compared to the human input required to scale with spreadsheets.
Accurate Reporting: Centrally stored scorecard data and accompanying reporting tools make it easy to analyze and identify performance trends and derive relevant insights. Using automated processes rather than manual inputs significantly improves data quality, allowing for more accurate evaluations and, as a result, better decision-making from call centre leaders.
Simple Collaboration: With real-time data, collaboration is much simpler. Different stakeholders can share information, compile reports,

and instantly carry out comparisons without requiring time-consuming data manipulation.

Dashboards update automatically, ensuring immediate access to evaluation results for agents, supervisors, and anyone else who needs them.
Streamlined Evaluations: Using scorecards not only simplifies the evaluation process but also enhances accuracy and encourages agent engagement. With customizable scorecards, you can link agent performance to the most important metrics for your call centre, allowing for easy analysis of strengths and weaknesses within the team. This makes it easier to identify areas for improvement and provide tailored training for those agents who need it. The real-time nature of the scorecards also ensures that agents have immediate access to their performance reviews, encouraging engagement and ownership.
Enhanced CX: The customizable nature of scorecards means they can be configured to monitor the customer journey at every touchpoint. This generates detailed data about every step of the customer's journey, allowing agents to adjust their approach accordingly and ensure that every customer receives a personalized experience.
Strong Security: With automation, centralized storage, and even the ability to design scorecards based on regulatory compliance, scorecards provide the foundation for stronger data security and consumer protection. By measuring how well agents comply with regulatory requirements, you can limit risk, protecting your organization and the customer from harm.
Cons
Require Training: To be effective, scorecards must be implemented across the entire call centre. Unlike spreadsheets, which many employees will already be familiar with, this implementation may require some training.
Potentially Unnecessary: For small teams or businesses with few QA requirements, scorecards may prove too complex.
More Expensive: Unlike spreadsheets, which are generally low-cost, implementing scorecard software can involve a more significant outlay.
Trickier Implementation: As noted, to get the greatest benefit from scorecards, you need to implement them across the entire call centre. This can be an undertaking, particularly if you have to redesign your existing QA process to include scorecards.
Bigger Commitment: Considering the expense and the scale of implementation required, scorecards are a bigger commitment than spreadsheets. If you decide to switch to scorecards, you need to be prepared for the level of commitment required to get the most benefits.
Scorecards vs. Spreadsheets for Call Centre QA: Which One Is Right for Your Business?
After assessing both tools, it's clear that there are advantages and disadvantages to each. So, which one is right for your organization?
Well, it depends on the specific needs of your business. Spreadsheets are well established, easily accessible, and offer excellent functionality in terms of complex formulas and filtering. Scorecards, on the other hand, are better for scaling, real-time collaboration, and QA evaluations.
Tallying up the pros and cons of each, we think that scorecards just edge it when it comes to quality assurance.
This blog post has been re-published by kind permission of Scorebuddy – View the
Original Article
For more information about Scorebuddy - visit the
Scorebuddy Website