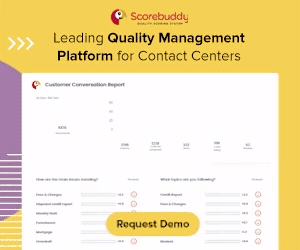 BPOs, or business process outsourcers, face their fair share of challenges.
The outsourcing industry is fast-paced and highly nuanced. It requires outsourcers and their teams to be organized.
Many outsourcers are managing numerous calls per week, all with each client's own brand voice, language, and business jargon. It can be a lot to handle.
How can BPOs manage their agents and make sure they are following compliance and customer service protocols efficiently for every client?   
call centre scorecards are an easy-to-use tool that provides excellent insight into your processes. They are the heart of a high-quality assurance program, and the key to better agent coaching. For BPOs, they are vital for staying organized and ahead of issues as you work with a variety of clients.  
What are call centre scorecards?
Following a developed set of metrics, call monitoring scorecards are tools utilized by managers who are implementing a quality assurance program. Scorecards gather information about a range of subjects, including:
 
Processes

 

Compliance objectives

 

Goals and metrics 

 

Tone of voice


 
call centre agents use scorecards to self-evaluate each interaction with a customer. Managers can then use the information from these scorecards to identify pain points, successes, and areas for improvement. Scorecards can evaluate content from a range of different channels—including text, email, phone calls, and social media messages. The main benefit of scorecards is that they both improve agent performance and processes at the same time.  
How do BPOs interact with Scorecards?
Now that we understand call centre scorecards, let's talk about scorecards for BPOs. What are the differences between the two? There is a lot to think about, like:  
BPOs scorecards measure the client's outsourcing business goals with agent performance. 

 

BPOs also use scorecards to analyze if a client's profitability metrics are on track. Customer satisfaction is a huge indicator of repeat business. 50% of customers say they would never buy from a company again after a poor experience. Scorecards help lower the risk of this happening in BPO call centres.

 

Lastly, BPO scorecards can be used as an incredibly effective coaching and training tool and can be customized with each outsourced client's branding. 

 
Using Scorecard Data to Define Training
Scorecards can be highly customized to your call centre. By monitoring agent performance through scorecards, you'll get an indication of performance trends and how it relates to customer satisfaction. This information also pinpoints knowledge and skills gaps, which can help you to develop high-quality training programs to address where agents need the support.  
Scorecards can also measure aspects beyond if agents are using the proper script. They can also measure KPIs like empathy, compliance, attitude, and morale. Empathy is a highly desirable agent trait for customers. In fact, 49%  say they want to work with an empathetic service agent.  
BPO scorecards to define and increase performance
BPOs must get up to speed with their clients' goals very quickly. This requires fast and agile training of all agents. Scorecards are an incredibly efficient organizational tool that helps BPOs increase agent performance and exceed their customer's expectations.  
Here are some ways to use scorecards as an effective coaching tool: 
Use scorecards to monitor teams on a weekly basis.
Use scorecards to ensure accountability and deliver strong results.

 

Collect and gather feedback to improve performance and processes.

 

Scorecards increase morale and improve the employee experience.

 
BPO scorecards for feedback
The beauty of scorecards is that they can be used as a self-evaluation tool. Agents can honestly evaluate their performance without fear of backlash or judgement. This then lays the groundwork for an open discussion with management. This creates a ripple effect that positively affects customer satisfaction as well. Using scorecards helps you to objectively give feedback both positive and negative.  
"Using the Analytics reports provide us with information where to focus on, the loop with training and coaching is easily made and we can improve our tools to support our agents in a better way." Linda Matthijs, Quality Development at 5CA.  
BPO managers have enough on their plates. Quality assurance tools like Scorebuddy's BPO scorecards make monitoring feedback and agent interactions easy and painless. Scorecards not only prepare agents to do their best work each day, but they also supply positive long-term process improvement for outsourcers.  
This blog post has been re-published by kind permission of Scorebuddy – View the Original Article

For more information about Scorebuddy - visit the Scorebuddy Website