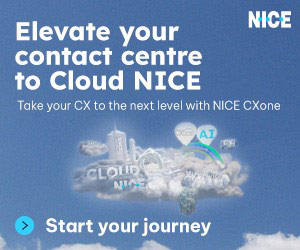 NICE CXone announced that one of the largest financial institutions in Latin America has chosen CXone, the industry's most proven, complete and smart customer experience platform, for a comprehensive move of 10,000 agents to the cloud.
It is phasing out an outdated on-premises system in favour of a more flexible, scalable option with CXone that is expected to drive down costs while improving customer and agent experiences.
The bank, classified by Forbes as one of the largest companies in the world based on business generated, assets and market cap, needed a true cloud environment to support its large contact centre population of more than 30,000 agents.
As it phases out its on-premises systems, the company is migrating 10,000 seats to CXone initially, with plans to fully transition to the cloud within the next three years.
The financial services company pointed to CXone's large number of application programming interfaces (APIs), comprehensive security and compliance standards on a single, proven platform and numerous native digital channel options as reasons for selecting the platform.
As an open platform, CXone provides hundreds of APIs and enables integrations with more than 100 partner solutions as well as customer-specific extensions, supporting a broad technology ecosystem that extends its capabilities.
It also delivers protection for critical company data and supports compliance with global security regulations and privacy standards.
"Today's customer experience economy calls for brands in all industries to elevate their game and catch up to next-generation consumer expectations," said Paul Jarman, NICE CXone CEO.
"Highly regulated financial institutions must remain compliant while also achieving exceptional levels of customer engagement in a mobile, on-demand digital environment.
"This win demonstrates what we're seeing in the marketplace – accelerated adoption of CXone by organizations of all sizes that are realizing we are living through expedited cycles of technology innovation and adoption that require a new customer experience standard."
Contact centres of all sizes are increasingly turning to NICE CXone to transform customer experiences based on its proven scalability, reliability, flexibility, and security. CXone enables integration with CRM or custom applications and supports rapid and ongoing innovation to differentiate service offerings.
Customers who select NICE CXone are looking for a robust contact centre solution to help them win in the experience economy by delivering exceptional customer and agent experiences that attract and retain customers and grow revenue.
CXone's unified cloud customer experience platform is helping businesses stay one step ahead with "smart" capabilities for infusing artificial intelligence and automation across the platform, agent experience and customer journey.
For more information about NICE CXone - visit the
NICE CXone Website