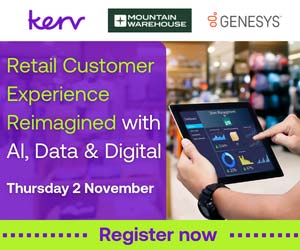 At a time when securing the long-term loyalty – and revenue – of your customers is a priority, new research shows that delighting customers doesn't build loyalty, but reducing the effort required from them in order to get their problem solved, does.
Keith Pearce investigates…
Few people will argue that the profile and behaviours of the average consumer have changed in the last 18 months.
Recent ContactBabel research, commissioned by Genesys, shows that while service provision has not declined, customer complaints are up 34 per cent in the last year.
Customers are just more ready to find fault and speak out about it.
The natural response is for businesses to expend a lot of time, resource and money on enhancing service and trying to 'delight' the customer.
But does the benefit of 'delighting' customers build that elusive customer loyalty?

New customers, new approach
Organisations look to delight customers to provide the satisfaction they believe will win customer loyalty – in line with Bain and Co's Net Promoter Score (NPS). The NPS predicts consumer propensity to re-purchase by asking customers how likely they are to recommend a brand to a friend – on the basis that someone enthusiastic enough to encourage friends to purchase will do so themselves.
But the ContactBabel research identifies five different types of customer: Dissatisfied, Vocal, Mobile (as in disloyal), Knowledgeable and Multi-Channel, all of whom will define 'delight' in very different ways.
New research (Research by Dixon, Freeman and Toman – as reported in Harvard Business Review, July 2010) into customer behaviour indicates that this sort of satisfaction does not automatically equate to loyalty. The Dixon, Freeman and Toman research showed that:
20 per cent of "satisfied" customers intended to leave the company
28 per cent of "dissatisfied" customers intended to stay
So, if delighting customers doesn't build loyalty, what does? According to the researchers, reducing the 'effort' required from customers in order to get their problem solved does.
The new Customer Effort Score – which simply asks: "how much effort did you personally have to put forth to handle your request?" is a more effective predictor of increased spending and of re-purchase.
Why focus on customer effort?
The psychology behind the Customer Effort Score is that loyalty has more to do with delivering on basic promises than it does with top-end service excellence. The majority of customer interactions are functional requests where the customer needs a simple answer to a simple question. Do this and the customer will come back. It only becomes necessary to delight when they become frustrated at the inability to get basic questions answered.
Loyalty is most often won through marketing and product/service excellence – and is then maintained through customer service. But a difficult contact centre experience will make a customer four times more likely to leave a service interaction disloyal than loyal.
What can organisations do?
Customer service must become translucent, with customers easily passing through it. Too many customers have to wait on hold, repeat information or start an interaction again when they contact the call centre.
These barriers make things much more difficult for the customer and rely on customers themselves to put in the effort to resolve their own issues.
The important role of social media
New channels of communication, such as social media and instant messaging, continue to grow in popularity amongst all customers.
Businesses need to find effective ways to resolve enquiries in whichever channel the customer finds easiest to use. Customer segmentation strategies can help here by expanding them to include a customer's social graph, which is a strong indicator of their preferences – as well as their value to your business.
Companies that can create a strong customer service presence in social networking, wikis and user forums will be able to resolve many issues for their customers quickly and easily. This guidance can increasingly be delivered not by agents, but by developing and activating tribal knowledge.
One of the largest state employment departments in America, at a time of high unemployment, saw inbound calls triple – creating long, frustrating call queues. Analysis showed that around 30 per cent of these calls were people asking the same question about changes in government policies. In response, the agency pushed information out through social media to answer citizens' questions, updating it when new announcements are made.

It all starts with measuring the right things
Whatever the channel, managing service delivery is essential. Traditionally, talk time or number of calls handled were core measurements, which evolved into first-time resolution and solving a request in the channel of origin. The shift from telephone-only towards multi-channel interaction requires an adjustment in performance metrics.
Anticipating future interactions to further reduce customer effort
First-interaction resolution should go beyond simply resolving the customer's initial enquiry. Several organisations have begun to identify 'Event Clusters' in their customer services.
There are some enquiries and interactions that naturally generate further enquiries days, weeks or months later. Take Bell Canada, for example. It found that customers who ordered a particular feature called back within a few days for instructions on how to use it. Today, any customer ordering this feature is given a short tutorial before the transaction is concluded. This anticipation and action enabled Bell Canada to reduce 'calls per event' by 16 per cent and customer churn by 6 per cent. (Example taken from "Stop Trying to Delight Your Customer" – by Matthew Dixon, Karen Freeman and Nicholas Toman, featured in Harvard Business Review, July 2010.)
If these 'Event Clusters' are not identified in the first interaction, then they can cause further customer requests in the future – which is both costly for the enterprise and inconvenient for the customer. The Dixon, Freeman and Toman research found that 22 per cent of repeat calls are for issues resulting from the original call, even if the first call was satisfactorily resolved at the time.
Interaction anticipation – pre-emptive action on issues and questions that companies know will arise – significantly boosts Customer Effort Scores. And this can only be achieved if organisations have the ability to see and analyse customer interactions to highlight trends, tendencies and connections between events likely to cluster together.
Pre-empting call-backs
Once these trends are identified and related questions are predicted, businesses can arm their employees with the knowledge to pre-empt call-backs by providing additional information or tutorials. One simple way that this knowledge can be applied to human-driven interactions is through screen-popping "did-you-knows" to agents, so they are alerted to common follow-ups of the issue they've just resolved.
Solutions should be simple
It's easy to talk about keeping it simple – the fact is that many enterprises are so disjointed that many barriers exist to achieving simplicity. Social media, for example, should be one of the lowest-effort channels there is – and customers that use it often don't like to leave it. But to be effective it needs to be integrated into customer service – not left in the marketing department as is so often the case.
Organisations should focus on reducing their customers' effort and building loyalty in their customer base.
Keith Pearce is Senior Director, EMEA Marketing, Genesys