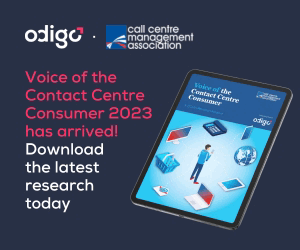 Neil Titcomb at Odigo looks at the research on vulnerable customers and what organisations can do to help.
The pandemic years have taught us all a great many things both in business and at home. Certainly, the narrative around vulnerability and the need for empathy has matured greatly. What we need in our personal lives, now more than ever, spills into our work lives.
Business leaders around the world are rising to the challenge of a more personable work dynamic, both for employees and customers.
Crucially, we have grown to recognise that not all vulnerabilities are immediately apparent, some customers with vulnerabilities may not even consider themselves vulnerable.
From the elderly or infirm, people living with a mental health diagnosis or those trying to cope with difficult life events, vulnerability comes in many forms. This has led to increased efforts to find ways of offering personalised services that minimise the risk of harm to these customers.
A Concerning Picture
The Call Centre Management Association (CCMA) with the support of Odigo recently commissioned research titled 'Supporting Vulnerable Customers in the Contact Centre'.
The report outlines the staggering extent of this at-risk group who can potentially suffer harm from poor customer service practices. Two out of three adults in the UK fall into one or more vulnerable groups.
According to the FCA, numbers of vulnerable customers have jumped from 24 million to 27.7 million between February and October 2020. The pandemic has undoubtably had an impact on this, but equally breaking down the barriers of stigma also give us a truer picture of how many people find themselves in difficulty.
A closer look at the research reveals 49% of all UK adults are 'health vulnerable' meaning they have suffered in the last five years from one type of health vulnerability such as recurring vision problems, hearing problems, mental health issues, fatigue, or difficulty understanding bills or letters.
However, this jumps up to 67% in those aged 18-34. This age group are also three times more likely to report having experienced mental health issues compared to those aged 55+ (40% to 12%). Less surprisingly given the current world climate, but equally important, over a third of adults (39%) have experienced a traumatic life event in the past five years
These statistics lay bare the true extent of and further highlight the importance for customer contact points to be able to identify vulnerable customers. It is only once vulnerable customers are identified that organisations can begin to help.
Addressing the Problem
As we move into winter supply chain issues and the ongoing energy crisis will put contact centres under unprecedented strain. Added to this will be concerns about helping vulnerable customers keep the lights on and the potential for more people to struggle with the grim reality of fuel poverty.
For contact centres, there are several solutions that could be deployed to support customers. Speech and sentiment analysis can help identify vulnerable customers and, with repetitive tasks taken care of by automation, agents are more available to offer empathy and assistance.
Investing in technology and specific vulnerability training can offer a better overall service and help agents cope with conversations that can be emotionally difficult.
One Size Does Not Fit All
Vulnerabilities are unique and can coexist, organisations cannot take a one-size-fits-all approach. It is imperative that a range of services and options are in place that can be used to tailor services in the best way to minimise harm to vulnerable customers.
For more information about Odigo - visit the
Odigo Website