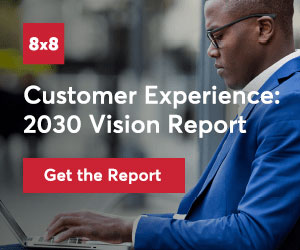 Jessica Smith at 8×8 explains that there is never a good time for downtime and why high availability matters to contact center leaders.
More than ever, your contact center is mission critical to the overall success of your business. In the last 12 months alone, it has gone from being one touchpoint in a multifaceted, multiexperience journey to a vital entity keeping customer connections alive.
With many face-to-face interactions being replaced by an increasing number of digital self-service (including virtual agents) and voice exchanges (supported by remote agents), the contact center is nothing less than a lifeline for customer experience.
Contact center leaders have always looked to put measures in place—and seek out solutions—that will protect the business from any type of business disruption.
System outages, aka "downtime," are among the most costly, leading to an inability to connect with customers, reduced agent productivity, missed sales opportunities—even damage to your company's brand reputation.
Simply put, then and now, your business cannot afford to experience downtime.
Legacy Systems Are Most Vulnerable to Outages
Many contact center leaders have already looked to the cloud as a key way to solve for outages or downtime.
While system reliability and stability will always come into question when moving to the cloud, the reality is that the uptime of a cloud architecture is far more stable than the vast majority of on-premises systems.
Why? The most common reason has to do with the expense of building a fully redundant solution. Many businesses simply can't afford to deploy truly redundant architecture. And unfortunately, without it, they are left more susceptible to outages for even the most common of system disruptions.
Whether it's a weather-related outage, a disruption within the technology itself, or a global pandemic that mandates remote work, legacy, on-premises systems are often left vulnerable due to architecture and/or system inflexibility.
Without a redundant environment to failover to, the outage will be felt operationally and financially. Some of these impacts will be short-term, but the effects can also be long lasting.
On-premises contact centers also struggle with contingency planning. Troubleshooting underlying issues and performing root cause analysis takes time.
Meanwhile, contact center leaders agonize over whether to "ride it out" (incurring the not-so-insignificant cost of paying agents for idle time), or simply send agents home.
Sending agents home can also be costly; when the system inevitably comes back up, the contact center will be under-resourced and unable to address queues full of angry customers.
Cloud Is Synonymous With Business Continuity
A primary benefit of cloud is system availability and uptime. Unlike our premises-based example above, contact center leaders know that—with a cloud-based solution—they don't have to rely on physical location(s) to restore operations.
Fully redundant cloud architecture means that failover is automatic. So agents and employees can continue working from anywhere in the world, without disruption.
High Availability Is the Essence of Platform Resilience
Now that we've acknowledged that the cloud is the best way to ensure optimal uptime and reliable operations, it's important to further understand platform resilience, starting with the concept of high availability (HA):
High availability is synonymous with redundancy in that each component of the platform is completely redundant.
Built-in redundancy is key to ensuring reliability and uptime (aka "business continuity") as system disruptions are both detected and recovered automatically within the entire system architecture.
A highly available contact center is one in which the architectural components—such as infrastructure, database, and platform—are provisioned in such a way that if any one component fails, the system automatically transfers to the secondary server.
As you can see, the cloud is a compelling option for contact centers striving to stay connected and reliable for their customers.
Not all Clouds Are Created Equal
When considering a cloud contact center solution, vetting the right platform for true business continuity means ensuring your provider delivers HA architecture, which we've just established means every component of the platform should be redundant. Period.
Additionally, you may want to question how many layers or levels of redundancy your provider offers. For example, here at 8×8 we are committed to a foundation that is architected with four layers of redundancy for:
Infrastructure
Platform
Database
Geographic
This blog post has been re-published by kind permission of 8x8 – View the
Original Article
For more information about 8x8 - visit the
8x8 Website