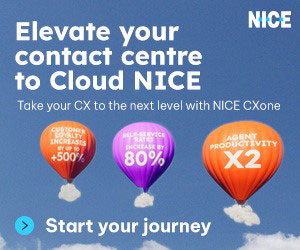 Abby Monaco asks "Is your organization delivering proactive service that will wow your customers?" and shares how to anticipate needs at the start of the customer journey.
By the time a call center agent utters the words "How can I help you"—the customer journey has veered off track.
Being reactive instead of proactive translates to lost time for your customers and lost revenue for your business when customers cannot find the information they need as quickly as they want.
As consumers, our first go-to is often a search engine to ask questions, or we check out the latest how-to YouTube videos to help figure out how to assemble our latest purchase. It's true we may eventually find what we're looking for, but shouldn't more businesses be the voice of decisiveness waiting on the other side of our interactions?
Advances in artificial intelligence (AI) have made it possible to help you deliver proactive, outbound contact with customers that is completely conversational and natural.
That's something your agents and customers will appreciate as well as reward by coming back next time.
AI offers the advanced capabilities to make it easier to be proactive. Learn more about how to wow customers by connecting with them at the beginning of their web search—with a relevant answer at the top of their result, a chat pop-up to assist on the web or a text with a service reminder.
Here are the top three things you can do now to give the customer journey a digital transformation to always stay one step ahead:
Set Goals by Starting With a CX Self-Assessment
This first step may sound obvious. Before you can begin to transform the customer experience, you need to understand what your customers are currently experiencing.
Improving self-service will create a greater capacity for delivering value to customers. Conduct a self-assessment on how your organization is currently communicating with customers. Benchmark this starting point to take the first step and get closer to your goal.
Have an internal discussion about what "proactive" really means to your business and determine whether that is in fact what is being delivered. This goes beyond just understanding the meaning of proactive service in general.
Proactive service means anticipating customers' needs and reaching out to them before they contact customer service on their own.
A flawed approach to proactive customer service can do more harm than good. According to Gartner, 60% of service leaders state that their customer service function uses proactive service to resolve customer issues but 85% of customers end up reaching out to customer service after proactive outreach. If your customers still have to reach out, it's time to evaluate the effectiveness of your proactive CX strategy.
Treat staying one step ahead as the full-business commitment it is—one that's centered around creating a frictionless customer journey. Proactively offer information when a customer needs it and complement it with an intuitive journey that resolves issues without requiring a phone call.
Deliver the right guidance at the right time. Meeting customers earlier in the journey not only gives them what they want, it yields reams of actionable data that agents can leverage to deliver hyper-personalized service—if and when a customer does need to speak to a human being.
Reacting to needs events after they happen is like letting your customers walk out of the door.
Tools such as automated digital messaging can increase customer retention and reduce unnecessary calls to the contact center. For example, if a customer policy renews at the same time each year, they can receive a text message that reminds them with a link to renew in the company's private app. This experience is much better than the customer receiving a paper bill in the mail every year that may not provide enough context for the customer and can result in a phone call to the contact center.
Discover Potential Problems and Proactively Create Solutions Through Agent and Customer Feedback
Your customers are telling you what they want, so take the time to listen and incorporate feedback. Actively listening to what your customers are telling you starts with having the right tools in place. In fact, when trying to proactively meet customers' needs the most common pitfall to avoid is having the wrong technology to gather and analyze data.
If one dissatisfied customer highlights a problem, it is important to use that data point to further analyze how many others are dissatisfied for the same reason. Pinpointing an issue and quantifying the impact across all customers will get you closer to resolving potentially damaging problems so that other customers will not have the same negative experience. This builds customer loyalty, prevents customer churn and improves the customer experience. AI can offer a level of precision that will allow you to do so.
Using AI to analyze past and ongoing digital and voice interactions, to collect survey data, social media feedback, and voice of the customer insights from all touchpoints and across the organization is the best way to improve future customer experience and optimize self-service options.
Survey data should be considered a valuable part of the overall customer picture and incorporated into other data. For example, combining survey data with sentiment scoring can build a proactive outreach program that ensures dissatisfied customers receive call backs or outbound SMS/texts to try to resolve their issues. This reduces churn, builds loyalty and improves customer lifetime value to the business.
AI can also help you determine which customers should be notified of problems through outbound communication. Modern contact center solutions can assist with examining this data in real time. Natural language understanding, live transcription, and sentiment analysis collectively enable managers to see exactly why customers are reaching out to spot trends early. Integrated recording and transcription across channels make it easy to investigate abnormalities.
Similarly, employee feedback can help locate pain points in the agent experience. It's essentially like having an "AI-whisperer" for agents where they receive in the moment coaching with embedded desktop tips based on phrases spoken or omitted, customer satisfaction metrics and AI-driven soft-skill behaviors. Supervisors have instant visibility into which agents are performing well and who may require additional coaching.
Artificial intelligence (AI) can help amplify what your customers are telling you by uncovering customer pain points using real-time analytics that measure sentiment and uncover topics being discussed at high volume.
Filtering high volume topics with low sentiment can identify issues with processes, products, customer service, or event an agent who might need more coaching. By giving each role a dashboard to monitor key KPIs such as customer satisfaction, handle times, repeat callers and more, the team can improve overall customer experience and solve problems quickly.
Empower Agents to Proactively and Efficiently Address Customer Issues
Give your agents the AI boost they need to make proactive customer service easier. NICE research found 95% of consumers say that customer service impacts brand loyalty, and 44% will abandon a brand after two bad service interactions.
Consider onboarding these tools now to simplify approvals and processes and help put a proactive strategy in place sooner rather than later:
Real-time interaction guidance delivers behavioral prompts and insights embedded in an agent's desktop and live supervisor monitoring to steer every conversation to a positive outcome—and ultimately improve customer satisfaction (CSAT).
Process guidance and automation increases employee potential with personalized, virtual resources
Native, single-application omnichannel agent experience with a streamlined interface helps agents handle digital and voice interactions quickly and easily.
Click-to-call functionality used on public articles provides customers the option for more in-depth, personalized customer service.
Another way to empower agents is to help them develop strong empathetic skills to form the type of personal connections with customers that leads to long-term loyalty. That's good for their career skills, and good for business. One study found that 57% of consumers say they would increase spending with a brand if they feel connected to it. Additionally, 77% would choose to purchase from that brand over a competitor.
Advanced modern technology can help agents provide the type of personal connections customers want. For example, if an agent and customer are interrupting each other, real-time technology can remind the agent to use active listening skills.
This blog post has been re-published by kind permission of NICE CXone – View the
Original Article
For more information about NICE CXone - visit the
NICE CXone Website