Megan Haas of Interactions makes the case for how Intelligent Virtual Assistants (IVAs) can generate a Return on Investment (ROI).
Companies plan to more than double their adoption of Intelligent Virtual Assistants (IVAs) by early 2020. And that's no surprise considering the major shift in focus towards customer service. But despite the fast adoption, choosing new technology for your business is still a big decision.
Not only does it become the face of every interaction with your customers, but it can break the bank if you're not careful. However, with the right technology, ROI and cost efficiencies can be just as transformational as an IVAs impact on customer care.
Using results from a survey conducted by Aberdeen in April 2019, where 445 businesses were surveyed regarding their customer experience programs and best practices, we have compiled three data-driven takeaways about how IVAs can deliver ROI to your business.
Increased Revenue and Decreased Costs
Firms using an IVA accomplish better year-over-year improvement across all categories including customer lifetime value, annual company revenue, website conversion rate, and more.
Why? Simply put, IVAs are able to handle a much greater volume of customer interactions, as any automated system can. In fact, there is no limit to the amount that they are able to handle.
Also, because IVAs are able to handle so many more customer interactions without increasing costs from live agents or overtime, the result is decreased operational costs per contact.
But what sets IVAs apart from other automated customer service technologies which can also handle unlimited interactions, like chatbots, is their ability to speak conversationally with customers, which results in more productive conversations.
Not only can these productive conversations drive quality results, like better experience for your customers, but they can also increase the quantitative result of conversations, namely through up-selling.
This is done by using AI capabilities that analyse the customer's past history and determine the opportunities that have the greatest likelihood to drive up-selling and cross-selling.
Increased Operational Efficiency With IVAs
What does it mean for a contact centre to be efficient? Broadly speaking, it's creating experiences for customers that are both quick and productive.
In this age of customer experience, however, we have to consider that these experiences must also be positive. In fact, the two top objectives that drive contact centre executives' agenda across almost every company surveyed was achieving operational efficiency and creating happy customers.
There are a few ways to measure operational efficiency in contact centres, a few being first contact resolution (FCR), agent productivity, and the number of service-level agreements SLAs met.
The companies that use IVAs report 2.2 times greater annual improvement in first contact resolution rates and 2.4 times greater increase in number of quality SLAs met. Agent productivity also saw a huge increase at 63%.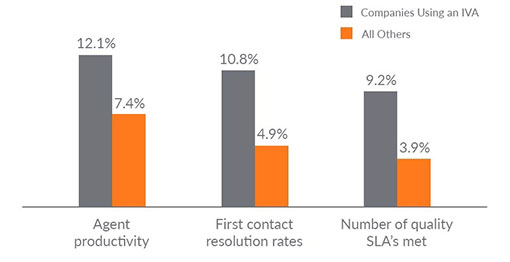 How Do IVAs Maximize Customer Loyalty?
When customers have a good experience, they want to buy from you again. It may seem simple, but it's a principle that is only recently gaining the level of attention that it deserves.
Hence, many companies have appointed CX executives and leaders in the past decade whose sole responsibility is to create loyal, satisfied customers.
Introducing new and innovative technology is often the most effective way to produce those results. In fact, companies that used an IVA achieved 2.5 times greater annual increase in customer satisfaction rates. And more, IVA users have seen retention rates increase by 88%.
The reason that IVAs can deliver these powerful results is because they answer to exactly what customers want. According to a report by PwC, nearly 80% of American consumers point to speed, convenience, knowledgeable help and friendly service as the most important elements of a positive customer experience.
With an IVA systems, customers are able to get things done quickly due to the quick nature of an automated system. They are able to get things done conveniently because IVAs can be accessed on a variety of channels, including voice, text, chat, and even on smart speakers.
Lastly, IVAs have human-like understanding so customers will not have to repeat themselves, and integration with other business systems allows for accurate, personalized, and productive conversations. These qualities can make IVAs on par with a knowledgeable live agent.
Together, increasing revenue, decreasing costs, increasing operational efficiency, and maximizing customer loyalty can drive tremendous financial benefits to a business.