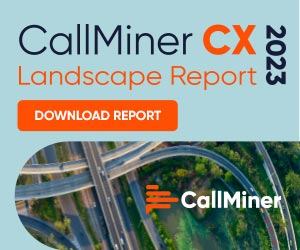 CallMiner introduce a number of strategies that are designed to improve customer journeys.
The customer journey is often mapped out by companies looking to learn about the customers they serve, but very few actually succeed in learning how to deliver better customer experiences and service.
To improve your business's customer journey across the board and regardless of what channel they engage on, it's important to consider what factors impact it directly and what proven strategies already exist to make it better.
Let's look at how improving your customers' journeys can also improve business and your bottom line.
What Influences the Customer Journey?
Every step in the customer journey counts, and companies looking to keep their customers over the long term should keep track of the most critical touchpoints – even as they pause and resume their journey across different touchpoints.
Learning what aspects of the customer journey can lead individuals to abandon your business or sing its praises can help you keep it aligned with consumer interests.
The following facets of each customer's experience with your brand can play a major role in defining the customer journey:
First Contact
Nailing the customer journey involves getting each interaction right from the start. That means setting a strong foundation from the very first moment a customer contacts your brand.
To do so, factors such as clarity, efficiency, and tone and sentiment should be optimized with care. Your brand's message must clearly align with its actions to leave a lasting, positive impression.
For contact centres, improving the first call a customer places to resolve an issue can also make a significant impact. Achieving this starts with tracking current performance more accurately.
That can be done by measuring a KPI like first contact resolution (FCR) to learn more about your agents' collective ability to satisfy customers on the first try.
Delivery
Delivering services and products to your customers is just one side of this crucial portion of the customer journey. You should also strive to deliver on customer expectations.
According to Forrester, "[…] a 10-percentage-point improvement in a company's customer experience score can translate into more than $1 billion in revenue."
This makes customer satisfaction upon delivery a must for most organizations and a defining factor in predicting customer behaviour.
Customer Effort Score is another great metric to track if you aim to improve product and service delivery. This can be implemented as a simple survey customers receive at different stages of product acquisition or use that asks them to rate how easy it is to use, etc.
Follow-Up
The customer journey does not end after products are sold or payments are made. Instead, it should be thought of as a continuous cycle capable of bringing new customers into the fold over time, and delivering on CX as existing customers continue to engage with your. One way to encourage such a result is to focus on the follow-up.
An actionable approach could be to solicit feedback from your customers as a soft opener, then respond to their feedback however you can so they know they have been heard. Dana Fugate at Wootric describes the varying levels of effort companies can put into their feedback responses as ranging from low-touch to high-touch.
For a high-touch approach, personally write back to your customers and dig deeper into their concerns. As a low-touch option, you can create a comprehensive blog post addressing them instead. A combination of each could prove successful as well.
Agent Strategies to Improve the Customer Journey
Focusing on communication and personalization can equip your call centre agents with the tools they need to effectively resolve customers' issues and boost satisfaction.
Communication
Customer support can implement an omnichannel approach to communication to better suit customers' needs. This includes voice, chat, email, social media and more.
Personalization
Customizing each of your customers' experiences with your company is a great, albeit more resource-intensive, way to build loyalty and trust among them.
This process should start with segmenting your customer base. You can define segments by product category, journey stage or even persona, then determine which segments represent the most significant potential ROI for your business.
Once identified, these valuable customers can be given contextually appropriate treatment to encourage continued business and brand advocacy.
Technological Strategies to Improve the Customer Journey
It's not just about arming agents with the skills they need to engage effectively with customers but also equipping your organization with the right technology tools to support these efforts.
Analytics and Tracking
As mentioned in the sections above, implementing various analytical strategies to measure KPIs can keep your company in the loop on how customers' perceptions of its services and products stack up at a given time.
The right analytics solutions make it possible to understand every customer interaction, regardless of channel. By understanding customer experiences individually and at scale, organizations can improve customer journeys and more effectively deliver the best customer experiences.
Self-Service
Chatbots make it possible for companies to immediately engage large numbers of customers at once, allowing live agents to focus only on issues the chatbot cannot solve on its own.
The effects of such an approach are twofold. First, simple issues are immediately sorted out for customers by the chatbot, without any unnecessary human intervention.
Second, thanks to the chatbot offloading most of the calls or contact attempts agents would have to handle for simple issues, they are better prepared to field more complex problems and fully satisfy frustrated callers.
FAQs and knowledge centres can also serve the same purpose as a chatbot, though with less automated guidance.
Improving the customer journey requires a careful analysis of every customer interaction. By implementing these tools and best practices, you'll potentially empower your organization to provide an exceptional customer experience at every touchpoint throughout the buyer's journey.
This blog post has been re-published by kind permission of CallMiner – View the
Original Article
For more information about CallMiner - visit the
CallMiner Website