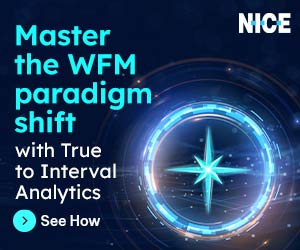 Our panel of experts share their tips for integrating technologies into the contact centre CRM system, before highlighting the benefits of doing so.
Your CRM System Should Support API Connectivity
Integrations can be difficult and costly to develop, deploy, and maintain. However, with pre-built integrations to Salesforce, Oracle, Microsoft Dynamics etc., some providers are able to deploy an integrated solution in hours.
Pre-built integrations with popular CRMs will also eliminate custom development and support costs.
Most providers will use application programme interfaces (APIs) to connect, and these are typically RESTapi or other web services APIs. So, in layman's terms, if your CRM supports open API connectivity, there will be a method to integrate and improve customer interactions.
Thanks to Atiq Rehman at Business Systems
Integrating Using Cloud Software
Cloud-based applications can be integrated with the contact centre's CRM system with just a secure internet connection.
To help choose a technology partner for a cloud CRM system, look for:
A product portfolio that offers out-of-the-box CRM integration capabilities or
Flexible APIs that allow a range of highly bespoke integration options with CRM as well as other powerful applications such as speech recognition and WFM systems
Access to learning facilities such as knowledge bases, reference manuals, documentation and online tutorials relating to CRM integration
Support from expert solutions architects and a dedicated in-house development team to help create, expand and maximise your CRM capabilities.
Thanks to Colin Hay at Puzzel
Why Should I Integrate My CRM With Other Technologies?
Now we know how to integrate contact centre technologies with the CRM system, let's take a look at some of the benefits that we can  gain from doing so.
Effective Call Routing
Efficient integration with CRM allows all the information needed for effective call routing to be accessible to the contact centre solution.
So, based on the caller information it is possible, for example, to retrieve and use:
The customer's location information
Category of customer (VIP or not)
Status of customer (high or low customer satisfaction)
With information like this, contact centres can create rules within the CRM system to route calls to the most appropriate advisor to create the best possible outcomes.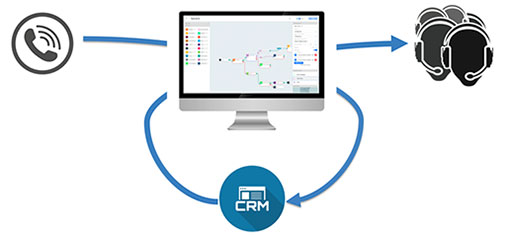 This can also simplify the experience, as customers can bypass long and discouraging menus in the IVR.
Other advantages include:
Waiting times can be reduced, especially for customers identified as VIP
First Call Resolution (FCR) is improved by identifying the skills required
The customer has a personal feeling of welcome that will strengthen brand loyalty
Enhanced overall customer experience
Improving the Advisor Working Environment
According to an Aberdeen group study, an advisor spends on average 15% of his/her time searching for information in different systems.
The multiplication of screens on advisors' workstations can hinder rather than optimise advisor productivity.
The current trend in "best in class" contact centres is rather to reduce the number of screens in order to provide the advisor with only relevant information.
The integration between the contact centre's Customer Interaction Management (CIM) and the CRM allows the customer information to pop up before the call is answered, helping to prepare the advisor with all required customer information in advance.
Increasing Productivity
CRM integration frees the advisor from a number of manual tasks related to calls.

All interactions are automatically recorded and added to the customer information records with automatic triggers of actions and follow-up tasks also detailed. This greatly reduces time wasting as there is no need to create additional caller records which update automatically in the CRM. Such features greatly enhance advisor productivity and assist in providing a smoother customer experience.
By integrating the contact centre solution banner into the CRM, click-to-dial and transfer technology is made easily available, reducing precious time dialling manually and eradicating dialling errors.
Accurate Reporting
Consolidated reporting is made possible when CRM is successfully integrated with the chosen contact centre solution.
Manual entry, complex tables and consolidation without a common ID are commonplace when there is no integration between different systems. When call data is integrated into the CRM, there is no need to consolidate data from opposing systems.
Using the standard reporting features of the CRM, it makes the contact centre data available instantly to everyone in the company, with the ability to mix it with business metrics, such sales or customer service KPIs.
Thanks to Patrice Orenes-Lerma at Diabolocom
Add Omnichannel Context to Interactions
In today's day and age, customers expect advisors to know who they are and what they want without giving long explanations.
Integrating your CRM with your contact centre platform will allow a 360-degree view of the customer, which includes insights from previous multichannel interactions.
Integration will also allow for:
Automatic screen popping of the customer's account details
Adding information from the CRM to recording systems
Appending comments, dispositioning information, tags, emails, and chat transcripts to customer records
Another benefit is to integrate an advisor interface with your CRM system (including Salesforce, Oracle and other popular systems), providing advisors with a consolidated interface across all supported channels and will simplify multichannel interactions.
Thanks to Atiq Rehman at Business Systems
Improved Visibility of the Customer Journey
ACD information like contact channel, wait and handle times, holds and transfers, and even call recordings gives your CRM system a fuller view of customer interactions.
Also, automatically displaying a customer's CRM information when they connect to an advisor gives that advisor the ability to create a more personalised customer experience.
Having access to a customer's past orders, birthday or anniversary date, preferred name, status level, and other information gives the customer a feeling that they are known and important.
Some agents are naturally stronger at weaving personal information into a conversation, but you might need to consider deploying a training programme to help those who aren't.
Thanks to Brian Spraetz at NICE inContact
Automatic Quality Assurance
There are many areas where CRM systems need to be ultra-responsive in working with other technologies to deliver a great customer service.
For example, historical transcription of call recordings and real-time speech to text. This allows conversations with customers to be turned into text, which can then be analysed by AI tools.
Automatic quality assurance (QA) of the advisors can then be carried out by ensuring advisors have mentioned key phrases to the customer.
From a customer perspective, analysis of text can identify whether the customer felt it was a positive or negative engagement. This can assist with any adjustments required to the prepared dialogue or indicate whether further training for advisors is required.
Another great example is the ability to provide new means for companies to exchange information with consumers in their medium of choice.  Some key methods are via chat, video, transfer of files or co-browsing.
Thanks to Tom McKinlay at Sytel
Artificial Intelligence Integrations
Robotic process automation (RPA) and virtual assistant technology are inherently natural integrators with CRM systems as they can work in conjunction with any desktop application. This means that a virtual attendant can offer call centre advisors real-time process guidance, either voice activated or via instant chat.
These systems can then extract and summarise all relevant CRM details for the employee, while they are on a call with a customer, and they can also perform relevant calculations in real time, enabling employees to deliver an efficient and intelligent customer service.
Real-time speech analytics can also be integrated with attended automation software, adding an additional layer of insight in order to better guide and advise the employee towards achieving a successful customer interaction.
Thanks to Catherine Gurwitz at NICE
For more from our panel of experts, read our articles:
23 Contact Centre Predictions for 2019
The Top 10 Emerging Technologies in Contact Centres
16 Things Your Contact Centre Might Be Getting Wrong