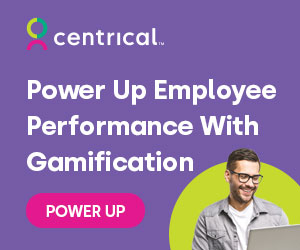 Customer-facing roles are a challenge anywhere, especially in banking, financial services, and insurance (BFSI)-sector contact centres.
In this interview, Centrical's Derek Brosseau speaks with Andrea Meyer about the unique challenges agents in this vertical face, why culture negatively impacts metrics, and what industry leaders should consider when exploring gamification as a solution to cultural challenges.
Andrea Meyer: Let's Talk a Little About the Overall Banking, Financial Services, and Insurance (BFSI) Landscape in the Context of a call centre. What are Some of the Similarities Between Each Sector's contact centre Agent Experience, and how Does Their Experience Differ From Other contact centre Roles?
Derek Brosseau: This type of contact centre role really is different from others, with similar aspects and challenges across this vertical. First, the BFSI industry is highly regulated. Regulations can be complicated and change frequently, so staying compliant is a significant part of the job for employees, especially those on the frontline!
Another differentiator from other contact centre roles is the sheer amount of knowledge and cross-skilling required. For instance, agents with high debt collection success rates will exclusively service that department.
But most agents take a diverse set of call types during their day – processing a variety of damage claims, routine payments, fraud/stolen card reporting, account inquiries, etc.
This requires agility, knowledge of different procedures, and high emotional intelligence, as agents must adapt and respond appropriately to each customer.
Finally, the internal atmosphere tends to be extremely competitive. We see employees wanting more from their experience – recognition, rewards, and progression.
This is especially true with younger agents. The drive leads to a mindset of, "What's in it for me?" which significantly impacts peer-to-peer relationships, prevents a feeling of community, and leaves many employees feeling a sense of isolation – even when they are in the office.
AM: Let's Move on to Shared Challenges in This Vertical, Such as the Proliferation of Legacy Systems and Outdated Tech. How do These Affect Employees and Moreover, Customers?
DB: All of this is true –BFSI contact centre employees have similar challenges that impact their workflow and their productivity – and ultimately, these also impact metrics such as CSAT and retention. Let's start with outdated technology.
Due to the frequency of mergers and acquisitions, it is common in this vertical to have disparate, disconnected systems. This means that employees will need to access different systems for information during a single call.
This is inefficient and causes lag time, and in turn, frustration for employees and customers alike. From this, you are also looking at higher AHT, which impacts CSAT.
What should be a one-minute call can easily stretch into four or five minutes, with a three-minute hold time. This has a ripple effect – productivity and efficiency rates plummet while abandon rates and escalation calls skyrocket.
There are other elements at play as well. For instance, money is a sensitive subject. In times of economic stress and market volatility, customers are going to be especially sensitive and issue stronger rebuttals.
Something as personal as reporting a stolen credit card or asking about a claim for car damage will be more emotionally charged when people feel their financial well-being is at stake. Agents must quickly pivot between calls, and for the tougher conversations, balance scripting and their own human empathy.
AM: What Factors are Impacting Customer Satisfaction Metrics?
DB: The employee experience has the greatest impact – and there really is a correlation between a poor experience/culture and a poor customer experience.
The BFSI sector has a hyper-competitive, numbers-focused culture where agents feel isolated whether working remotely or in an office. An unhappy agent just trying to get through their day won't have the empathy needed to handle customer calls.
Their productivity might not indicate an issue per se, but customer experience metrics won't be met. So, their calls might result in first-call resolution or a short handle time, but the customer sentiment will most definitely be impacted.
Another factor is a poor approach to learning. The sheer amount of knowledge that these call centre agents are required to have must be reinforced periodically.
This can cover everything from internal procedures for pulling account information to changes in regulatory compliance to learning a new system.
Organizations should find ways to supplement their training with refresher sessions. Microlearning does just this and can be completed in just a few minutes between calls without the need to block time for additional training.
AM: Companies in the BFSI Space are Increasingly Interested in gamification . What do Leaders say led Them Here, and What Should They Keep in Mind About Gamification?
DB: Organizations are learning where the gaps lie in their culture and want to add lighter elements to the day. But often, they see gamification as adding a leaderboard and a few games, and that will be enough to fix the culture.
Gamification must be tied to business goals with the expectation of incremental, sustainable behavior changes over time that will support those goals.
As such, gamification should be treated as one part of the total employee experience, one that includes preboarding/onboarding, ongoing learning, coaching and quality, and clear career pathway programs.
Gamification can increase employee motivation and engagement but is much more than implementing a leaderboard. For starters, organizations must include other game mechanics, such as badges, levels, and a social element, tying this together with an ongoing game narrative.
This keeps the engagement and motivation momentum going for the long term. But personalization is also key. The platform should enable every agent, not just top performers, to win.
For instance, our platform segments agents by tenure or performance level so their goals are realistic and drive the desired behaviors. Let's also look at transparency and metrics.
The platform puts those metrics in front of an agent. Transparency is helpful in any context so that agents know where they stand. But paired with gamification, there is an extra element of motivation for agents to improve.
If they see they are part of a low-performing tier, that agent is probably going to be motivated to improve as quickly as possible. From here, in addition to improving their own knowledge, skills, and/or performance, they are going to receive recognition and rewards for their progress.
When you give an agent autonomy and enable proactive actions, they will seek to engage in the right learning activity (or reach out to their supervisor for coaching).
In short, the key is to add gamification as part of this holistic approach to elevate the employee experience and drive desired behavior and actions. When behaviors change, so do performance and mindset.
AM: How can Gamification Benefit Financial Service Companies as part of a WEM platform?
DB: There are many benefits – increased motivation and engagement, improved performance, and lower attrition rates. All of this translates into better customer experience, loyalty, and growth. Let's use onboarding as a concrete example.
Gamification takes a newly-hired agent from pre-onboarding to maximum engagement in a daunting task – starting with a new company.
If this isn't a guided journey, and no one interjects at the points of difficulty in the process, people will become frustrated and disengaged, and boom, the early attrition rate has just climbed.
But gamification can be the vehicle from the very beginning, recognizing and rewarding small milestones, and keeping new hires engaged and connected to their team and manager. Centrical provides transparency to training teams and leadership on onboarding progress while automating milestone achievement recognition.
As agents transition into nesting and production, it provides a single pane of glass, where performance and progress are in one place and clear for both agents and their supervisors.
AM: Speaking More About Culture and the Employee Experience, What are Some Factors That Lead to Less-than-optimal Performance and Voluntary Attrition?
DB: As Peter Drucker is famous for saying, "Culture eats strategy." Culture will absolutely determine key business outcomes.
A good culture has a sense of shared goals, community, and camaraderie among colleagues, and is one where employees are recognized as human beings and not merely "resources." This brings a genuine interest in their well-being, from both a human and business aspect.
When BFSI leaders survey agents, the feedback often cites feelings of isolation, micromanagement, a lack of collaboration, and a lack of understanding of where to focus for success.
Supervisors are equally frustrated. They want to recognize and reward their agents, and truly support and coach their teams while driving collaboration, motivation, and engagement. But the resources aren't there. This all leads to burnout, missed metrics, and attrition.
These internal factors have one ultimate impact: the customer experience and satisfaction. When your employees aren't happy or feeling valued, you can bet that sentiment will spread to your customer base, plain and simple.
AM: We've Touched on the Tremendous Learning Needs for Agents in This Industry. Is This a Situation in Which Generative AI Could be a Solution?
DB: Yes! We're in a rapidly evolving digital environment. Innovation is constant, and everyone, including BFSI organizations, must keep up.
And in this vertical, there are other ongoing changes and shifts – in particular, regulatory compliance. Regulations can be complicated, and whether the shift is large or small, organizations must communicate these changes, or risk fines for non-compliance.
All of this means more complex work for agents, and with this, an increased need to upskill and cross-skill. Organizations understand the urgency and the need to create this content, the resources to create it, especially bandwidth, simply are not there. And from this comes a serious operational bottleneck.
But generative AI can really be a lifeline here and eliminate this bottleneck. The platform's AI Microlearning leverages ChatGPT and enables fast turnaround for frontline content creation.
Rather than starting with a blank page when creating training content, admins can paste or link to long-form content. The system automatically summarizes that content and creates quiz questions that will test agent knowledge over time using spaced repetition (to fight the "forgetting curve").
Leveraging generative AI also democratizes content creation. If a supervisor sees a common area where agents are struggling, they can quickly create a learning module to course correct.
While organizations in highly regulated industries will need additional security measures and documentation, they will still find a markedly more scalable, efficient solution.
AM: Derek, do You Have any Final Thoughts to Share?
DB: The role of a BFSI contact centre agent is a lot of things – complex, perhaps tough, and emotional at times, but it should never be considered "stale!"
The value of contact centre agents isn't just measured in dollars and cents. Factors such as customer satisfaction and churn, employee retention, and at the end of the day, the overall success of the organization heavily correlate with the employee experience and the company culture.
When organizations set agents up for success by personalizing the employee experience, recognizing and rewarding their people, and leading with empathy, agents will feel valued.
When an agent is treated with empathy and feels valued, that is how they will approach their customers, who will then feel as such.
Customers expect more from the companies with whom they do business, and expect that emotional, human X-factor that can't be translated into KPIs. Let's work together on this circle of employee and customer happiness!
This blog post has been re-published by kind permission of Centrical – View the
Original Article
For more information about Centrical - visit the
Centrical Website