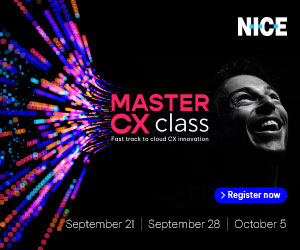 We are less than two weeks away from the beginning of Interactions Live, one of the most exciting customer experience virtual events of the year.
To be held on September 15-16, this free event will provide lots of interesting insights for creating extraordinary customer and employee experiences.
Featuring content to suit every role and interest, this global event offers a wealth of informative sessions, interactive demo stations, live video chats with NICE experts, exciting keynote speakers and entertaining performing artists.
Interactions Live will also host Academy Award-Winning actor, philanthropist and author of the upcoming book Greenlights, Matthew McConaughey as a keynote speaker, sharing his drive for constant reinvention throughout his impressive career spanning over 40 feature films that have grossed over $1 billion.
Also keynoting will be Martha Stewart – Emmy Award-winning television show host, bestselling author of 96 lifestyle books to date, entrepreneur and founder of the first multi-channel lifestyle company.
The virtual event's analyst lineup includes McGee Smith, Forrester, DMG Consulting, Aberdeen, Everest Group and Saddletree Research, who will review current industry trends and offer guidance on maintaining CX excellence in times of change.
In addition, joining the event are industry-leading organizations who will discuss how they are innovating to provide agile service in the cloud, engage their workforce as they work remotely and leverage data insights to create exceptional experiences for customers and employees.
This year's event will include a virtual concert attendees can stream from any location, September 16 starting at 3:45 pm EST.
It will feature award-winning musician Bryan Adams, who will take the stage to share his hits spanning four decades.
One of the most exciting live musicians in the world, Bryan Adams' energetic performance, effortless stage presence and incredible vocals are guaranteed to thrill and entertain.
Also, joining is award-winning artist Alanis Morissette, whose album, Jagged Little Pill, remains the best-selling debut release by a female artist in the US and the highest-selling debut album worldwide in music history.
With over seven tracks and more than 50 best-practice sessions, the conference agenda is rich with ideas, insights and advice that will inspire, energize, and invigorate CX professionals of all ranks.
Attendees can join informative best-practices sessions, engage with various experts, see live demos of the latest innovations and be inspired by industry-leading customer speakers, visionary leaders and subject-matter experts from prominent organizations.
Barak Eilam, CEO at NICE, said: "CX agility has never been more critical and we remain focused on helping organizations transform experiences to be extraordinary."
"In the face of the unprecedented current challenges organizations are facing, we aim to bring clarity by sharing powerful insights that will enable organizations to be agile in engaging customers and employees while driving successful business outcomes."
"Interactions has always been a key channel through which we connect among customers, content experts, innovators and opinion-makers, and we're pleased to present a new avenue to enable this connection via Interactions Live."
To register for Interactions Live, click here!
For more information about NICE and their contact centre solutions, visit www.nice.com