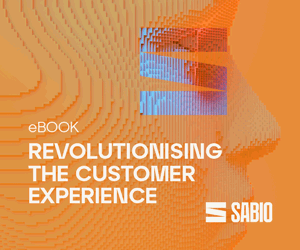 James Hughes of Sabio introduces us to cloud contact centres, sharing the benefits, mistakes to avoid and where to begin.
The cloud is a hot topic at the moment, particularly in customer experience circles.
I've spoken to many people who hope that a cloud-based model will help tackle challenges around off-site working and changing customer demands, as well as contributing to wider contact centre transformation.
And yes, that's certainly possible. But it's important to remember that the cloud is a powerful platform for change, not the change itself.
That's why the decision to migrate to the cloud should only be made when you know precisely what it is you want to achieve, by what means, and how you intend to measure success.
Often the answers to those questions will become clear just by talking to agents and customers to see where their frustrations lie, or taking stock of how much time the IT department devote to problem solving rather than innovation. But without this roadmap, the cloud can fall short of expectations.
But What Exactly is the Cloud?
Simply put, the cloud provides remotely-accessed, off-site services and resources to achieve an outcome or outcomes.
Typically, cloud services are owned and operated by expert third parties, so customers don't need physical infrastructure on-site. One benefit of this arrangement is that it's not the customers' duty to maintain this infrastructure.
There are two forms of cloud environments typically used within the contact centre industry – private and public.
Despite its name, a public cloud solution can still be an incredibly secure way of consuming the services you need. And public cloud isn't just for small companies.
Some of the largest organisations in the world leverage public cloud customer experience platforms. However, companies that deal with particularly sensitive information tend to favour a private cloud as it gives them more control over how and where sensitive data is stored.
A private cloud solution also allows the user to fine tune certain aspects of its functionality to suit their business needs, and to choose which system updates are installed, and when.
What are the Benefits of the Cloud?
Naturally, the financial benefits of the cloud are attractive to businesses. Access to the cloud is typically on a subscription basis, and the fee is generally based on the number of agents or users you have. This means you know exactly how much you're going to be billed at the end of each month.
Furthermore, there's often limited on-site equipment to pay for up front, and no specialised internal IT team required to run to it. And because you don't own the physical infrastructure, you don't have to worry about damage, depreciation, or kit becoming obsolete.
Another significant benefit is that business continuity and disaster recovery is often automatically included.
That's the financial side, but just as compelling for many is the ability to focus the bright minds in the IT department on innovation, rather than maintenance; focusing on actually helping the business leverage the investment for value realisation.
Features like intelligent virtual agents become achievable and accessible. And when new technology becomes available, it's easier to implement, negating the need for costly upgrades and procurement of supporting infrastructure.
IT teams become liberated from mundane, repetitive tasks, helping them focus on the needs of the business rather than the needs of their data centre.
With the ability for rapid innovation, your business can quickly adapt to meet ever changing customer-led demand.
So, What Can Go Wrong?
All too often I hear stories of businesses undergoing a lengthy and costly project to take advantage of a cloud contact centre platform, only to replicate the capability they had with their on-premise system.
But it's not the act of moving to the cloud that delivers business transformation. It's how you use the power of the cloud to empower agents to better serve customers.
For example, if your agents and customers are both frustrated by a high volume of calls resulting in lengthy wait times, the fact your systems are now located in the cloud will make little difference to performance.
However, if you take your agents on the transformation journey with you, you may discover that a high percentage of calls are about the same simple, mundane and repetitive issues and could easily be automated using a virtual agent/self-service.
This would help the majority of callers find a faster resolution to simple queries, while allowing your highly trained staff to focus their attention on more complex, sensitive and emotionally charged issues. This is how you start to effect change and make a real difference when customer experience is concerned.
Where to Begin?
I believe that with the proper preparations, a cloud migration has vast benefits for customer experience within many businesses. And the richer the information you surface in preparation, the more effective the migration will be. So, before you start your ascent to the cloud, I would encourage you to:
Take your people with you. Talk candidly with your agents to find out what challenges they're facing. I don't think I've met an agent yet who didn't genuinely want to help the customers they passionately serve – so give them the right tools and development – trust them as they are the ones in constant contact with your customer base.
Sit down with your internal IT department to see how you can help them innovate with the business rather than fire-fight against the business– and that includes junior members of the team, who often take on the brunt of the dogsbody jobs.
Extract as much information from your platforms as possible; data is your gold and you would be surprised how much it can tell you.
Work with an expert partner who can help surface actionable outcomes; data and analytics technologies are redundant without expert insight.
Ask yourself, at what point will your customers welcome automation, when will they not tolerate it?
Find out what capabilities your agents wish they had to help solve customer queries?
Pinpoint the moments in your customers journey which most commonly prompt a call to your contact centre.
Extract the initial intent of a customer when they first call into the contact centre. This can be done using "Intent Capture" technology, which can often be up and running in weeks.
Only when you know the answer to these questions and you have used data to inform your move to the cloud will you be able to realise true transformation.