Web chat is an increasingly popular option.  But how does it compare with telephone calls in terms of cost?
Not much has been published on the subject, so Jonty Pearce has been doing some digging.
Web chat seems to be an increasingly popular option.  According to a recent Call Centre Helper reader poll, it has been adopted by around 37% of contact centres, and is planned by another 15%.
It is currently used in 1.7% of contact centre transactions (source ContactBabel).
In many ways it seems to fit in well with the younger generation, who seem to be happier to type rather than to speak on the phone.  In fact, some research seems to suggest that it is fast becoming the channel of choice for contact centre communication.
Surprisingly, a Google search revealed little information on the cost of a web chat so I decided to do some digging.
A simple rule of thumb
Perhaps the easiest information came from Rob O'Malley.  He said that, according to a simple rule of thumb, "webchat takes twice as long as a call when an agent has 3 simultaneous chats."
This indicates that a web chat can cost about 33% less than a phone call, providing that the agent is chatting with 3 people.
Web chat: 17%- 30% cheaper than a phone call
This seems to be borne out by some research from Forrester  (North American Technographics Customer Experience Online Survey, Q4 2010 – US), which reported the following results for cost per contact with a customer:
Call centre technical support call: $12 and higher
Call centre CSR: $6 and higher
Web chat or call back $5: and higher
E-mail response: $2.50 to $5 and higher
Thanks to Lucy Holloway for supplying this information.  This tends to indicate that web chat could be 17% cheaper than a phone call.
One outsourcer that I spoke with highlighted that the billable rate for web chat to a client was roughly 30% lower than for voice calls.  He also said that they tended to charge lower margins for web chat.
Duration of a web chat
But does web chat always last longer than a phone call?
James Barnes, a contact centre consultant, is not so sure.  "On email and web chat the customer normally opens with a direct question.  It is, of course, so much easier and quicker to pass on info in writing, and requires no validation. All depends on the contact reason".
Wayne Grimshawe thinks that looking at duration is only part of the answer.
"My experience is that it depends on your system integration. It is true that conversations last longer. However, if you have a couple of pre-qualifying questions and the web chat solution integrated with your CRM you can make sure that an individual can manage multiple live chats at once. This will decrease your costs significantly," he said.
"My use of web chat has seen increased advocacy and delight scores, lower customer effort and decreased cost per contact. However, you do need to implement it with careful consideration, as it is not easy to deliver a consistent customer experience," continued Wayne.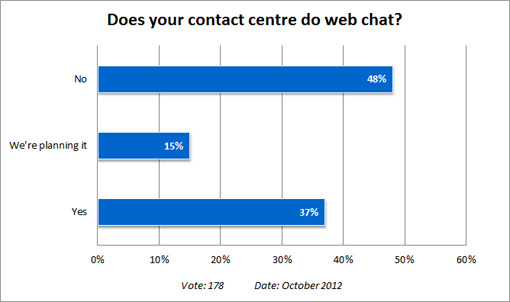 Given the growing popularity of web chat, coupled with the lower costs compared to phone calls, it looks likely that web chat will become a much more common feature of contact centre life.
What is your experience of using web chat?  Please add your comments in an email to Call Centre Helper