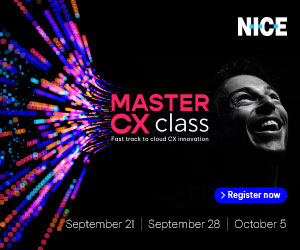 Mechele Herres at NICE explains that your contact centre agents are your top brand ambassadors. They're not just the ones your customers interact with, but the ones your customers will tell their network about.
When you don't treat your agents well, they'll treat your customers the same way—setting off a chain reaction of negative perceptions about YOU.
You have disengaged agents? Suddenly, your company looks like a heartless corporation.
An agent can't find the answer? Your business appears incompetent.
Too many escalations? Customers repeating information? Guess you don't care about their desire for convenience.
And…well, you get the idea.
Agents who work in a contact centre face a lot of tall tasks. Not only are they expected to know the ins and outs of your products and services, but they're supposed to be available at all times and on all channels. And they're expected to clearly, immediately, and unquestioningly resolve customer issues—or face their wrath.
So, not only are call centre agent jobs tough, but they're also thankless. Agents don't get thanked by angry customers (unless it's sarcastically), and they don't feel thanked by you when they're not set up for success.
And they'll thank you by quitting.
Fostering Agent Purpose
So how do you mitigate the perception that call centre jobs are awful? How do you show your agents (and, therefore, your customers) that you care about them and their success? By fostering purpose.
Unfortunately, only two in 10 employees say they're managed in a way that motivates them to put their best work forward. That's a shocking statistic, with two not-so-shocking results:
They're treating your customers poorly
They're leaving you for better opportunities
Fostering true agent purpose goes well beyond closing tickets and collecting a paycheck. The best way to help them find purpose is to treat them the same way you treat your customers. And just like customers, they expect:
Flexibility and respect for their preferences
Instant access to the right answers at the right time
Quality relationships and trust
When you prioritize the agent experience, you'll not only find their performance improves but that your customer satisfaction (CSAT) also goes up, protecting your brand's reputation.
Here are your top action items to foster agent purpose.
Adopt an Agent-Focused Mentality
Which of the following interactions would make an agent feel more valued—the first example or second?
A frustrated customer is escalated to an agent following several self-service attempts and immediately has to repeat their information and issue. On the other end of the interaction is the agent, who has previously been verbally warned about their high average handle time (AHT). Instead of paying attention to the customer's angry cues (both verbal and nonverbal), the agent is worried about a reprimand, and therefore tries to rush the interaction and scramble through a pre-written script.
A different frustrated customer is escalated to an agent following several self-service attempts. The agent already has the customer's information and is aware of their prior efforts. At the same time the agent is tapping into the contact centre's knowledge management platform to find the right answer, a sentiment prompt alerts the agent to use more empathetic language.
Now, even if both of these interactions end with a resolution, the agent in scenario one feels overwhelmed and rushed, whereas the agent in scenario two feels empowered to proactively deliver a solution while curbing the customer's frustration.
To put it another way, the agent in scenario one has no higher purpose than to close tickets as quickly as possible, whereas the agent in scenario two is reaping the benefits of agent-focused management.
Chances are, you recognize both scenarios—both as a contact centre leader and as a customer. We've all experienced amazing and horrible customer service interactions.
So, let's put on a "customer hat" for a moment: Would you be more likely to remain loyal to a brand after scenario one, or scenario two?
How about the agent on the other end of the line?
Today's customers are empowered to create their own journeys: Self-service options, chatbots, and omnichannel support provide more flexibility than ever. So in order to treat your agents like customers, you need to empower them in much the same way.
Begin by implementing tools like:
Workforce management: Offers more accurate forecasting and scheduling, removes unnecessary tasks from agents' plates, increases engagement, and improves satisfaction
Real-time interaction guidance: Coaches and trains agents in the moment, mitigating customer frustration and, therefore, negative interactions
Performance management: Increases visibility, encourages teamwork, and boosts performance for in-office, remote, and hybrid contact centre agents
Give Agents More Flexibility and Trust
Before the COVID-19 pandemic, only 13% of contact centre agents worked remotely on a permanent basis. As of late 2021, that number had skyrocketed to 82%.
But as virus-imposed restrictions continue to lift around the globe, many businesses are bringing employees back to physical buildings.
Whether your contact centre maintains a remote-first model, a brick-and-mortar one, or something in between, your focus must be on trust and flexibility.
The pandemic proved that most businesses have the technological ability to shift rapidly to remote operations. Why shouldn't that proof apply, even in the wake of COVID-19?
Agents know they can be trusted to work from home, whether on a short- or long-term basis. Cloud-based tools make this tenable and allow home offices simply to be as secure and high quality as corporate ones.
This is a win-win for you and your call centre agents. They get to work in their preferred spaces (especially for the PJ-all-day crowd) while you ensure that business is running smooth and compliant.
A better work-from-anywhere model does the following:
Uses automatic call and screen recording to ensure every interaction is secure and up to standard
Establishes business continuity for foreseen circumstances such as seasonal demand and unforeseen ones like natural disasters
Reduces overstaffing issues by accurately gauging peak times—minimizing costs for you and ensuring meaningful time spent at work for your agents
Personalize the Agent/Customer Relationship
Many of the metrics used to measure agent success are counterintuitive to quality interactions. How can an agent reduce hold time for a customer when they're bogged down with after call work from the previous interaction? Will an agent under AHT-pressure spend the meaningful time it takes to really understand the customer and their issue? Is the number of tickets closed truly more important to the bottom line than happy customers?
The last thing your agents want is to listen to a tirade about how long a customer was on hold, or spend too much time on after call work.
Average hold times should already be low, and mundane tasks should already be automated—those shouldn't be your agents' responsibility.
Instead, create an environment where your agents can build meaningful and personal connections with their customers.
Understanding which agents have the skills to handle unique customer issues and demographics (and routing contacts accordingly) is a powerful way to make customers feel valued—and agent productivity goes up in the process.
Personalized interactions let agents know their work is important, and customers feel heard and understood. When agents punch out, they'll remember their interactions, not the number of tickets they closed. You can help ensure those interactions are positive:
Use AI routing to match customers with the agent best suited to take care of their unique needs
Proactively extend knowledge of your products and services, fostering more efficient interactions and reducing turnover
Train your agents on soft skills such as empathy, active listening, and patience
When customers meet a friendly, understanding, resourceful, and efficient agent, it feels less like an interaction and more like a conversation.
The agent on the other end is an advocate, not just a voice. And even if they never interact again, both parties will feel valued—which is undeniably good for your business.
Gather Agent Feedback
Don't just assume that adopting the right tools and an agent-focused mentality is working—measure it!
If you believe—as I do—that your agents are your top brand ambassadors, let them tell you what's working and what's not, and prove that you're listening by implementing change.
Even a small, subtle change can be significant to your agents by giving them credit for the idea. Quite aside from asking agents about upcoming implementations, find out how those implementations are working for them personally, and whether they make their jobs more fulfilling.
There are a number of ways to collect feedback—and not just about tools and flexibility, but how supported agents feel, what their stress level looks like, what level of emotional commitment they feel toward your company, and what their professional goals are.
Here are just a few suggestions:
Anonymous and/or identified surveys and polls
Progress reports and performance evaluations
Self-measurement tools
Focus groups and forums
Feedback on how their ideas/suggestions have impacted the business
So, is "call centre agent" the worst job in the world? Before you ask them, ask yourself the same question. Based on how you've been treating your workforce, you'll probably come to the same conclusion—for better or worse.
This blog post has been re-published by kind permission of NICE – View the
Original Article
For more information about NICE - visit the
NICE Website