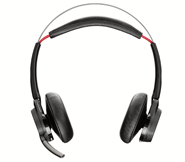 Plantronics has announced the Voyager Focus UC headset.
The wireless Bluetooth stereo headset with Active Noise-Cancellation (ANC) technology has been designed for enterprise workers in an open office or other loud environments, who want to eliminate background noise on calls or during focus time.
The headset provides comfort and includes intuitive smart sensor technology, audio alerts, and wideband audio and hi-fi stereo sound for an outstanding calling/music experience.
The headset's high-quality design provides improved audio on both sides of the call. The immersive on-the-ear design means that many high-frequency noises like office sounds and voices are reduced in volume.
Wearers will find that low-frequency sounds, like air conditioners, are reduced through ANC. In order to reduce the noise that is transmitted and overheard by others, three precisely tuned microphones and noise-cancelling algorithms reduce noise caused by keyboard clatter, close-talkers, and movement, while optimising voice intelligibility. This means others hear the wearer's voice, not their surroundings.
Extended Bluetooth range: Class 1 Bluetooth with adaptive power delivers up to 150 feet of wireless range while preserving battery life.
Worry-free mute assurance: Dynamic Mute Alert technology senses speech and then alerts that the mute function is still active. Additionally, the headset will automatically mute when a user takes it off and unmute when it's put back on.
Comfort and durability: Leatherette ear cushions wrapped around pillow-soft memory foam deliver all-day comfort, while a cushioned metal headband provides durability and helps maintain a comfortable, secure fit.
On-board sensors: On-board sensors create an intuitive and "smart" user experience. Examples include answering a call by simply putting the headset on and pausing mobile audio when the headset is taken off and restarting it when replaced.
UC-ready: Rigorous testing of the Voyager Focus UC with the predominant collaboration solutions from Microsoft, Cisco, Avaya, and Huawei ensures the best possible experience when using these applications.
"We created a premium design that will convey confidence and competence during a video call. We've used sensors and context to adapt the user experience to the wearing style and state so it just works as expected," said Bill Loewenthal, Vice President, Enterprise Solutions Management at Plantronics. "But our real innovation is in the audio performance. We adapted our microphone technology with improved algorithms to ensure clarity of the user's voice, while suppressing background noises."
For more information about Plantronics, visit their website.
Published On: 9th Sep 2015 - Last modified: 18th Dec 2018
Read more about - Archived Content, Poly
---