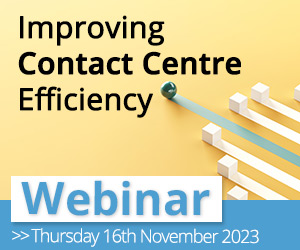 NICE has unveiled its CXone Summer 2021 release, designed to elevate brand experiences across the customer lifecycle and drive digitally fluent customer and employee experiences.
With smart digital self-service capabilities, businesses of any size are empowered to provide customers with the answers they seek at the start of their journey – from the initial web search, across any channel.
Delivering faster answers at the true beginning of customer journeys, often well before a conversation with an agent starts, NICE CXone enables effortless next-gen experiences for both customers and employees.
Customized next-best-action guidance capabilities allow agents to be better equipped to deliver improved service quality.
According to the NICE CXone Customer Experience (CX) Transformation Benchmark, 8 in 10 consumers are more willing to do business with companies that offer self-service options, yet only 61 percent agree that companies are offering easy, convenient self-service.
According to an October 2020 blog by Ian Jacobs, Forrester's VP, Research Director, Predictions 2021: It's All About Empathy, Digital, and Virtualizing Customer Care, Forrester predicts that in 2021, digital customer service interactions will increase by 40%, confirming the growing customer preference for digital channels.
The NICE CXone Summer 2021 product release enables organizations to deliver seamless and digitally fluent customer service across channels with smarter next-gen capabilities to:
Meet customers where their journey really begins: NICE CXone Expert enables businesses to engage customers and prospects earlier than ever by extending knowledge to wherever it is needed – from internet searches and web pages to bots – for answers that are easy and fast to find.
Providing customers with the most relevant content at their time of need, CXone Expert fast-tracks self-service success and enables agents to deliver more accurate answers faster, without transfers or call-backs.
Combining search engine optimization (SEO), knowledge management, analytics and automation, CXone Expert enables organizations to orchestrate and deliver next-gen digital self-service experiences using the channels customers really want.
Deploy and combine smarter agent-assistance applications faster: CXone Agent Assist Hub consolidates and integrates CXone native and third-party smart applications that increase agent efficiency.
This includes embedded AI-driven real-time behavioural coaching and AI-powered knowledge assistance for agents handling voice interactions, which increases customer satisfaction.
Boost CSAT with customizable real-time 'next best action' guidance for agents: CXone Real-Time Interaction Guidance, a one-of-a-kind AI solution announced in spring 2021 that uses NICE Enlighten AI to boost CSAT with targeted agent coaching on every call is now available in more regions and agent workspaces.
This includes new support for international English (Canada, UK, New Zealand, Australia, South Africa, Philippines, Singapore, among others) and as an embedded option within the Salesforce agent desktop.
Apply best practices and improve outbound answer and open rates: In compliance with STIR/SHAKEN standards, NICE CXone correctly validates every outbound call so it reaches the intended recipient and is displayed as validated by the carrier.
Verified calls and branded SMS capabilities help ensure legitimate calls and messages aren't flagged as potential spam. CXone provides A-level attestation to the telecommunications provider who can use this data point to help validate the outbound caller IDs.
The provider can then deliver the call with their verified indicator, safeguarding call recipients while boosting answer rates.
Verified SMS messages received on Android phones can now be configured to show company logo, text, branding, URL previews, and a "Verified" badge, augmenting open rates and increasing brand trust.
For more information about NICE CXone - visit the
NICE CXone Website