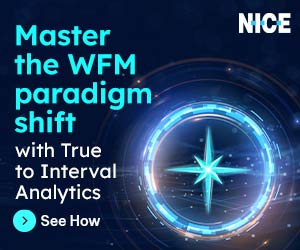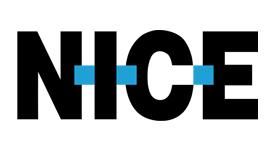 NICE is a leading global enterprise software provider that enables organizations to improve customer experience and business results, ensure compliance and fight financial crime.
Our mission is to help our customers build and strengthen their reputation by uncovering customer insight, predicting human intent and taking the right action to improve their business.
We do this by capturing large amounts of structured and unstructured data (customer interactions, and transactions) from multiple sources. We then apply best-in-class analytics to this data to provide real-time insight and uncover intent. Our solutions allow organizations to operationalize this insight and embed it within their daily business processes, empowering them to provide better service, motivate and engage employees and identify potential risk to the enterprise.
Tel No: 0845 200 1000
Fax: 01489 771665
Contact Email: nicesystemsemea@nice.com
Profile
Contact Centre Solutions:
NICE is a global leader in the Customer Interactions domain. Our portfolio of solutions serves thousands of organizations worldwide, providing data-driven insights that empower businesses to deliver consistent and personalized experience across the customer journey.
Our solutions are implemented by contact centers of all sizes, back office operations and retail branches, spanning multiple industries, including: communications, banking, insurance, health care, outsourcing, utilities, travel, and entertainment.
NICE helps organizations know their customers better, take the "best next action" in real time, and engage employees to continuously improve performance. By doing so, we enable businesses to deliver the effortless, consistent and personalized experience that customers expect, as well as improve operational efficiency, enhance regulatory compliance and increase revenues.
https://www.nice.com/engage/what-we-do/
Multi-Channel Recording and Interaction Management:
NICE Contact Center Recording provides comprehensive call recording technology that adapts easily to the unique operational requirements of any contact center. It supports virtually any telephony environment – including VoIP, SIP, traditional Time Division Multiplexing ("TDM") and hybrid networks. This enables a seamless transition during technology migrations as the contact center grows and evolves. It supports thousands of concurrent IP streams in a single platform: capturing, forwarding streams in real time, recording and archiving. It also captures non-voice interactions such as video, chat and email, and stores them in a single recording platform, ensuring regulatory adherence and standardized cross-channel workforce optimization. With its comprehensive and scalable recording capabilities, NICE recording solutions provide an unrivalled TCO.
https://www.nice.com/engage/omnichannel-interaction-recording
Workforce Management:
NICE IEX Workforce Management (WFM) is the most complete and configurable solution on the market. Its depth has attracted the world's largest and most exacting community of WFM professionals. These companies and individuals value the ability to fine-tune the solution to their specific environment, delivering the greatest forecasting precision and the most engaged employees.
Our more than two thousand customers and two million end users generally describe the value of NICE IEX WFM across three dimensions:
1. Solution Configurability
A solution tailored to meet the most complex (multi-skilled, multi-site, multi-method) environments.
2. Employee Engagement
Drives accountability by making it easy for employees to own their schedule, time-off requests, and adherence.
3. Portfolio Integration
Connects WFM data to analytics to improve forecasts. Report adherence along with other critical performance KPIs. Raise the visibility of WFM in the organization.
https://www.nice.com/engage/workforce-optimization/workforce-management
Interaction Analytics
Nexidia provides customer interaction analytics solutions with patented technologies and breakthrough applications that enable companies to drive business transformation by capturing, making sense of, and using the full range of communications they have with customers.
As the traditional voice of the customer expands from the contact center to include surveys, email, chats and even social media sites, Nexidia provides software and service expertise to help companies synthesize this data into both a tactical tool for operational improvements and a catalyst for strategic business transformation.
Robotic Process Automation
Robotic process automation (RPA) automates manual desktop tasks that are highly structured, routine and rules- schedule- or event-driven, requiring little (if any) analysis or subjective judgement.
The average back office employee, for example, spends 80% of their day on such activities, like filling in forms, making repetitive calculations or processing orders. These tasks may be critical for supporting customers, but for your employees they are tedious motivation-killers. They are also notoriously error prone and time consuming.
RPA allows you to hand these processes off to a robotic workforce that is fast, perfectly accurate, tireless, and easily scalable. With NICE Robotic Automation, you can relieve employees of tasks that require no human intervention ("unattended") and partially automate those that do ("attended").
https://www.nice.com/websites/rpa/
Contact Center as a Service
inContact, a NICE company, is the cloud contact center software leader, with the most complete, easiest and most reliable solution to help organizations achieve their customer experience goals. Recognized as a market leader by Gartner, IDC, Frost & Sullivan, Ovum and DMG, inContact continuously innovates in the cloud and is the only provider to offer a complete solution that includes the customer interaction cloud, an expert service model and the broadest partner ecosystem.
Brochure:
NEVA Discover Provides Meaningful Desktop Insights – Brochure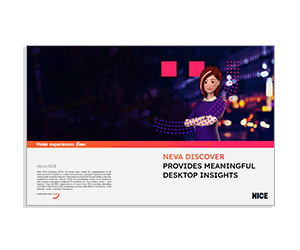 Address: 160 Queen Victoria Street, 2nd floor, London, EC4V 4BF United Kingdom
Weblink: https://www.nice.com/