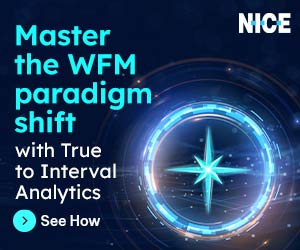 NICE announced that it has been named the market leader for Attended RPA by Zinnov, a leading global research, consulting, and advisory company.
In the 'Zinnov Zones for Hyper Intelligent Automation – 2020' Rating, NICE Robotic Process Automation (RPA) was rated in the Leadership Zone in the Attended RPA category based on multiple parameters validated through performance, outcomes, and customer feedback. To access the report, please click here.
Nischay Mittal, Principal & Global Head – RPA, Zinnov, said, "NICE has wide-ranging Hyper Intelligent Automation capabilities. It finds itself as a Leader in the Attended RPA category for its unmatched coverage across use cases and a strong focus on providing Attended Automation solutions with products like NEVA and Desktop Analytics."
"Our analysis of their built-in AI capabilities for RPA, such as NLP-based text analytics, unsupervised machine learning, and real-time speech guidance, coupled with their extensive pre-built RPA integrations and vast experience in UI connectivity, are what distinguishes NICE in the market."
In the Zinnov Zones Rating, NICE RPA's market leadership positioning was specifically attributed to its Attended RPA use case analysis, business model, market visibility, vision and roadmap, as well as customer endorsements and developer feedback.
The Zinnov Zones Rating is the industry's first comprehensive assessment of over 35 intelligent automation platforms and specialist organizations.
The study assessed the participating companies on their overall prowess and scalability across the Hyper Intelligent Automation value chain. The key parameters evaluated included capabilities in the areas of Use Case Discovery, Intelligent Document Processing, RPA, Analytics & Insights, etc. Zinnov's evaluation is based on a rigorous process of an RFI, followed by interviews with over 100 customers, 500 developers, partners, as well as industry experts.
NICE RPA introduced NEVA, the first employee virtual attendant robot, to the RPA market in 2018. With its robust and comprehensive Attended RPA capabilities, NICE has succeeded in disrupting the market and paving the way for new human–robot collaboration in the modern workplace.
NICE also recently introduced NEVA@home, helping organizations make it easy for their employees to provide continued service excellence even when working remotely.
Barry Cooper, President, NICE Enterprise Group, said, "Research and review by respected organizations such as Zinnov provide end-users with an independent perspective of the players in the market. NICE is proud to be recognized for the innovation that is the driving force behind NEVA and for its value in supporting and guiding employees, irrespective of their location."