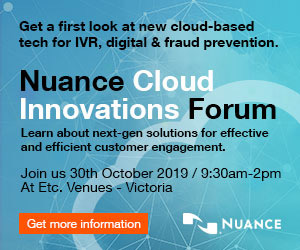 About the Event
Navigating the Opportunities in the Cloud
A first look at Nuance's new cloud-based IVR, digital and fraud prevention solutions.
Save the date! Join us for this exciting new UK Cloud Innovation Forum launch
Join us on 30th October at this UK Launch of the Nuance Intelligent Engagement Cloud.
During this forum, you'll get to learn about:
Nuance's NEW open platform that will transform your customer engagement offerings into easy to use, omnichannel customer experiences.
PEERS from your industry, whilst spending some time sharing challenges and successes.
Customer TRENDS when it comes to cloud & on-premise solutions – DIY, hosted, public cloud and more!
Exciting NEW customer engagement innovations for your customers both on-premise and cloud based solutions.
You'll leave with a deep insight into how Nuance's Intelligent Engagement Cloud solutions can help you deliver an exceptional customer experience – at lower risk and cost.
If you're responsible for delivering intuitive, fast and effective self service experiences, you'll find the forum to be an excellent source of inspiration.
Places at this exclusive launch are limited, so register today to secure your attendance.
Date and Time
Starting:
Wednesday 30th October 2019
Date and Time
Starting:
Wednesday 30th October 2019