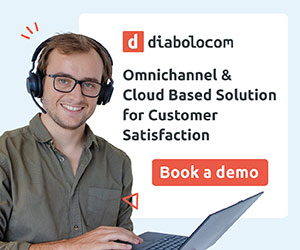 Diabolocom share three reasons which they believe are behind the renewed focus on customer emotion.
We now find ourselves in an artificial intelligence-powered world. For many organisations, chatbots and voicebots have become a key medium of conversation, and algorithms determine what we see on our screens.
One might wonder, is the human touch slowly vanishing from our lives? These new technologies are quickly becoming the first point of contact between an organisation and its customer.
Often this leads to a uniform customer approach: standardised communication patterns and mass customisation, which removes any individuality from customer relations. However, emotion remains a potent factor in brand growth and customer relations.
Here are three reasons why emotion is key to driving the customer's decision to purchase and propensity to recommend a brand:
1. Customers Make Buying Decisions Based On Emotion
Customer relations in call centres have become almost synonymous with complaint management. 80-90% of complaint calls are emotional, and feelings of anger and frustration unsurprisingly risk damaging a customer's brand relationship.
Consumer behaviour is greatly influenced by memory and feeling. Therefore, If the call advisor can express empathy and transform a customer's negative emotion into something optimistic, this will lead to greater customer satisfaction and brand loyalty.
From calling a customer to enquire how they are, to surprising them with something unexpected, small details can leave a great impression on the overall customer experience. 

2. Brands Can Use Emotion to Differentiate Themselves
It is essential for brands to stand out with consumers if they hope to drive brand attachment and generate customer recommendations.
Emotion is what determines our behaviour and actions as individuals, which explains how a memorable interaction can improve customer retention and create brand ambassadors.
Customers often share their brand experiences with others, either through word of mouth or online. While many brands are aware of the power of negative reviews, the impact of positive reviews should not be forgotten.
Customers are equally likely to share stories of positive customer experience, something brands should leverage to strengthen their customer base and generate commercial returns.
3. Speaking the Same Language as Customers Is Indispensable
Good interpersonal skills and emotional intelligence are essential for understanding the customer. Proper training and a supportive work environment all contribute to making a call agent better equipped to handle customer relations.
Navigating emotions is further complicated by the various modes of modern communication. For instance, adopting emojis in text-based messaging can help brands relate to their consumers.
At the same time, using emoticons should be done appropriately and reflect the tone and style of the customers' requests. Evaluating a customer's tone from the outset helps to ensure the call agent and the caller are speaking the same language.
Ultimately, brands that prioritise the emotional dimension in customer relations have the potential to provide an unparalleled customer experience, creating memorable experiences which drive customer loyalty and help brands stand out from competitors.
To find out more visit the Diabolocom website: https://www.diabolocom.com