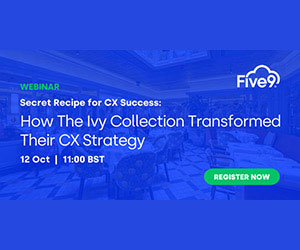 Thomas John at Five9 looks at the secular tailwind of the pandemic.
I'm going to tell you a story. Sadly, it may be too near-the-knuckle for far too many beleaguered people reading my blogpost.
However, I am genuinely here to shine a light at the end of a dark tunnel and inspire hope. I don't have the cure for Alzheimer's, world hunger, or old age, but bear with me as I concede, hand on heart, that the digital Healthcare industry has failed a great many people, CX-wise, and that the time to right this wrong is RIGHT now.
 Setting an Imaginary Scene
Your 89-year-old father, grandad, great-grandad and beloved elder is in a care home. To visit him, you need a negative COVID-19 LFT test and when you do visit him, there's a solid chance he won't recognize you this time or may confuse you with someone else. His care facility is a 20-minute drive, and you are juggling work, children, your home, relationships and a workout or two.
You know he's been given a new medication; you want to check in on progress.
The Call – Here Goes:
After dialing the number you've been provided – the dreaded IVR answers:
"Hello, you've reached TotalFiction Elder Care Home. During the current time, we are exceptionally busy. If you would like to find out about our visiting hours, please hang up and visit our website.
"If you would like to book a visit, press 2; if you would like to talk to sales, press 3; if you would like to talk to a resident, press 4; to raise a complaint, press 5; to arrange a visit, press 6; for anything else, please hold. You will be connected to someone who can help."
<Elevator Music Plays> <Another message about how your call is important plays><blood starts to boil>
 You Hold. And Hold and Hold.
An indefinite period of hold/music/frustration passes. You've made sure the youngest child found the cereal they were looking for. You've checked Wordle again, and you're wondering why you didn't just press a button to talk to someone, anyone, even if it was a different department.
Surely, given today's tech, it should be better than this?
I, Thomas John, agree. Wholeheartedly. That's why our uber-smart-techie-whizz kids have provided us slightly less geeky Five9ers with IVA technology to talk about.
What is that? It's AI, doing what AI should be doing and helping human beings live their best lives. Not stealing our jobs. Not stealing our identities. Not being Terminator 6. Helping you get through to the right care home professional to answer your question.
An IVA could have recognized the number you called from and, in natural language, greeted you by your name. It could have asked you why you were calling today. If you'd asked for the visiting times, it could have answered.
If you'd asked for pretty much anything transactional: appointment booking, a call-back, to register your negative COVID-19 test, it could have done that for you. Just like that. Without speaking to anyone, no ifs, ands or buts, 24-7 and in any one of hundreds of languages.
In my fictional instance, if you'd said, "I want to check on a prescription for my father," it would have logged the reason of call and said something along the lines of, "I cannot do that, but I will connect you with someone who can," and you'd promptly have a convenient call-back scheduled or be speaking with your father's care provider.
At the end of the day, the IVA has not made the overall situation a great deal happier but it has saved a heap of angst, for you – and the care home's too.
It has benefitted everyone involved in this customer experience and provided the essential data-points required for the care home, as a business, to allocate resource according to demand. Did I forget to mention that IVA technology also provides cast-iron data in a low/no-code way?
In short, it's time you reimagine your Healthcare CX. But don't just take my word for it, see what other global healthcare providers are doing, around the globe, by looking at this recent Frost & Sullivan report. We're also out with our superb partners, Babble, at the upcoming Healthcare Plus event in May–visit us there in the digital healthcare zone.
This blog post has been re-published by kind permission of Five9 – View the
Original Article
For more information about Five9 - visit the
Five9 Website