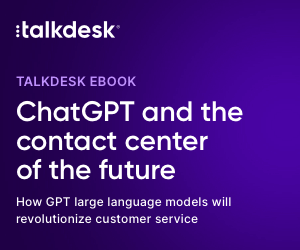 Celia Cerdeira at Talkdesk explores call centre service level, customer satisfaction, and how in any business, it's important to track metrics to ensure everyone is hitting their goals.
These metrics will vary depending on the industry, but for a contact centre, everything is centred around incoming calls and customer satisfaction. The rate at which these calls are being answered and the quality of service being given to the customers are two of the most important metrics that contact centres track.
Understanding Call Centre Service Level Impact on Your Customer Experience.
Call centre service level is a common key performance indicator (KPI) to measure the accessibility of a company to their customers and its ability to plan for call volume fluctuations and execute their staffing strategy.
It has been found to be directly tied to customer service quality and inbound call centre performance thus is often the cornerstone of inbound call centre manager's metrics toolkit.
What is Call Centre Service Level?
Measuring Call Centre Service Level.
Call centre service level is defined as the percentage of calls answered within a predefined amount of time—target time threshold. It can be measured over any period of time (i.e. 30 minutes, 1 hour, 1 day or 1 week) and for each agent, team, department or the company as a whole.
Service level is both a:
Goal (Call Centre Service Level Objective).
Managers can set a service level objective, which is the maximum number of callers that wait in the queue before they are answered in a specified amount of time.
Service level objectives are denoted as: (the percentage of calls answered)/(target time threshold). So a 90/30 service level objective means that the goal is to answer 90% of calls in 30 seconds or less.
Performance Measure (Call Centre Service Level).
After setting a call centre service level objective, managers will then measure their team's performance in reaching that goal in increments (i.e. hours, days, weeks, months, quarters or years).
For example, a company's service level between 9:00 am and 9:30 am is measured to be 80% if they answered 80 calls within 30 seconds or less and 20 calls after the callers waited for longer than 30 seconds.
Service level (as a performance measure) is denoted simply as the percentage of calls that were answered in the predetermined time threshold. So in the previous example, the service level is 80%.
Service level has been touted as one of the most important KPIs as it is intimately tied to customer service quality and the overall performance of the call centre.
Thus, managers and decision-makers should take a systematic approach to select a goal, measure their team's performance and act on this data when making key decisions.
Call Centre Service Level and Customer Satisfaction.
Call centre service level doesn't mean much by itself. Instead, it's the way you achieve the service level agreements that drive customer satisfaction.
Expectations will differ from industry to industry—a 5-minute service level agreement for answering a call may work for the a retail customer service line, but will not work if you're dealing with a serious health condition and need assistance.
Be mindful when establishing service levels, because exceeding them doesn't necessarily mean you're providing customers with the service they need.
Defining call centre service levels is important, but you should align with customers' expectations and needs to drive.
Service levels should be paired with customer satisfaction scores (CSATs) to help you understand how your team is performing against established service levels and how satisfied your customers are with the service you're delivering.
FAQs.
How to Calculate Call Centre Service Level?
Call centre service level is calculated by taking the percentage of calls answered within a predefined amount of time.
The time can be anything (1 hour, 1 day, and others), depending on how the company decides to measure their performance. It can also be measured by department, individual agent, or entire organization.
How to Improve Service Level in a Call Centre?
Call centres can improve their service level by implementing the right processes and tools to optimize their workflow management, optimize occupancy rates, increase schedule adherence, improve call forecasting, reduce agent attrition, enable agent call-backs, enhance first call resolution, and enhance customer satisfaction.
What Does a Call Centre Service Level of 80/20 Mean?
The first number in this service level—80—refers to the percentage of calls being accepted, while the second number— 20—is the average speed of answer for the call.
A call centre service level of 80/20 is widely accepted as the standard for call centres. If a call centre achieves this service level on a regular basis, they are likely providing the best and most sustainable service for their customers.
This blog post has been re-published by kind permission of Talkdesk – View the
Original Article
For more information about Talkdesk - visit the
Talkdesk Website