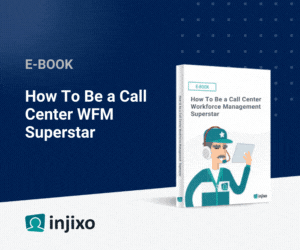 Improving call centre service level can have a huge impact on your service quality. It can positively affect the reputation and the overall bottom line of your business.
Service level is an important KPI for your contact centre. When you measure, monitor and optimize it continuously you are on the right way to ensure you're delivering a good customer service experience.
Moreover, setting and achieving service level targets enables you to execute and maintain an efficient staffing strategy based on maximizing productivity and reducing cost.
Service level provides a good indicator of a contact centre's overall customer service accessibility and its ability to plan and schedule staff accordingly. Therefore, it's one of the most basic but crucial call centre performance metrics.
Achieving and optimizing service level is a major concern for call centres since it is closely tied to customer service quality/accessibility and operational efficiency as well as overall business performance.
Knowing how to calculate, report on and interpret service level surely is indispensable for any CC professional. But that's just the start. Achieving service level targets effectively depends on your understanding of what drives service level.
Furthermore, you can optimize this KPI, like any other in your contact centre, by learning about the strategies and tactics that have a positive impact on service level.
So, let's present five proven ways to help you as a planner or WFM professional to improve service level in your contact centre.
1. Optimize Your Workforce Management Process
Successful workforce management (WFM) is key to achieving service level consistently in your contact centre. It involves forecasting, scheduling and real-time or intraday management as well as reporting.
WFM ensures you have the right people with the right skills at the right time and place to deliver the best possible service.
A streamlined workforce management process can have a fundamental impact on core KPIs and the overall bottom line of your contact centre.
It helps you increase operational efficiency by maximizing productivity while reducing cost and allowing for optimal staffing. The latter is key to ensure you're able to hit service level targets.
In fact, understaffing leads to longer waiting times and a decline in service level. Overstaffing results in an increase in service level, but at an unnecessary cost.
To optimize your WFM process, consider the following approaches:
Identify efficiency gaps in your internal process (e.g. staffing levels, break optimization, intraday adjustments, etc.)
Develop a workforce management strategy or rework your existing strategy to focus on goals that align with your call centre objectives
Have a person or team in place dedicated to workforce management exclusively
Evaluate your current tools (Excel, WFM software, etc.) and consider new technologies to help you execute your strategy
Optimizing your WFM can be complex. The good news is that there are technology solutions out there to support you. There are planning tools like spreadsheets (e.g. Excel), but they fall short on covering the entire workforce management process. WFM technology enables you to automate and optimize all the steps in the process of improving your service level.
2. Improve Your Forecast Accuracy
Forecasting is an essential first step in your workforce management process and a key ingredient to achieving service level.
Often contact centres struggle to meet service level because the forecast is inaccurate. Forecasting involves demand planning based on historical data such as call (contact) volumes and average handling time (AHT), which are used to predict future workload.
An accurate forecast depends on your ability: 
To identify patterns in your historical data
To consider upcoming events such as marketing campaigns/promotions
To account for holidays and seasonal fluctuations
However, forecasting is both art and science. Even experienced analysts and planners struggle with forecast accuracy.
Here are some approaches to improve your forecast accuracy:
Get the data right ("Garbage in, garbage out")
Factor in your business intelligence
Learn from past mistakes
Understand the drivers of demand
Use the right tools
To make your life easier, forecasting solutions can help and are often covered in the feature scope of a WFM system. With machine learning and AI-powered technologies, planners are empowered to generate forecasts with weekly, monthly and yearly patterns at the push of a button without sacrificing accuracy.
Given a solid integration with your ACD that fuels your forecast with data in real time, you're in the driver's seat to boost forecast accuracy even for multi-channel environments. Eventually, you can create better schedules by effectively matching demand with supply to ensure you're hitting service level targets consistently.
3. Increase Schedule Efficiency and Adherence
Schedule efficiency is all about minimizing periods of over- and understaffing in your contact centre. Creating efficient schedules that are in line with your forecasted FTE demand/staffing requirement is indispensable for successful service level management.
Besides creating demand-oriented schedules based on your forecasts, it is equally important to pay attention to schedule adherence. You can have the best schedule that's perfectly adapted to projected workload but if no one adheres to it, it's worthless.
Even a few minutes deviation from the plan, for instance due to longer break times or spending time on non-work-related tasks can break your schedule and negatively affect service level.
To increase schedule efficiency, avoid the following common mistakes:
Not making use of flexible schedules
Failing to account for shrinkage in planning
Employing few part-timers and short shifts
Missing out on scheduling breaks properly
Not measuring and reporting on schedule efficiency
Obsessing about minimizing overtime
Assuming that nobody wants to work unsocial hours
With WFM technology, you can make staffing gaps transparent with adherence monitoring even in real time. However, let's be real – you can rarely deliver a super-efficient schedule and ensure 100% adherence despite having professional software at your fingertips.
There's always an unknown and uncontrollable variable – the human part. People may take longer on a break or get sick. What you can do is to plan ahead and consider this shrinkage in your staffing strategy as you collect more insights and intelligence in the process.
Ultimately, this can benefit both occupancy rates and your service level in the long-run.
4. Focus on Real-Time Management
Effective real-time management can have a significant impact on service level. It is often referred to as intraday management and revolves around workload and performance monitoring by comparing plan vs actual throughout the day.
Real-time management allows planners to make intraday adjustments by uncovering deviations from the plan in real time, thus mitigating over- and understaffing.
In your everyday work as a planner, you will most likely experience that contact volumes or handle times are higher/lower than expected or the number of available agents simply does not match demand (for example due to unplanned absences).
Focusing on real-time management might be a no-brainer for some but many contact centres don't really pay attention to it.
Here's a few things that help you focus on real-time management:
Monitor team and individual agent adherence
Make ad-hoc changes to your schedules if necessary
Configure adherence monitoring to your needs
Allocate clear responsibilities to ensure focus on real-time management (e.g. team leaders, supervisors, etc.)
Set up service level thresholds for alerts when plan doesn't match demand to be able to react quickly to deviations
Document clear instructions and ad-hoc actions to be taken when service level drops
Real-time management can be a tedious task when done manually (i.e by using spreadsheets). But there's a simple alternative. With professional WFM software, you are able to easily monitor all key variables that affect performance and service level in your contact centre, such as abandonment rate, ASA (average speed of answer), AHT, offered calls and staffing level.
Comprehensive dashboards allow you to analyze and visualize how actual compares to plan – no manual calculations needed. This way, you always stay up-to-date and ahead of the game, giving you maximum control to hit your service level target.
5. Reduce Employee Turnover
This sounds like a logical thing to do in any business context. In fact, reducing agent attrition can, first of all, save your business a huge amount of money (i.e. recruiting and training cost).
Second, keeping employee turnover low can sustain productivity and a healthy morale and among your workforce. Last but not least, retaining talent and highly skilled workers is essential if you want to maintain and leverage existing know-how, which in case of a colleague's departure goes down the drain.
Today, many contact centres suffer from high agent attrition. You can calculate your contact centre's attrition rate by dividing the average number of employees by the number of attritions times 100.
Besides the above-mentioned reasons, agent turnover is a bad thing for your contact centre:
It hurts your service level since fewer people are available to take up calls, answer emails or engage in chat, thus harming your centre's ability to match service demand with supply.
It leads to agent burnout and decreases in productivity since you still need to balance your resource deficit. Workload is then allocated to the remaining staff who struggle to handle additional work and may already be flooded with calls.
Point two can further result in decreasing morale, increased absenteeism due to sickness and even higher attrition rates. And the vicious cycle continues.
To mitigate employee turnover in your contact centre and keep agent attrition at a minimum to sustain your capabilities to achieve service level, there are a couple of things you can do:
Understand the reasons why your agents are leaving the business
Collect feedback about what makes your employees happy (e.g. run a periodic eNPS survey among front-line staff, empower team leaders to held regular 1on1 meetings).
Reduce over hours, encourage breaks and vacation to avoid agent burnout
Employ flexible staffing strategies and offer work-from-home options to give agents more freedom about working hours
Offer training and development options as well as designated career paths to drive intrinsic motivation
Engage employees regularly because only happy agents can create happy customers
Now It's on You to Improve Contact Centre Service Level
Improving call centre service level can be a tough job. There are various ways as well as different tactics and solution strategies you can utilize to get it right.
Sometimes you just need to turn the right screws, try out different approaches and select the one that works best for you. And sometimes, you find that an integrated approach and mixture of multiple tactics does the trick.
The five aforementioned ways to improve service level should thus provide you with a good overview of where to start.
This blog post has been re-published by kind permission of injixo – View the
Original Article
For more information about injixo - visit the
injixo Website