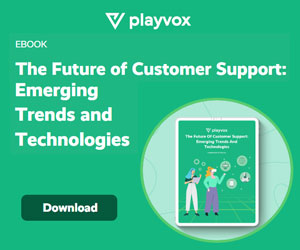 Exceed your clients' expectations with these golden rules of customer service…
After-service
With sub-standard after-service constituting one of the major causes of customer defection, you as a service-provider can take advantage of your competitors' shortcomings by providing your client with a top-notch level of after-service.
Business
With careful tuning of your internal policies, the needs of your business can become compatible with those of your clients. It may just be that some of your current policies are detrimental both to your profits and to customer convenience. But with regular reviews of your procedures, you can find the golden mean between customer satisfaction and corporate profitability.
Customer
The long-term success of your business is dependent on a strong base of repeat customers – you know it, and so do they. So, keep your service level at the top of your agenda with outstanding SLAs, stringent agent KPIs and a generous compensation structure to restore your clients' faith wherever you've fallen short of their expectations.
Dialogue
A healthy dialogue between contact centre staff and customers is pivotal to client satisfaction – but effective communication between agents, their colleagues and their superiors is also a must. Without open internal dialogue, complaint trends noticed by your front-line staff will not be shared with management and, as a result, will go unaddressed.
Euphemisms
The use of downbeat words during a customer service call can have a profoundly negative impact on your customer's outlook and, in turn, the likelihood of their becoming regular clients. So, encourage your agents to downplay unfortunate situations using euphemisms and a host of positive words and phrases. "I'll escalate that right away" not "Sorry for the long delay".

Flexibility
By cross-training your agents with supporting departments and giving them the tools to run reports, process overdue refunds and issue suitable compensation on a point-of-contact basis you will minimise the risk of repeat calls, reduce the back-office workload and, most importantly of all, radiate a wow-factor guaranteed to generate a loyal clientele.
Gratitude
Never forget that, without a strong customer base, your business is worthless, so take every opportunity to remind your clients just how much you value them. Your customer service team can play a part by inviting callers, where appropriate, to take part in competitions, loyalty schemes and promotions.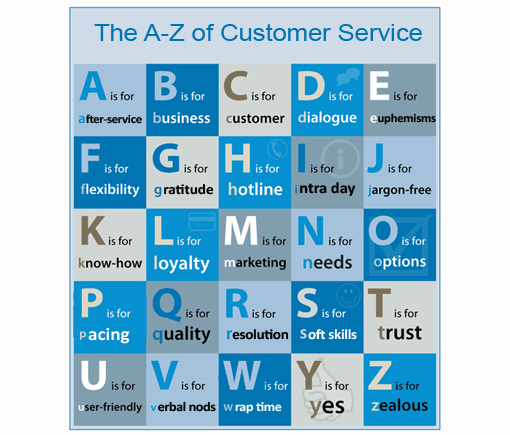 Hotline
Fuzzy phone lines, thick agent accents and looping IVRs should be the least of your complainants' worries. Identify any problem areas through market research and thorough internal testing to curtail customer exasperation and, in turn, your inbound call times.
Intra-day
Intelligent intra-day management can prove immeasurably beneficial for the hourly management of your incoming calls. By carefully analysing your data patterns, you can confidently predict your short- and long-term staffing requirements and implement an inter-departmental call-blending programme based on your findings.
Jargon-free
Abbreviations and internal colloquialisms that are self-explanatory to your front-line staff are often misunderstood by customers; talk of "IVRs", "CLIs" and "CSRs" will only baffle the minds of your clients and lead to extended call times. Cast aside the mumbo-jumbo for a free-flowing dialogue and speedy resolution.

Know-how
An experienced workforce will not only ensure that your customers are correctly advised at all times, it will also minimise your internal training costs and reduce your QA team's workload. So, incentivise your staff to remain in your employment with a decent loyalty scheme, and eliminate the monetary nature of their working day with regular, team-based activities.

Loyalty
In this age of social media, the service you have given, be it good or bad, can be spattered across the internet at the drop of a hat. A large base of loyal customers is therefore of particular importance. So, allow your agents some discretion in resolving complaints from long-standing clients.
Marketing
Shortcomings that are obvious to the average customer are often invisible from an internal perspective. But by performing frequent analyses on your clients' buying trends and inviting your customers to participate in regular, unobtrusive satisfaction surveys, you will obtain an invaluable bird's-eye view of your corporation's strengths and weaknesses.

Needs
A healthy balance between your corporate needs and those of your clientele is an integral factor for long-term success, so frequently reassess your customers' requirements and remember that any tangible sacrifices you make to build customer confidence will, in the long term, be returned to you with interest.
Options
Customers, like the rest of us, enjoy the feeling of being in control, and by giving your clients a variety of mutually agreeable resolutions to any given query, you'll score invaluable brownie points with no significant impact on your revenue.
Pacing
It's important to remember that, while your customer service agents know your company processes inside out, the customers themselves are likely to be unfamiliar with the policies and procedures you follow. As such, conversations should be paced – both verbally and in terms of process explanation – in accordance with the customer's age and experience level.

Quality
When your clients are convinced that they're dealing with a world-class supplier who's genuinely concerned with the quality of service given, you'll find them returning time and again.

Resolution
When it comes to customer services, your corporation shares a common goal with its client base: swift and amiable resolution. To meet this end and avoid unnecessary escalations, ensure that your workforce is equipped to deal with complaints on a first-call basis.
Soft skills
Let's face it, in this business, it's inevitable that there will be times when you're obligated to deliver news your customers do not want to hear. But as long as your advice is given with sincere empathy and candidness, you'll remind your customer that you really are there to help – and prevent a dangerous situation from escalating out of control.
Trust
Trust is the cornerstone of any business relationship – without a strong and consistent rapport, your customer base will eventually dwindle and vanish. So, make sure that your agents respond to queries as honestly and unambiguously as possible.

User-friendly
The last thing you want is to rile your customer before you've even had a chance to respond to his or her query. With this in mind, any and all of your customer-controlled interfaces – from the IVR all the way through to the contact form on your website – should remain streamlined and concise.
Verbal nods
Used correctly, a varied set of polite verbal nods can work wonders for your customers' subconscious. Words like "right", "sure", "great" and "I understand" will reinforce the caller's confidence in the agent's listening skills while creating an atmosphere of swift complaint resolution.
Wrap time
Strict wrap times are all well and good in terms of call handling, but from an agent's perspective, there are few things more frustrating than receiving another call the moment his or her notes have been saved. This greatly affects the agent's motivation and, in turn, their temperament too. Allow your employees some breathing space between calls to ensure that their notes are accurate, allow them to collect their thoughts and prepare themselves for the next caller. Your customers will notice the difference.
X-Factor
Your employees are individual characters, brimming with likeable traits and mannerisms – that's the reason you employed them in the first place. So don't suppress their personalities beneath a veil of endless scripts and banal formality; allow each agent's personality to shine through on every call.
Yes
When dealing with difficult customers, one little word can make all the difference in the world. This isn't to say that you should succumb to each and every demand an angry customer makes, but where you're demonstrably at fault, it's not unreasonable for the customer to expect sacrifices on your part.
Zealous
The positive outlook of a zealous workforce will often rub off on the customers they come into contact with. By instilling in your employees a strong sense of your corporate identity and allowing them to interact with their callers accordingly, you will reassure your clients that yours is a company that takes its values seriously.
George Dixon is a regular contributor to Call Centre Helper.
So what have we missed?  What would you include in your own A–Z of customer service?