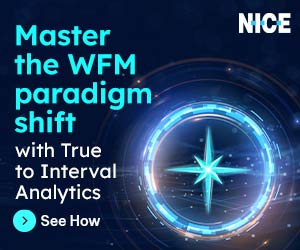 Andrea Matsuda at NICE explains the controllables contact centres should optimize now to win in the recession and labor shortage turns ahead.
Well before recession warnings went mainstream, contact centres were managing the fallout of the "great resignation."
As record numbers of workers left the traditional workforce in 2021 in favor of work-anywhere-anytime gig economy options, contact centre leaders were forced to do more with less.
Today most economists forecast a global recession, albeit a short and shallow one, on the near horizon. And while recessions have been accompanied by job losses and high unemployment rates, this one may be different.
With nearly two job openings for each unemployed person in the United States, workers hold the upper hand in terms of demanding higher wages and preferential working conditions from labor-strapped contact centres.
In Britain that upper hand is fueling recession pressure. In response to ongoing competition for talent, wages grew at the fastest pace in more than a year in 2022's third quarter, putting greater financial pressure on British companies already bracing for economic turns ahead.
As the uncontrollable factors of a recession and an ongoing labor shortage loom, contact centre leaders should consider how they are optimizing one critical controllable: scheduling.
Optimized scheduling does more than just manage net staffing and aggregate costs; it can be your competitive differentiator in a fight for top talent.
In the turns ahead, smart contact centre leaders will seek to not just control the controllables but also harness and optimize them for cost savings and greater employee satisfaction.
Optimize Scheduling to Meet Net-Staffing Requirements and Service Level Objectives, Automatically
Despite contact centre leaders' best efforts to accurately forecast and schedule, staffing gaps often emerge after a schedule is published.
Those gaps may occur as a result of unplanned schedule modifications, absenteeism, or unexpected shifts in demand.
These changes have a direct effect on operational costs, customer satisfaction scores (CSATs), and other key performance indicators (KPIs).
When overstaffed, operational costs such as aggregate pay to agents rise. When a contact centre is understaffed, customers face longer wait times and lower levels of customer service, which can increase churn.
The duty to resolve these variances falls on contact centre workforce management (WFM) teams, which are tasked with forecasting staffing levels and managing head count for each interval.
Automated staffing optimization matches fluctuating needs with employee schedule preferences and then automates schedule changes to fix gaps.
It instantaneously solves complex multifaceted scheduling issues by identifying opportunities for self-swaps, voluntary time off, paid time off, extra hours, shift trades, and more. In doing so, it takes the challenging process of identifying and resolving staffing gaps off the shoulders of the WFM team.
Harness Scheduling as Your Winning Competitive Differentiator in a Race for Talent
Contact centre agents have spoken, and 47% report that they want flexible scheduling with 24-7 access. Agents can become frustrated when they feel they don't have control over their schedules.
When they can't get the schedule they want, have to wait hours or days for a schedule change approval, or miss an opportunity for time off or overtime, employee job satisfaction and engagement suffer.
This adds hidden costs to manual intraday management in the form of absenteeism, reduced adherence, and decreased employee retention.
However, truly flexible scheduling requires robust rules and interconnected real-time staffing analysis that only AI can manage at scale.
The right AI-lead program can facilitate self-trades, promote less desirable shifts, and enable communications that support work-life balance while protecting net staffing across multiple skill profiles, channels, and locations.
Moreover, intraday automation boosts agent engagement with employee self-scheduling, which gives agents the control, flexibility, and autonomy they need to independently manage their work-life balance.
Automate intraday scheduling to avoid net staffing shortages and excessive overtime. As agents report unplanned absences, next-generation WFM systems can instantly forecast net staffing shortages and promote resulting shift openings to the right agents, avoiding overtime and targeting those most likely to opt in based on their self-selected preferences.
Intelligent Intraday Automation matches staffing requirements with agents' individual needs, skills, and preferences to speed staffing gap closure and achieve best-fit scheduling needs.
Agents can view their schedules anytime from anywhere and select among automatically approved schedule change options that align with the contact centre's business needs.
The degree to which contact centres will be impacted by looming recessionary pressures and ongoing labor shortages is yet to be fully known. However, it's safe to predict that contact centre leaders will be forced to do more with less—less financial flexibility, less talent, and less room for error.
By optimizing and harnessing an automated AI-driven scheduling system now, contact centre leaders can deliver on CSAT and KPI goals, even with less staff, and boost their odds of winning in the turns ahead.
This blog post has been re-published by kind permission of NICE – View the
Original Article
For more information about NICE - visit the
NICE Website