In this part of the Contact Centre Manifesto series, we look at the resources agents need to provide the best possible service.
The Problem
Contact centre agents are often expected to meet customer needs using low-quality equipment and slow computer systems. An unwillingness to invest means that change is slow to appear, and can be limited to papering over the cracks.
The Solution
For staff to provide a memorable level of service, they need the best tools that you can give them.
The 'tools' we are talking about fall into three main categories:
Hardware, the physical equipment that staff use in the office
Software, the databases and user interfaces that agents interact with
Training, probably the most important toolkit an agent can have
Part 1: Hardware
Computer Monitors
Perhaps the best place to start is with the most simple equipment. The price of computer monitors has fallen considerably over the past few years, so big gains can be made from a relatively small investment.
Small, low-quality computer monitors impact users negatively in two main ways. The first is the difficulty of navigating between programs and locating the necessary information. The second is the increased risk of eye strain, which affects between 50 and 90% of computer workers, according to the Institute for Optometry.
The daily tasks of most contact centre agents require navigating between numerous systems and databases, usually with a large amount of data entry involved as well. To do this, agents should ideally have two monitors of 24 to 27 inches.
Two monitors make data transfer or comparison between windows much easier, while also creating more space for the kinds of features that newer call centre software introduce. For example, a lot of modern CRM systems bring up a dialogue box with key details about the customer they are dealing with. These are the kinds of features that look great on the large and high-quality monitors in the showroom, but which aren't helpful if office hardware doesn't support them.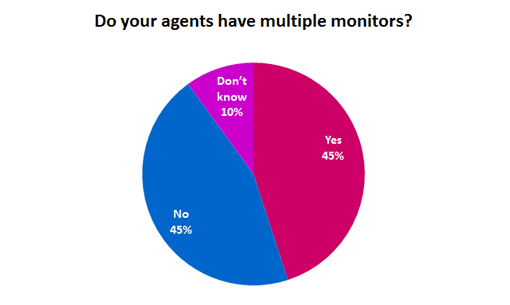 (This poll was sourced from the piece: 45% of Contact Centres Provide Agents With Multiple Monitors)
Research conducted by Microsoft has demonstrated quite conclusively that workers much prefer a two-screen system, with 98% of those surveyed agreeing that a second screen made their work easier; the same study also saw productivity increase by half.
Provide a Range of Headsets With Different Features
Headsets might be the most important piece of physical equipment in the contact centre. There is a lot of variation in their design, catering to the needs of different individuals and environments.
It's uncommon, however, to find a contact centre that offers staff a range a headset options. As a result, some staff find that headsets don't meet their needs for functionality or comfort.
Uncomfortable headsets can easily trigger serious headaches, while features like wirelessness better suit the working style of some individuals.
Binaural or Monaural?
One very important feature is whether the headsets are binaural or monaural. Binaural headsets have a speaker for each ear, while monaural has only one. In some environments, especially when agents need to be very aware of their surroundings, monaural headsets are preferable.
However, a lot users prefer binaural headsets, especially when they need to focus very closely on what their customer is saying. In general, large contact centres use binaural headsets because of the large number of conversations around them. Providing access to both will help users establish their own needs and find a headset that suits their working style.
Noise Cancellation
Additional noise cancellation can make working easier and put less strain on agents. Most countries have strict laws protecting employees from damage related to excessively loud noise, and about 16% of adult hearing loss is related to noise in the workplace.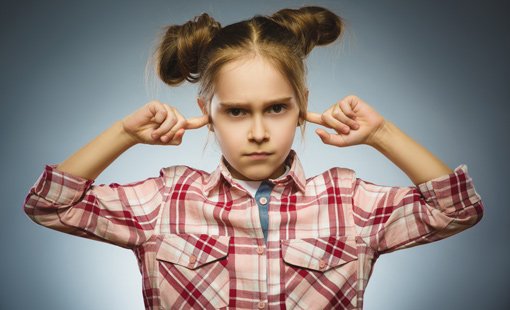 Although most of us associate workplace noise with heavy manual jobs, the call centre has traditionally been among the worst offenders, as hearing can be damaged through persistent ambient noise. When headsets do not have adequate noise cancellation, agents have difficulty hearing customers and turn up the volume on their own headsets. They're also likely to talk more loudly, which increases the ambient noise further.

In addition to noise cancellation, the ideal headset will also have a limiter, which filters out individual loud noises like feedback bursts. Without this in place, agents face the risk of 'acoustic shock' which can lead to nausea, headache and tinnitus.
Ergonomic Office Equipment: Keyboards, Mouse, Adjustable Desks and Comfortable Chairs
Every piece of equipment that staff use has the potential to make life easier or harder for them. Musculoskeletal problems like Repetitive Strain Injury (RSI) account for one third of all workdays lost to injury, and are often avoidable.
There are two key concepts to bear in mind. The first is ergonomics, meaning items which are designed for efficiency and comfort of use. A standard 'no frills' keyboard or mouse might be cheaper in the short term, but the long-term impact will be discomfort, pain, and a greater cost in lost work days.
The second idea is variety. Staff members come in all shapes and sizes, so office equipment needs to be equally varied. Adjustable desks, high-quality chairs, and footstools are some of the important purchases that can help to preserve staff comfort.
Part 2: Software
Reliable Systems
According to research from Sharp, slow or ineffective systems cost the average UK worker around 40 minutes per day. That number may be much higher in the contact centre, where agents routinely use computer systems with many different programs open.
But even 40 minutes is significant – in a 100-seat contact centre, that translates to almost 65 lost hours per day.
There is a tendency, common to a lot of contact centres, to put ongoing systems issues in the "too difficult to fix" category. Rather than addressing the underlying issues by investing in better maintenance and upgrades, recurring problems are allowed to continue. This can do untold damage to the customer experience and the ability of agents to resolve interactions.
There's a simple mantra for evaluating systems performance: Reliability, Availability, and Maintainability (RAM). That means ensuring new systems usually work, that they have little down time, and that they can be repaired easily when failing.
For more on this topic, read our article: Slow Computer Systems – It's Not Rocket Science, Is It?
Better Desktop Software
Agents need to be able to count on their desktop software to support regular business processes. For example, does the software enable the agents to easily escalate complaints as needed?
This kind of capability should be standard, but plenty of contact centres still depend on awkward processes and emailing between departments.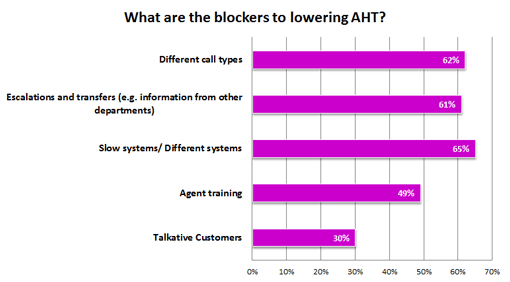 (This poll was sourced from the piece: Over 60% of Contact Centre Face These Three Blockers in Lowering AHT)
Desktop software should also improve interactions by providing a 360º view of the customer. The best-in-class software for this category doesn't just provide complete customer details for every contact, but selects context-appropriate data to highlight. This data can suggest next actions, linking the customer's current experience to their interaction history and predictions about their future events.
There are plenty of common-sense ways to measure the impact of new software in terms that really apply to the experience of using them. When HMRC wanted to quantify the value of an robotic process automation integration, they counted the number of mouse clicks it removed from basic processes. Following their implementation they found that the click count went from 66, to 10.
For more on this subject, read our article: What Exactly is a "360-Degree View of the Customer"?
Omnichannel Interface
As the customer environment heads ever more decisively towards omnichannel engagement, it's important that agents are able to handle all types of contact to the same level. However, it is rarely the agents that present the SLA bottleneck for omnichannel, but the variety of separate systems that are in place.
Having a single omnichannel interface can dramatically cut down on training costs, as agents do not need to learn to use a variety of different user interfaces. Dimension Data's 2016 report concluded that full channel integration will more than triple leading up to 2018, from around 22% to 75%.
Although agent channel specialisation is likely to continue, cross-training is beneficial. Diversity within the role makes contact centre careers a more attractive prospect, while also allowing more effective load balancing.
Despite an anticipated shift away from phones, the reality is proving to be an increasingly deep blend of channels, of which telephone services are a vital part.
The Ability for Agents to Control Their Shifts
43% of employees would choose flexible working as a perk over a pay increase, according to research from Unify. The takeaway here is that flexible working is among the most sought-after benefits in the workplace.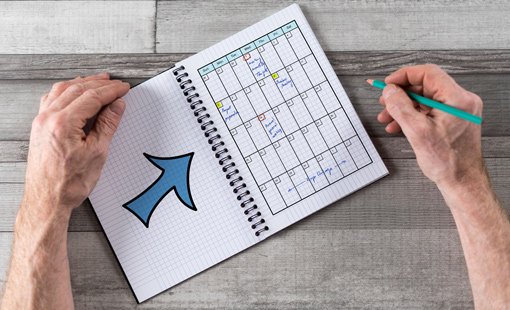 It is also the case that contact centres are an area of industry best able to provide this kind of flexibility. Shift flexibility can be simple to arrange through a modern Workforce Management (WFM) tool, and has great impact on staff satisfaction, which manifests as lower absenteeism and greater retention.
Around a quarter of the typical call centre workforce is employed on a part-time basis, and these tend to be the people with the most serious obligations outside of work. In most cases they are students or the parents of young children, who will miss all or part of a shift without permission if they feel they have to.
WFM tools make shift bidding very easy to arrange. The agent simply needs to state their shift preferences in advance, allowing the scheduling tool to assign them based on predetermined business conditions like skill sets and the distribution of supervisors.
The positive impact that this will have on staff is valuable enough, but giving them more control over their shifts can also save time for the WFM teams by eliminating some of the manual elements of scheduling.
Intranet and Knowledge Management Systems
Within any business there is a lot of knowledge and experience locked into the workforce, and finding a way to consolidate it is beneficial for both the staff and the business.
The difference between Knowledge Management Systems (KMS) and intranets is smaller than it used to be; what's important is the functionality that it offers to staff. Intranets and KMSs can provide a simple way for employees to communicate across the business, however widely spread they are geographically.
One of the main reasons this communication has been important to businesses is the training and collaboration support it can offer. This kind of knowledge sharing tends to be how non-standard responses to situations become prescribed solutions.
This only works if staff are willing and able to add valuable content. When Xerox established that engagement with their KMS was low, they experimented with incentives and found that professional recognition was the best way to drive information sharing. By allowing their staff to make profiles and author content under their own name, they drove a substantial increase in willingness to contribute.
Communication across a contact centre can also be useful socially. Research from MIT highlights how well-socialised staff benefit in practically every way: they are more punctual, less frequently absent, learn more quickly, and are more productive. However, because of the nature of contact centre work, it can be tricky for agents who don't sit near one another to talk.
Traditional intranets have often had forums that could cater to social engagements, but this is now an area where social media might be better suited. Proposing something like an informal Facebook group – run by agents rather than managers – can be a helpful way to extend the social reach of staff.