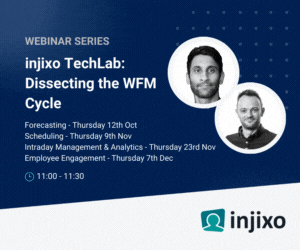 We present two examples of job descriptions of a contact centre Resource Planning Manager.
Resource Planning Manager Job Description – Example One
The Customer Centre is responsible for pre-sales enquiries, sales, post-sale customer service and on-going customer relationship management via telephone, email other written correspondence. The organisation aims to offer choice, flexibility, ease of use simple, competitive pricing to its customers.
The overall job purpose is to determine resource & space requirements for all teams dealing with customer contacts, ensuring that shifts are aligned to customer demand & commercially viable, meeting service standards & excellent service.
Focus and Key Duties
To manage and develop a small team of Forecasting & Planning Analysts, accurately prepare forecasts and budgets for call & non-call workloads and resource, monitoring drivers against business change & developing models to improve accuracy.
To constantly monitor and propose effective shift patterns to match business requirements, optimising performance of all Customer Centre teams and maximising agent satisfaction by providing flexible options, taking into account the position of Outsourcers, location, accommodation and agent groups.
To make recruitment recommendations and identify opportunities and benefits offered through skills based routing, demonstrating the benefit of proposed changes through testing scenarios using simulation software, capacity and sensitivity analysis.
To identify and pro-actively manage changes to the shift patterns to deliver improved customer service, working as team with Operations, facilitate smooth communication and transition, maintaining and communicating a formal historic record of the changes and their impact.
To be aware of and record business, resource and seasonal changes, making appropriate resource plans for expected changes in profile and workloads, reporting on expected and experienced results.
To monitor recruitment and liase with the People Team to make advanced plans for required shift changes to optimise delivery of resource and skills, identifying when new groups and Team Managers are required
To work closely with the Centre Planning & Resource teams, monitoring performance and trends with the MIS team and providing consultative support to the Central team.
To deliver effective & accurate reports detailing key performance indicators and commentary relating to workforce and shift performance, identifying the proposed and actual shift efficiency factors and clearly stating all assumptions applied.
To actively manage and develop the Workforce Management tool, owning the relationship with the supplier and participating in User Groups to identify and implement new ideas of best practice.
To prepare for and attend reviews and appraisals, taking responsibility for self-development and training.
Personal Qualities and Skills
Customer focused – Level 3
Communicative and influential – Level 3
Personally effective – Level 3
Team Player – Level 3
Skilled and knowledgeable – Level 3
Creative and flexible – Level 3
Organised – Level 3
Inspirational leadership – Level 2
Business aware – Level 2
Education and Experience
Expert skills in using a Workforce Management tool (5 years)
Expert skills in Excel for modelling and scenario planning q Experience in virtual multi-skilled, multi-site Customer Centres
Experience in working with Outsourcers
Knowledge in ACD telephony
Team management and development skills
With thanks to Cactus Search, a niche UK specialist Call and Contact Centre recruitment business
Resource Planning Manager Job Description – Example Two
As a valued member of our management team you will take ownership of the strategy, development and long-term success of the Resource Planning team – Resource Planning consists of one, or many people who make up the function carrying out a whole range of different tasks.
The tasks of a Resource Planning Manager include: the effective utilisation of the workforce, Forecasting, Scheduling, Real-Time and some Resource Planning Managers will also have responsibility for the production and delivery of MI (Management Information).
Some of the Duties and Responsibilities will include:
Determine and communicate short term staff capacity and roster establishment for phone staff to 6 weeks in advance
Short term capacity requirements for non-phone staff
Ensure recommendations to best use staff to achieve mandates are provided to the business
Ensure appropriate level of training/catch-up hours are available
Manage impact from mailings
Utilise Activity Based Costing information into short term forecasts
Managing your own team of Resource Planning Analysts, Real-Time Analysts , Schedulers, Forecasters and MI Analysts
Budget modelling responsibility for your department and the contact centre, or operation you support.
Creating new and innovative forecast and capacity models to plan for future demand, growth and channel shifts
Strategy development for changes in customer demand and expectations over the next 5 years
Identification and implementation of new technology for planning, including the use, development or procurement of effective workforce management software (WFM) and or other in-house systems/Excel.
Required Experience:
Strong experience in team management and effective resource planning.
Good knowledge of Workforce Management tools. An in-depth understanding of manual forecasting methods and formulas. Strong communication, collaboration and influencing skills to work at all levels from Director to Agent.
Previous examples of where you have managed projects end-to-end.
The ability explain complex information in an easy to understand manner and generate "buy-in" from key stakeholders to further your department
With thanks to Douglas Jackson a specialist recruitment consultancy and executive search company. 
For more job descriptions of various contact centre roles, read our articles: