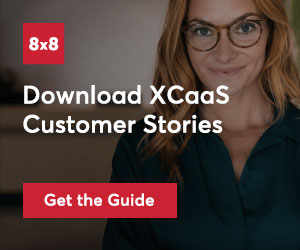 Nathan Reid at 8×8 explores the top reasons to incorporate video into customer interactions.
If you're fed up with dealing with fed-up customers who have been waiting endlessly on hold or chasing email threads that lead to nowhere, then it's time to take your customer service game to the next level.
Video chat has proven to be the secret ingredient that enables hybrid workforces to raise productivity through online collaboration. However, the same time- and cost-saving potential has yet to be translated over to commercial customer service centres.
Only 34% of financial institutions provide live video customer support. This is despite three-quarters of customers stating their preference for live chat over any other channel, and live chat consistently providing satisfaction rates of 85%.
So, to business owners and customer service managers out there who have been racking their brains for a way to add a touch of personalisation to your customer experience — what's stopping you from using video?
You'll be hard pressed to find customers who aren't delighted with the one-click access that web-based video channels bring. To top it off, you'll be raking in operational savings from eliminating needless trips and closing more customer cases within less time.
If you're still not convinced, read on as we show you how businesses can save time, for themselves and their customers, with win-win video interaction solutions — no matter what industry they're in.
Reason to Use Live Video Support #1: The Convenience of No Downloads
You're probably familiar with the frustrating process of resetting your password whenever some video interaction tools log you out for the umpteenth time.
If most employees had it their way, hardly anyone would be logging back into these tools. The difference between customers and employees is that most customers have a choice, and that point of friction alone can be enough to cause throngs of customers to abandon the idea of contacting you altogether.
After all, why bother when there are competitors who are much easier to get a hold of?
Video Interaction empowers your customer service team by placing them within reach of your customers.
Kickstarting a video call is as simple as clicking on links that can be embedded on web pages in context or shared across communication channels where customers are already having conversations with you.
The instantaneous nature of shareable links also means that customers will be far more inclined to jump on spontaneous calls.
No-download video interaction services will bring a significant boost to your customer service engagement rates, especially if you're:
A startup with limited resources to build a website
A larger corporation with the "Contact Us" button buried deep within a website that requires some time to untangle
A high-level business executive who finds it hard to find common time slots with high-profile clients or business partners
Reason to Use Live Video Support #2: Easy, Low-Code Setup
Video Interaction's API design is built for fast and easy setup that can have you chatting with customers as soon as tomorrow.
If you've got an overworked IT department drowning in documentation and internal workflow changes — especially with AI being all the rage these days — rest assured that they won't even notice Video Interaction's installation process (unless they want to, for security reasons).
Even if you're stuck in the unfortunate situation where no IT-savvy employees are available, our handy documentation guides should get you up and running in no time.
And as an organisation that loves to walk the talk, the customer service centre is available round-the-clock through your  channel of choice.
Opting for an API-based customer interaction channel should come in handy if you:
Have a mountainous backlog of customer requests that never seems to go down, no matter how much overtime your team clocks
Constantly see specific types of customer requests that never get resolved because your team doesn't have the time or resources to dedicate towards higher level problems
Reason to Use Live Video Support #3: RAS (Recording, Annotations, and Screenshots)
No video interaction channel is complete without recording, screenshots, and annotative capabilities. After all, you'll want to make sure that important instructions do not get misconstrued or forgotten altogether after the fact.
The Video Interaction suite of functions capture every second in crisp detail and into formats that are easily shared across the most popular communication channels.
This will allow customer service agents to create personalised tutorials that empower customers to take action without having to redial multiple times for the same issue.
For businesses dealing with sensitive data, rest assured that Video Meetings are built upon open-source technology designed with privacy and security in mind. Ephemeral rooms not only protect meetings from being breached by uninterrupted guests, but they also destroy meeting data once the last person leaves.
Expect customer service quality to improve with Video Interaction if your customers:
Are not redeeming discounts and other promotions because they are confused by redemption processes
Are individuals with low digital literacy or various types of special needs that warrant additional attention
Reason to Use Live Video Support #4: Stay Top of Mind
Why should every video conversation be a billboard ad for Zoom, Microsoft Teams, or Google Meets when your customer service staff are the ones putting in the time and effort to entertain individual customers?
Video Interaction allows brands to customise video frames with logos and brand colours, so that your business stays front and centre of the conversation.
After all, what better way to build trust, loyalty, and visibility by displaying professionalism through a bit of design flair and associating positive customer memories with your brand?
With consent, you or your customers can help your brand's name spread that much further whenever screenshots or video recordings are taken with your business colours on display for all to see.
Branded video experiences can significantly accelerate business growth if you:
Have already established strong relationships with customers and need a more visible way to get your name out there
Operate in a homogenous industry and need that additional flair to separate you from your competitors
Stay Ahead of the Customer Service Curve With Video Interaction
So far, 2023 has been the year when innovation and digitalisation kicked into high gear at an unprecedented level.
Instead of getting left behind and playing second-fiddle to industry leaders, why not bring yourself up to speed, or even outpace your competitors, with Communication APIs. You may have your doubts, but there's only one way to find out for sure.
This blog post has been re-published by kind permission of 8x8 – View the
Original Article
For more information about 8x8 - visit the
8x8 Website