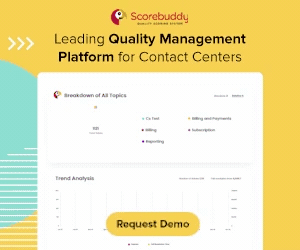 Announcing Scorebuddy BI—the most comprehensive QA business intelligence solution on the market.
In 2023, every organization generates a ton of new data on a daily basis. It's no longer about what data you collect, but how you use it.
"84 percent of customer service and service support leaders cited customer data and analytics as 'very or extremely important' for achieving their organizational goals in 2023." – Gartner
With Scorebuddy BI, you can align reporting with your business goals to showcase the value of your QA process and drive data-driven decision-making.
In this webinar, we'll explore:
The Challenges of Managing Unstructured QA Data
How to Generate Actionable Insights With Reporting
The Key Benefits of Scorebuddy BI
Save your seat—register for the webinar today!
Read more: Unlock the Power of Data: Using Scorebuddy BI for Comprehensive QA Insights