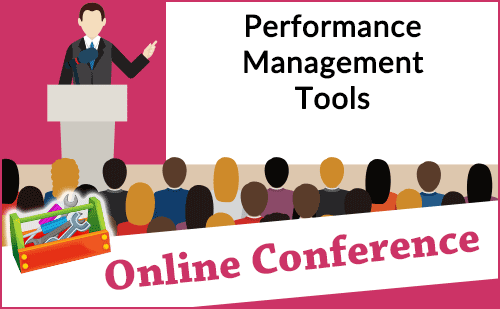 In this webinar we looked at the best tools to use for Performance Management. From spreadsheets to call and screen recording, from speech analytics to multi-channel integration analytics. We looked at all of the best performance management tools.
Agenda
Introductions – Jonty Pearce, Call Centre Helper
Chris Rainsforth – The Forum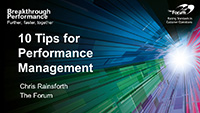 Jeremy Payne – Enghouse Interactive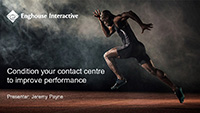 Topics to be discussed
Performance Management Tools
Using spreadsheets
Call recording
Screen recording
Speech analytics
Multi-channel real-time analytics
Automation tools and reporting
Hints and tips from the audience
Winning Tip – "Find out how your people like to be managed and how to get the best of them by psychometric testing – gives a more objective view on how to achieve better manager/employee relations as well" thanks to Patricia13
Original Webinar during our Online Conference: Wednesday 29th March 2017
---
Questions and Answers
1. I've found a lot of focus on hitting a completion target such as 5 per week, however no focus on the feedback, there is a variety of thoughts on the floor for this, do you feedback after each and every evaluation before completing the next, feedback 2 at a time, or wait for a monthly 1-1.
Theres never a one size fits all to this – It always depends on the # of agents, type of interactions, feedback need amongst others.
IE if you heard an agent swearing at a customer you would have to feedback immediately – for softer things perhaps a pre arranged meeting. When we see people deploy Real Time Speech analytics we tend to see people move towards more immediate feedback. The system creates an alert to the supervisor when good or bad phrases have occurred and our customers say catching things at the point they happen and giving prompt feedback makes it easier for the agent to develop the desired skills and approach.
2. what are people's thoughts on Agents evaluating themselves, does this work?
Given the right tools – we have seen significant benefits in this. No one wants to be the poorest performer so digital scorecrads that benchmark against peers that capture a range of evaluation criteria works well. We see particular benefit when Voice of the customer feedback or post interaction Net Promoter Scores are also fed back. Its very easy here to fall into the trap of driving behaviour purely focussed on throughput – ie number of calls answered AHT etc. and lose sight of resolution – did I solve the customers problem – did they feel I cared and understood them – did I listen?
Its particularly important to get this right if you are aligning bonuses or compensation or rewards to the scoring. Allowing staff to self assess is good as it keeps people focussed on personal and professional development which is good for motivation – retention and overall performance
3. Do you let everyone see everyone's KPI stats? Are you that transparent or do you keep their personal stats secret to only them?
Transparency is key – with one caveat – sharing data on an individual level across the team neds to be considered carefully. Its good to share best practice – ie lets listen to a call where X agent closed this sale or did a good thing – but publicly shaming people or making them feel like they are a loser will simply drive them out of the door. The prize here is training and developing everyone to the same standard as your highest performing agent
4. Does gamification really work? or is it just a nice fun tool? Don't advisors think you are treating them like children or drive the wrong behaviours if you make it all a game?
From our experience there are other areas that most companies could focus on first that will drive higher returns before looking at gamification
5. Kindly advise on good performance monitoring tools that have been proven and tested
Real time speech analytics is a powerful tool that offers real value in giving employees real time feedback on what they did well and what needs development, its been deployed in many organisations and is tried and tested.
Workforce management & optimisation solutions when aligned to business goals are great and ensuring you have the right people, with the right skills available at the right time. This stops agents feeling overwhelmed and drives up csat while normally reducing operational costs
Agent evaluation solutions are good at giving agents and supervisors a real time view of how they are doing and how their team is performing
---