White Paper: 7 Key Steps to Achieving Customer Service Excellence in the Service Industry
---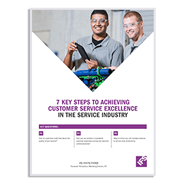 Our customers are now expecting, and demanding, much more from customer service.
This paper will analyse what factors influence customer perception of the quality of service delivered, how we measure it and ways service businesses can improve customer service excellence.
White paper written by: IFS Customer Engagement & Service Marketing UK
Click here to download your copy of the white paper.
Published On: 29th Oct 2018 - Last modified: 1st Mar 2019
Read more about - Archived Content, IFS
---